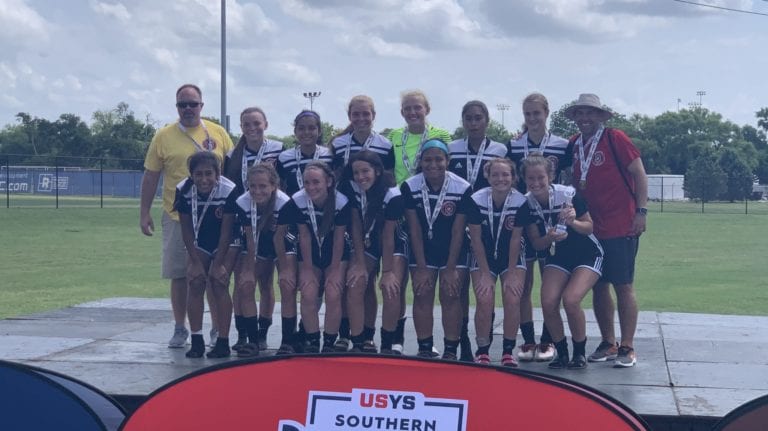 The Plant City FC Lancers 2002 Girls Premier team won its first-ever regional championship on June 16.
A near-perfect showing at the Southern Presidents Cup Tournament in Round Rock, Texas put the Plant City FC Lancers 2002 Girls Premier team into new territory for the club.
Plant City FC went through the tournament, which ran from June 12 through 16, almost totally unscathed. They outscored all five opponents by a combined 8-2 margin.
Plant City started with a 3-0 win over Texas-Frisco Fusion 02 on June 12, then followed with a 2-0 win on June 13 over Texas-Rise 02G Elite II. The Lancers ran into a spot of trouble on June 14 with a 2-0 loss to Louisiana-Dynamo 02G Elite in the final preliminary game, but it wouldn't affect the team going forward: PCFC wouldn't encounter Dynamo again.
PCFC bounced back with a 2-0 win over South Carolina-GPS Coastal Academy 2002 Gold on June 15 to make it to the championship round. A 1-0 win over North Carolina FC 02 on June 16 gave the Plant City girls the regional championship, a first for the club.
From July 10 through 14, the Plant City girls will represent the Southern region in the National Presidents Cup tournament in Murfreesboro, Tennessee. That tournament will pit PCFC against the winners of the Eastern, Midwest and Far West Presidents Cup tournament winners for the national title.
ROSTER
Head Coach
Bryan Amell
Players
Riley Amell
Cassidy Burke
Katherine Caries
Avery Crosby
Destiny Deese
Isamara Flores
Nicole Graubard
Eden Guynn
Kiana Kropp
Lidia Leon
Alexa Martinez
Breanna Newberg
Alicia Palacios-Nunez
Emily Rosales
Ramsey Watkins
Katherine Williams