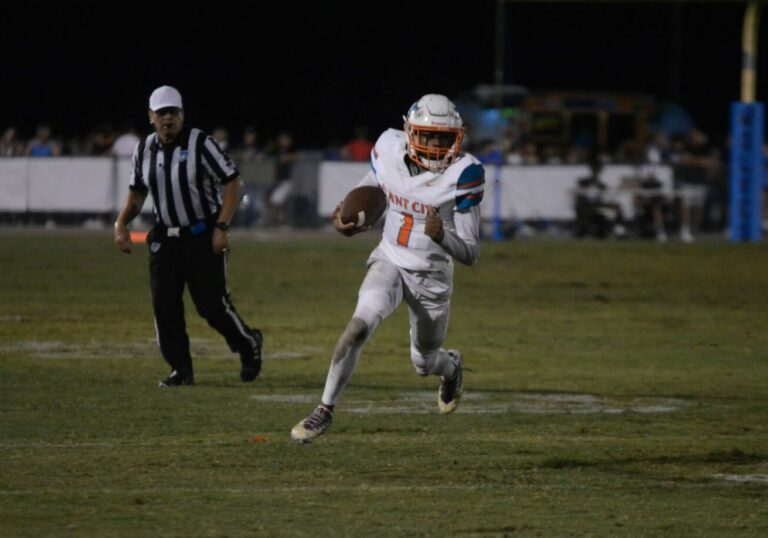 Plant City fell to 0-1 on the heels of a 42-19 loss to Newsome.
Plant City opened their season on Friday with a tough matchup against the Newsome Wolves, falling by a final of 42-19 in their first game under new head coach Michael Clayton.
To put them behind the eight ball from the start, linebackers Cole Highsmith and Michael Bell were unable to play due to injuries sustained in their preseason game the week before, with Bell recovering from a knee injury and Highsmith patrolling the sidelines in a walking boot due to an ankle injury. Throughout the game, Plant City lost more players due to injuries and cramps that further depleted the roster in all phases.
"We played a lot of young guys tonight that were never expected to play this year," Clayton said. "Honestly they did a great job, even though we got spanked on a lot of plays, they did more than I expected them to. And obviously when you have to go in on special teams and we've got bodies dropping down and you've got to play with what you've got, bad things are going to happen, and that happened today. They're a tough football team, fundamentally sound all across the board on offense, defense and special teams. We got it handed to us tonight. We've got a young football team and we've just got to get better."
After winning the opening toss, Newsome deferred to the second half and the Raiders lined up to receive, but the Wolves would quickly take over as a huge hit on the ensuing Plant City return forced a fumble, giving them possession at the 17-yard line. Three plays later, senior Tyler Edwards would give Newsome their first lead of the game with a one-yard touchdown run on a sweep to the right side.
Trae'veon Smith would bring the return out to the 35 for the Raiders, but Plant City would run just three plays before quarterback Dereon Coleman rolled out to his left on third-and-9 and had the ball punched out, recovered by Newsome at the 35.
But Plant City's defense would hold up strong, with a sack from defensive back Jordan Futch on first down, a tackle for no gain on the second down carry and allowing just a short completion following a Newsome false start on third down after facing third-and-15. Newsome would punt for the first time and pin the Raiders back at their own 8-yard line.
Plant City would work their way out of their own red zone on back-to-back completions to junior receiver Jaylen Smith and another to TJ Knighten, but the drive would flame out before they could move across midfield. A false start set up first-and-15 and Coleman would find Jaylen Smith again for a short gain, but back-to-back sacks left the Raiders punting again.
Newsome started their next drive from near midfield. Three plays later, facing third-and-short, starting quarterback Christian Bishop dropped back on play action and fired down the field for a long completion, down to the Plant City 3-yard line to end the first quarter. One play later, linebacker/running back Michael Dempsey would punch in the short touchdown run and extend the Newsome lead to 14-0.
Late in the half, Plant City finally put points on the board with a touchdown run from Jaden McCants. Starting the drive at the 27, two more completions to Jaylen Smith and a short carry from running back Dominic Jones would have the Raiders down inside Newsome territory for the first time. Another carry from Jones would put Plant City at the Newsome 21-yard line and Coleman would break the pocket and slide down for another at the 11. Coleman then found receiver Judan Bendorf open on the left side for a completion inside the five and running back Jaden McCants took the inside handoff into the end zone to cut the Newsome lead to 21-7. Then things got rolling quickly.
After the Plant City touchdown, Newsome responded with a touchdown of their own on the ensuing kickoff return from running back J.C. Roque, giving the Wolves a 28-7 lead, only for Trae'veon Smith to answer with a kickoff return of his own, cutting the lead to 28-13 with 3:10 remaining in the first half.
Plant City tried to swing momentum back their way again as defensive end Donta Jenkins came up with an interception on the following Newsome drive, setting up Plant City inside Newsome territory with under two minutes remaining in the half, but the Raiders would settle for a field goal attempt as the half bled out, ultimately blocked by the Wolves.
In the second half Newsome would pull away with another rushing touchdown from Roque on their first drive of the third quarter to extend the lead to 35-13.
Plant City answered back with a field goal from Isaiah Wilson to make it 35-16, but Newsome would respond with their second kickoff return touchdown of the night, this time coming from Matthew Connally, to make it 42-16. Plant City would tack on one final field goal and the Wolves would all but run out the clock en route to a 42-19 Week 1 victory.
"We have to have our best players on the field at all times, being tired is not an excuse," Clayton said. "We just don't have the numbers right now to be tired, we've got to go and find a way, we've got to dig deep and we've got to strain our gut. It boils down to that. Every time our star players got hurt they took advantage of it and made a big play. We've got to get our guys in go mode, get them ready, get them prepared to play a 48-minute ballgame throughout. I told them today, we only played about three quarters, so once we're able to turn it up a notch I think we'll be just fine."
Clayton added after the game that very few players played up to his expectations on Friday night, but specifically noted the successful night from Wilson.
"The thing that I want to highlight from our team, the one player that I want to highlight is Isaiah Wilson," Clayton said. "He came in, stepped in and tried out at kicker. As soon as he was trying out, right before we started camp, I knew that we had a secret weapon where if we crossed the 30-yard line we could go get points. If he doesn't get two field goals blocked he probably goes 5/5 from distance, so I wanted to highlight him."
Wilson stepped in before the season and earned the starting role as Plant City's previous starting kicker in 2021, Esteban Navarrete, continues to recover from a torn ACL that he suffered last season.
Plant City will face another tough test this week as they host Wharton for their home opener. On the heels of a 9-3 season in 2021, Wharton opened their year with a 24-13 loss against the Jesuit Tigers last Friday.
Around town, Strawberry Crest and Durant both moved to 1-0 with the Chargers beating King High School 28-7 and Durant rolling past Chamberlain 39-0.
For Durant, starting quarterback Michael Ryan completed eight of his 14 pass attempts for 84 yards and a touchdown to senior receiver Xavier Peavy while adding 24 rushing yards. On the ground, senior Calub Connell led the way with 57 rushing yards




and a touchdown on nine carries, followed by junior Alex Daley who tallied 39 yards and two touchdowns on eight carries.
Defensively, sophomore Hale Sollmann racked up 12 total tackles and four tackles for loss and Gage Aroz led the defensive front with 1.5 sacks and a forced fumble, followed by one sack from Brant Bovee and a half of a sack from Ty Merkle. Sophomore Jayden Cornelius and junior Luther Scarlett each had an interception.
For Strawberry Crest, senior quarterback Jordan Lewis completed four of his nine attempts for 101 yard and two touchdowns. Senior Marcus Springfield led the receiving unit with three receptions, but seniors Quincy Hart and Ryan Weems both turned their lone receptions into 48- and 15-yard touchdowns, respectively. On the ground, sophomore Gage Reibsome totaled 58 rushing yards on five carries, followed by junior Devin Blunt with 37 yards and a touchdown on eight carries and Weems with 31 yards and a touchdown on nine carries.
Defensively, senior Steel Craig paced the unit with 10 total tackles while Blunt added an interception.
Both teams will return home next week, with Strawberry Crest hosting Spoto and Durant hosting Middleton.