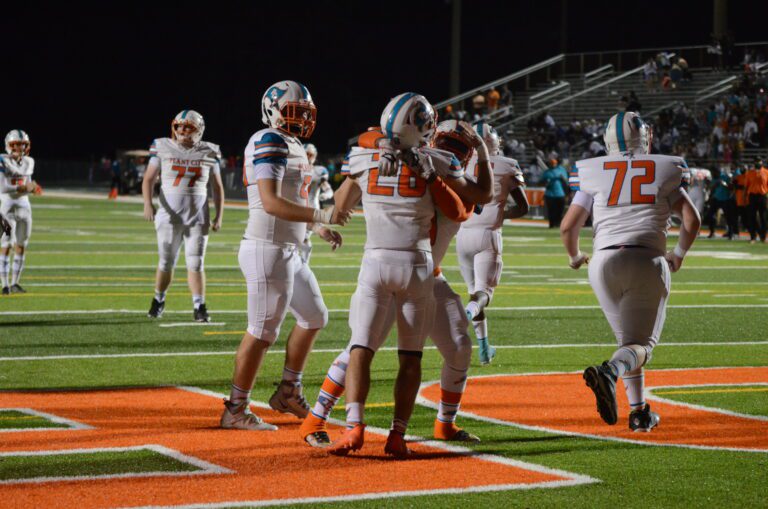 The Raiders finished the year 3-7 with a 20-8 win over the Dragons on Friday night.
The Plant City Raiders hosted the Jefferson Dragons on Friday Night, coming away with a 20-8 win to finish their first seasonunder head coach Michael Clayton at 3-7.
"We went into this game wanting to dominate, as we did every game," Clayton said. "It was also a sentimental game for our seniors so we had a lot of guys that hadn't played much all year, seniors that we wanted to make sure we got into the game. Jefferson came in and made it a game early so we weren't able to get them into the game until the end but we finished on a high note. The message to this team all year was to stay together. We faced a lot of adversity, some of it was self-inflicted, but we learned from it and the mindset got better week in and week out. We were able to learn from our mistakes this year and I'm really excited about going into next year. We had a very young team this year, we kickstarted our program this year and finished strong."
Plant City received the opening kickoff and started their first drive at the 36 as running back Dominic Jones jumped on the short squib kick, but the Raiders would quickly be forced to punt as they gained just five yards on their first three offensive plays.
The long punt from kicker/punter Isaiah Wilson put the Dragons at their own 28 and after a five-yard carry on first and a loss of one on second, Jefferson was quickly facing a potential three-and-out of their own. On the ensuing third-and-six, Jefferson quarterback Logan Rodgers dropped back and fired over the middle of the field, intercepted by Raiders linebacker Seth Hogan and returned for a touchdown as Plant City jumped out to a quick 7-0 lead following the extra point from Wilson.
The Raiders defense once again forced the Dragons to punt and Plant City was able to extend their lead on the next drive. After starting at their own 18, quarterback Champ Mitchell was sacked on first down to immediately move Plant City behind the sticks and set up second-and-15. After a short completion moved the Raiders up to the 19, Mitchell hit Jones on a hook route over the middle of the field and the junior running back broke free up the right sideline for a big gain to the Jefferson 41-yard line. Two carries on first and second left the Raiders with a third-and-two at the 33 when Mitchell dropped back, rolled out to his left and took off for a first down to the 25. A six-yard swing pass and two carries from running back Jaden Mccants had the Raiders set up at the 10-yard line facing a second-and-nine, but a one-yard carry on second down from linebacker Cole Highsmith and an incomplete pass on third forced Plant City to settle for a field goal, converted by Wilson to give the Raiders a 10-0 lead with 11:10 left in the second quarter.
Both offenses struggled to find a rhythm throughout the rest of the quarter before Jefferson finally got on the board as Rodgers found receiver Sykhi Madison streaking down the right sideline for an 80-yard touchdown with 2:19 left in the first half. A successful two-point conversion followed and the Dragons were able to cut into the deficit and head into the locker room for halftime trailing just 10-8.
Plant City's defense forced a Jefferson punt on the first drive of the second half before the Raiders turned the ball over inside their own territory on the first play of the ensuing drive, giving the ball back to the Dragons at the 41. But as quickly as the Raiders gave possession up, their defense took it right back as the unit pushed Jefferson into a third-and-11 before Plant City defensive back Chase Dexter high-pointed a deep pass over the middle of the field to haul in an interception of his own at the two-yard line.
"He made some big plays for us this year," Clayton said. "He's still a young player too and will have a great opportunity to do a lot of big things next year. He had the opportunity to get his hands on the football and finally got his interception that he's been waiting for. He's a solid player, he's probably the smartest defensive player that we have out there, he's the captain in the secondary getting everyone lined up, so we're pretty excited about the player that he's going to be next year."
The game would remain without another score until into the fourth quarter.
After a Wilson punt pinned the Dragons back at their own nine, Jefferson would narrowly get off a short punt of their own on fourth-and-13 three plays later from the shadow of their own goalpost, giving the Raiders great starting field possession at the 22, but Plant City would once again drive into the Jefferson 10-yard line before bringing out Wilson for another field goal to extend their lead to 13-8 with 7:54.
Late in the contest Plant City tacked on one final score. After a huge punt return from receiver Jaylen Smith set the Raiders up at the Jefferson 27-yard line, a series of tough runs from the duo of Mccants and Jones left Plant City facing a first-and-goal at the one-yard line. The Raiders deployed a split backfield of Jones and Highsmith and Highsmith took the direct snap to the right side, punching in the short carry to notch the first touchdown of his high school career.
"I can't say enough about Cole Highsmith," Clayton said. "He's all over the football field, one of those players that just pops off week in and week out. Just grit and toughness and effort, always showing up and serving his team. He's the main reason why I became the head coach here at Plant City, when I first met him, and he didn't disappoint me one single day. I want to see that kid play at the next level, he's certainly talented to play at the next level and hopefully some colleges give him an opportunity to do so."
The touchdown put Plant City up 20-8, a lead that they would hold with ease to finish their first season under Clayton with a win, ending the year at 3-7.
Offensively, quarterback Champ Mitchell completed seven of his 13 pass attempts for 85 yards while adding 17 rushing yards on six carries. In the backfield, Mccants led the charge with 86 yards on 18 carries, followed by Jones with 59 yards on 10 carries and Highsmith with two yards and a touchdown on two carries. Jones also led all receivers with 40 yards on one reception, followed by Smith with 27 yards on three receptions and Judah Bendorf with 18 yards on three receptions.
Defensively, Highsmith led the unit with 12 total tackles, followed by defensive back Tahuji Miller with 11. Miller and Davin Stone-Grant each had three tackles for loss, followed by Highsmith, Tamarce Miller, Matthew Bollinger, Donta Jenkins and Mike Bell with two and Dacoby McDonald with one. Stone-Grant totaled 1.5 sacks, followed by Jenkins with one and McDonald with a half-sack. In addition to the interceptions from Dexter and Hogan, senior Eden Williams added one takeaway of his own.
"This team can be a lot better next year," Clayton said. "We're going to surprise a lot of people. We only had 10 seniors this year, two of them were kickers and a majority of our seniors weren't a part of our starting group so we're loaded with freshmen, sophomores and juniors. I can't wait to step into this thing. We're going to be a solid football team. Hopefully we'll get a nice freshman class next year to build off of the good freshman class we got this year. I'm excited about where we're going with this program."
While the past two weeks have marked the end of the season for Strawberry Crest and Plant City, Durant is currently preparing for their regional quarterfinal matchup on Saturday, hosting 6-4 Ocoee at home on the heels of an 8-2 regular season.
This week's game will kickoff on Saturday, Nov. 12 at 7:30 p.m.