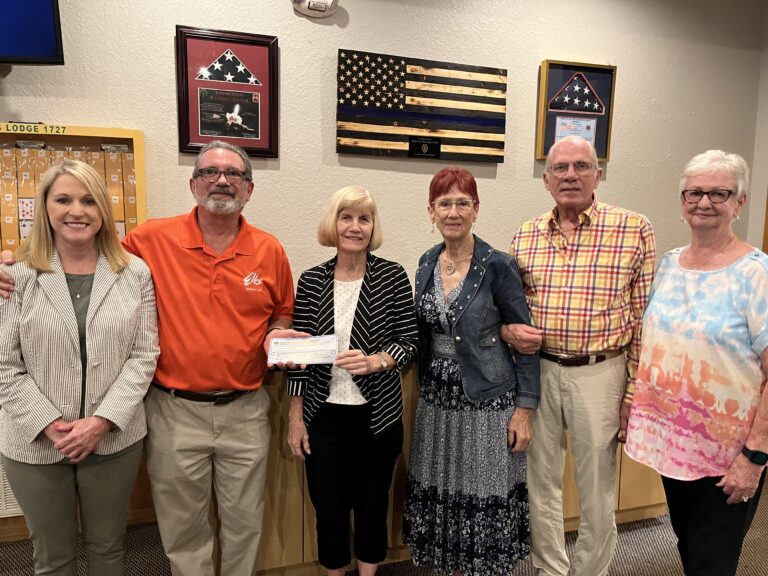 Local Elks Lodge granted a sizable check to Meals on Wheels
Elks Lodge #1727 has been a vital part of Plant City for years, offering contributions that prosper the community. It's no surprise then that this year, it once again has helped charitable organizations push their agenda forward.
Last week Wednesday, the Elks Lodge presented the local Meals on Wheels with a $2,000 check. Although, it's not the first time they've given a generous donation to the organization.
Those who belong to Lodge #1727 usually make recommendations as to where funds should go. And often times it's another worthy cause that they too, are involved with.
"A lot of times that's how we decide how we spend the grant," said Shelly Carroll, grant coordinator for Lodge #1727. "We do have a grant committee that helps to decide how we're going to [use] the funds."
However, how much of those funds are allocated, is determined on a national scale.
Any given Elks Lodge belongs to a higher state and national Lodge.
They present a need in their community and apply for a grant. Through a Community Impact Program, the national Elks Lodge can accept the request, issuing funds to a local club. Last year Lodge #1727 collected $7,000 for Meals on Wheels and $5,000 for the United Food Bank & Services of Plant City.
In fact, it was the only lodge in Florida to receive 100% of the funds requested the previous year, said Carroll.
"Because of COVID last year, we were able to do a lot of donations for organizations that were distributing food and helping with hunger issues," she explained.
Lodge #1727 also dedicates its time and energy for other noble causes, such as awarding college scholarships.
Earlier this month it held a youth basketball program.
Also, in a collaboration with Plant City Main Street and the City of Plant City, Lodge #1727 will hold an event on Sunday, Nov. 14 recognizing our veterans.
So far this year, it has accumulated approximately $16,000 – with the United Food Bank & Services of Plant City receiving $2,500.
And there are no plans to stop this far in 2021. Lodge #1727 has requested a $7,000 grant for another organization.
"We were actively looking for ways we could infuse this money into our community," said Carroll. "I think that's a really big milestone that little Plant City was really able to get. It's very rewarding for our lodge."