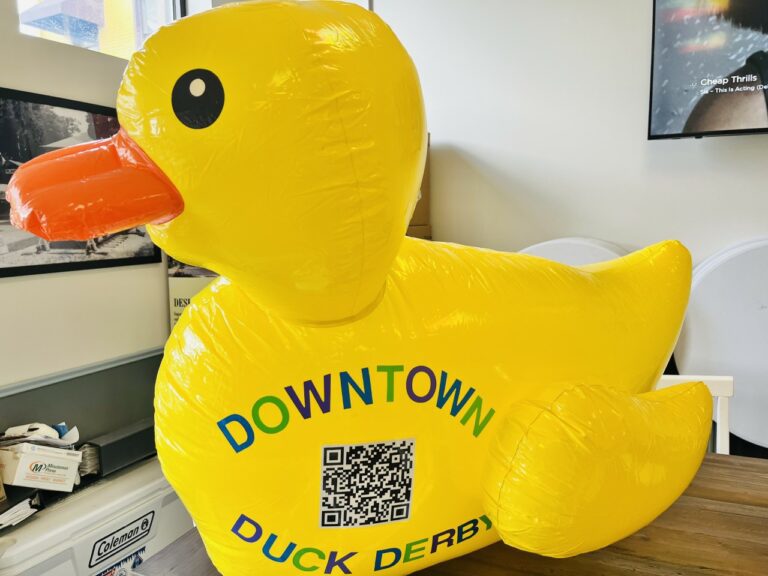 You could be a lucky duck and win cold hard cash if you race a duck in Plant City Main Street's Duck Derby.
"Ladies and gentlemen, start your ducks!" This may not be the normal statement you hear at the beginning of a race, but that's what will be said on April first of this year at the Plant City Main Street's Downtown Duck Derby.
Plant City Main Street held their first Duck Derby this past January and it was a great success. "We were lucky enough to get all the ducks and the duck racetrack donated, so we decided to host our first Duck Derby this past January," said Plant City Main Street Executive Director, Dawn Hyatt. "We had so much fun, we decided to do it again on April first."
By the way, the ducks that race are rubber ducks, not real ducks. "We did have people ask if the duck were real and if they had to feed them or take care of them," Hyatt said.
The fun part of the Duck Derby is you don't have to live in Plant City to have a duck in the derby. The way the Duck Derby works is you purchase your duck online through the Plant City Main Street website. "The ducks cost $5 adoption fee each and you can purchase as many ducks as you like because we have 1000 ducks to adopt," Hyatt said. "Once we have 250 ducks adopted we run the derby. If your duck wins the derby, you win $1000!"
A few days before the derby, duck adopters get an email with their ducks' numbers. The ducks are then taken to a secret location for the derby. "We live stream the whole derby on our Facebook page, so you can see if your duck wins," Hyatt said. "That's the cool thing about our Duck Derby, you don't have to live in Plant City or even locally, to participate in our Duck Derby because everything is done online and through Facebook."
Currently, Hyatt and her team have sold more than 50 ducks. "We need to get 250 ducks adopted to host the Duck Derby on April first," Hyatt said. "If we can reach our goal or go over it to make the next Duck Derby happen, we would like to make the Duck Derby a quarterly Plant City Main Street event."
In addition to the Downtown Duck Derby, Plant City Main Street hosts Last Fridays Plant City, Henry's Hidden Train Hunt and their annual Top Golf Fundraiser.
As a Main Street America Affiliate, Plant City Main Street is part of a national network of more than 1,200 neighborhoods and communities who share both a commitment to creating high-quality places and to building stronger communities through preservation-based economic development.
If you would like to learn more about Plant City Main Street or if you would like to adopt a duck or two or three for their upcoming Downtown Duck Derby, you can visit their website at www.plantcitymainstreet.org or call Dawn Hyatt at 813-358-8898.