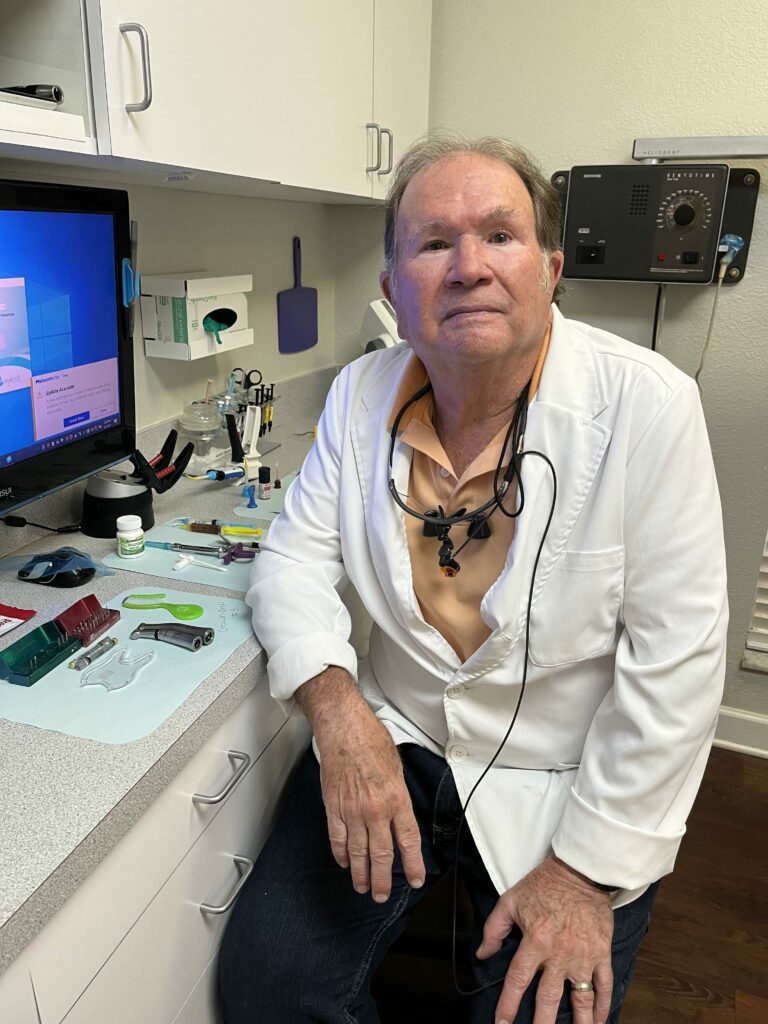 Dentist David Ferry is retiring after serving Plant City for over four decades
Dr. David Ferry is a dentist who has been helping his patients maintain and develop beautiful smiles, but now after 46 years, he is ready to retire from his practice in Plant City.
In October, he will officially hang up his white coat and leave the building he has worked in since 1976.
He was born and raised in New Orleans where he attended a Jesuit high school. His love for baseball earned him a sports scholarship and he attended Loyola University New Orleans.
He initially wanted to be a physician but majored in biology and chemistry after losing his interest in playing his favorite sport.
"After two years, I kind of realized after playing college baseball, I had enough," Ferry said.
He met his wife Maria during his schooling when she was working as a dental hygienist. She herself came from a family with a medical background as her father was the first OBGYN at the South Florida Baptist Hospital.
The two dentists she worked for offered Ferry a position as the third dentist at their office, however he was encouraged not to because he may not have a voice in making big decisions.
During a visit to Plant City, Ferry said that he instantly fell in love with the town due to its peaceful atmosphere and little traffic. It was here that he decided to open up his practice.
"If you're good at what you do, whether that be dentistry, medicine, owning a restaurant, serving good food, you'll do well in Plant City," he said. "You don't only have to advertise, word of mouth is so great. If you know what you're doing, you'll be jam packed."
The referrals he has received has brought people from outside Plant City to his office for dental care, especially snowbirds.
He even chose not to put up a sign outside his building to attract potential patients. People have said that he's crazy for not doing it, however he prefers that people continue to refer others his way and that they choose to come back because they are satisfied with the service that he and his staff provide.
His team consists of a receptionist, two assistants, and two dental hygienists – Maria and their daughter-in-law.
Ferry said he has been understanding of the difficult circumstances and financial constraints that his patients may be dealing with and may not be able to pay full price for the dental work they need. He has tried to work out plans where they don't have to pay everything at once, but can receive services gradually overtime, providing that it's not an issue that needs to be addressed immediately.
Among the other hats that he wears, he is a landscaper, photographer and even a painter which has come in handy at the office.
He understands that going to see a dentist can be an intimidating experience for kids and adults alike. To help ease any anxiety, he has done various paintings on his wall and always has music playing.
He explains to patients that he too can empathize with their fear.
"I tell everybody, 'I don't like being on that side of the chair either, but I've got to do it. I hang on and get through it and I'm going to try and make it as easy as I can for you.'"
He also has different methods to go about doing certain procedures and grants the patients the option to choose which they feel best suits them.
"I love technical stuff, so everything we have here is digital, it's state of the art stuff," Ferry said. "Whatever is easier for them, I want to do it."
Helping to make patients comfortable is also a team effort, he said.
The dentist's goals and the staff's goals have to be in sync to better serve everyone who comes in for dental work.
He also has believed in valuing his patients' time by not having them wait for long periods of time to be seen.
"You have to have some flexibility with your scheduling to see a patient," Ferry said.
Maria is also retiring from her long career as a dental hygienist and will soon have a replacement.
However, Ferry has already found a new dentist to be at the helm of the office – Dr. Hussein Abdulameer. He is a cosmetic dentist who earned his Bachelor of Dental Surgery in Ukraine and then continued his schooling in the U.S. Abdulameer attended the Indiana University School of Dentistry, where he was recognized by the Dental Student Progress Committee for his clinical performance.
He lived in Indiana, New Hampshire, and Boston before moving to Tampa. In the Tampa Bay region, he worked in a high-end practice.
Now he will be serving Plant City at the very same office where Ferry had established his career of over four decades.
Ferry stated that in all of that time, helping others create a new smile has been the most rewarding part of his career.