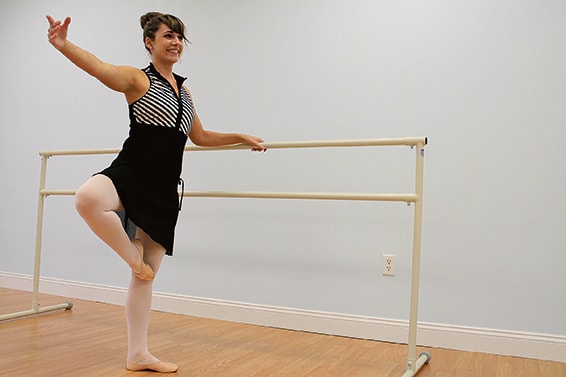 With her hair in a perfectly balanced bun and her arms outstretched gracefully, Macie Zimmerhanzel leaps across her dance floor. Her poise is matched by her positivity and perseverance. For years, she dreamed of starting her own dance business, and this summer, she followed that dream and opened Macie's School of Dance and Yoga.
Macie's School of Dance and Yoga opened July 7, at 605 E. Alexander St. in Plant City. As a certified instructor of dance and yoga, Zimmerhanzel offers classes in a variety of styles, for children ages 3 to 18.
Zimmerhanzel earned a bachelor's degree in dance and secondary education in 2011, from Texas Tech University. After graduating, she continued dancing professionally and teaching. While teaching dance at Manzano Middle School in Brownsville, Texas, Zimmerhanzel established the school's first competitive dance team.
"I really want to instill my love and passion in my students," Zimmerhanzel said.
In 2012, Zimmerhanzel moved to Plant City to be closer to family in the area, and she began teaching ballet and jazz at three local preschools: Walden Lake Learning Center, Plant City Learning Center and Children's Nest.
"I especially love teaching the little ones, because they're like a blank canvas that I get to mold," Zimmerhanzel said. "It's really important to get them when they're young, so they can learn self-esteem and self-accomplishment."
Through her preschool program, she built her clientele until she was confident she would succeed as an independent business owner.
"It's been my lifelong dream to be able to open a place of my own," Zimmerhanzel said. 
The school is not the only dance school in Plant City, but its yoga classes make it unique, as does Zimmerhanzel's extensive background in education. 
"I love giving positivity and encouragement to my students," Zimmerhanzel said. "Every child deserves a chance to be in the spotlight, on stage, and be able to put on a tutu and dance for everyone."
Although Zimmerhanzel is the only teacher at Macie's School of Dance and Yoga, the school has a second employee: her mother and office manager, Mindie Zimmerhanzel. Mindie also has a teaching background, as well as a master's degree in secondary education.
"Macie's the talent, the educator," Mindie said. "I'm just along to help with the kiddos. I'm all about developing kids. I think it's so important. Kids need as much mentoring as they can get."
The Zimmerhanzels already are planning for the future, as well. There will be a recital at Plant City High School for all of the school's students next summer. Beyond 2015, they hope to keep growing. 
Mindie said she was proud of her daughter for following her love of dance. 
"I can't say enough good things about (Macie)," she said. "She's a beautiful person inside and out. She has strong faith, and she's determined to succeed."
Currently, all of Zimmerhanzel's students are girls, but she has taught boys before, including an all-boys hip-hop class while she was in college. She said Plant City boys interested in any style of dance are welcome at her studio.
Contact Catherine Sinclair at csinclair@plantcityobserver.com.
OPEN HOUSES
WHEN: 9 to 10:30 a.m. Aug. 9; 6 to 8 p.m. Aug. 14
WHERE: 605 E. Alexander St.
INFO: Attendees who sign up for classes will receive a 50% discount for the first month of tuition. There will also be giveaways and prize drawings. Fall dance classes begin Monday, Aug. 18.
CONTACT: (813) 220-8355 or visit maciesschoolofdance.com