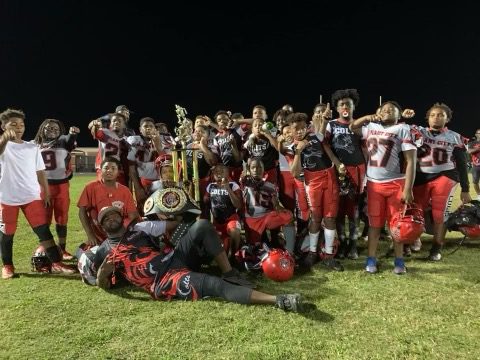 After seeing the 2020 season cancelled due to COVID-19, the Plant City Colts returned stronger than ever
After a 2019 season in which the Plant City Colts' youth football organization sent all five of their football teams to the Mid Florida Football and Cheerleading Conference playoffs for the first time in history, the organization was forced to sit out of the 2020 season due to COVID-19.
After witnessing several players take the 2020 season off or move to different organizations for the year, it was unclear to many within the organization what participation would look like when they resumed action in 2021. But with excitement building for a return to the football field, the Colts' community showed unwavering support as enrollment brought a record number of players to tryouts.
"It was so awesome," coach Clifford Stallworth said. "We had so much participation from the community. From guys coming out and volunteering, setting up mini-camps, setting up conditioning and training, tutoring… And with the addition of the new Sadye-Gibbs Community Center and the kids coming out at that rate, it was just a phenomenal year. It was a phenomenal year."
Now getting off the ground wasn't easy, as COVID cases in both organizations caused their first week of games to be cancelled and weather wiped out their second, but the Colts were able to overcome and once again send all five of their teams to the playoffs before making history again. For the first time in program history, the Colts watched three of their teams make the MFFCC Super Bowl, played this past Saturday at Kathleen High School in Lakeland.
"For us to have three teams here, to have that trifecta in there, it's awesome," said Stallworth.
But the Colts made sure that the players wouldn't just be a part of the Super Bowl on Saturday, making an entire event of the day with tents set up to cover platters of food and drinks while Stallworth tended the grill and the sparkling grape juice chilled on ice.
"It's just an event that we're having to just celebrate the accomplishments of our young men," Stallworth said. "We just want to make it a star-studded event for them, we just wanted to create a platform where we can say congratulations before the games even start. We're glad that you're here representing the great city of Plant City and we just want to wish you the best and send you off for your last game."
With three teams fighting for the coveted Super Bowl trophy, two of the Colts' teams came away victorious. While their six-and-under flag football team fell 7-6 in their contest, the Colts' Pee Wee team won 22-14 while their J.V. team narrowly escaped with a 19-18 win.