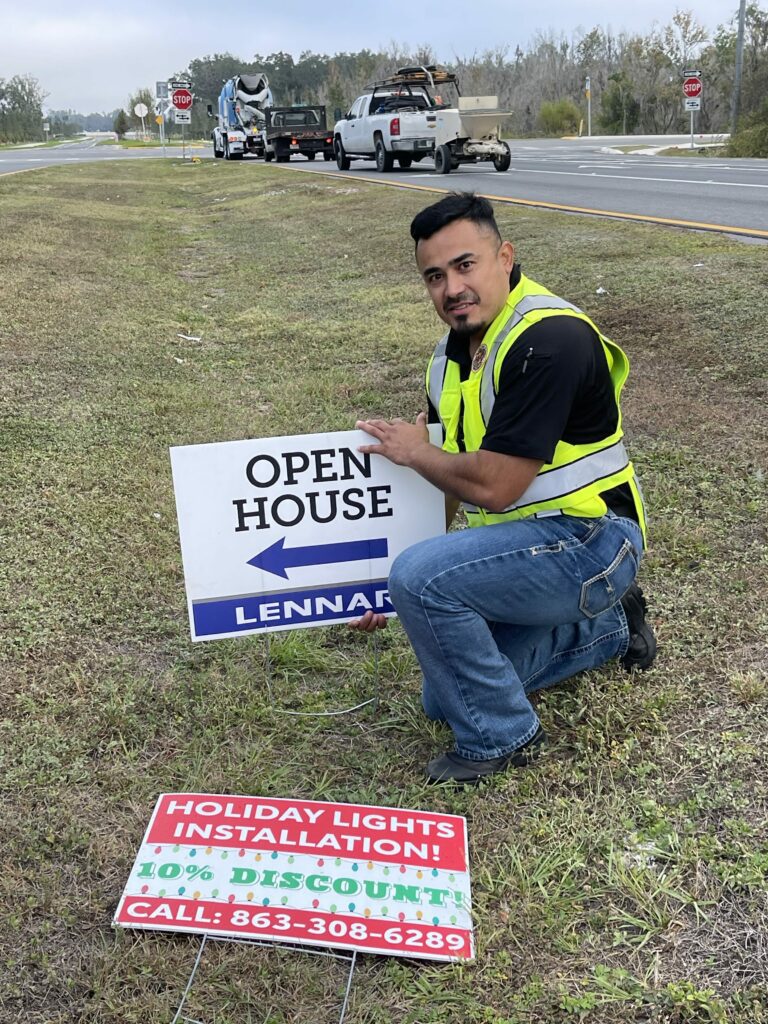 Snipe signs are removed from public property and recycled into an alternative fuel source.
Plant City Code Enforcement team went snipe hunting last week.
Anybody who's ever been to scout camp might laugh at the reference.
No, they weren't on a fool's errand or wild-goose chase. Instead, joining forces with Code Enforcement officers from Hillsborough County and surrounding cities, they went on the hunt for 'snipe' signs, prohibited temporary signs of any material which are tacked, nailed, stapled, posted, pasted, glued or otherwise attached to trees, poles, fences or any other object.
 Boy, did they find plenty of 'snipes'…at intersections, in road medians, attached to electric poles advertising everything from yard sales to tree services, houses for sale to pressure washing services.
The city has strict zoning regulations about what types of signs are allowed and where they can be installed. A detailed list of these regulations can be found at the city's website. In general, signs on public property, including trees, utility poles, fences, rocks and other support structures, aren't allowed.
While the event was an annual cooperative effort, dubbed Sign Off Day Tampa Bay, Tina Barber, Code Enforcement Manager, said the city works tirelessly every day to remove snipe signs from public right-of-ways. "Here we're very vigilant about picking up illegal signs," she said.
City Manager Bill McDaniel said keeping the city streets free of illegal 'snipe' signs is one of several important tasks undertaken by the Code Enforcement team. "Left unchecked, these signs would multiply in our rights-of-way and at our major roadway intersections," he said. "Unchecked 'snipe' signs would quickly turn into unsightly blight throughout our community. Our Code Enforcement team does a commendable job of consistently addressing this issue."
After the snipe signs were collected, the team took them to NuCycle Energy, a Plant City business that processes the plastic in the signs into Enviro-Fuelcubes, an engineered fuel designed to replace coal in energy-intensive industrial processes.
The Code Enforcement team keeps the metal portion of the signs, meaning virtually every component of the collected signs will be recycled. "We keep the metal portion for our signs," said Barber. "They cost between $2 and $3 apiece, I haven't bought them in the last four years."
Amy Radke, Director of Customer Relations and Supply Chain Quality at NuCycle Energy, said the company helps Plant City and surrounding counties, cities and town with their disposal of difficult to recycle types of plastic that often go to a landfill where they don't get another life. "We give them what we call a NuCycle life, another life," she said. "We hope everyone becomes NuCyclers of those types of plastics that can't be recycled."
Radke said last year they processed tens of thousands of signs. She expects that number to increase significantly next year. "We get tons of signs during an election year," she said.