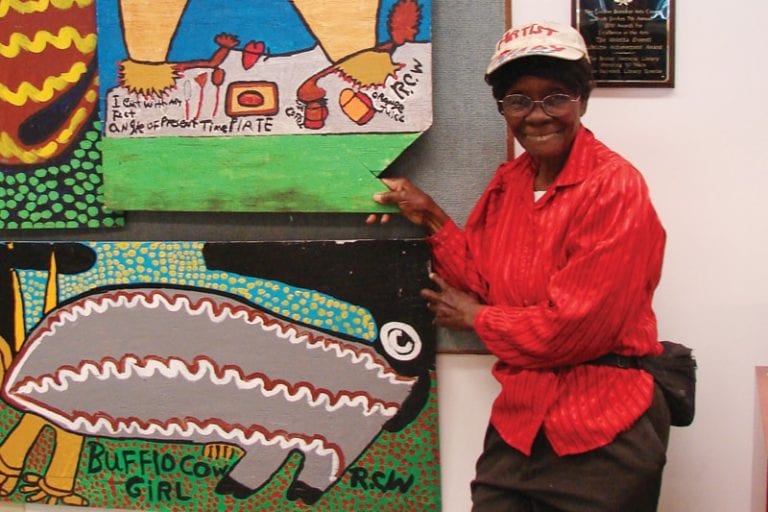 By Amber Jurgensen | Staff Writer
Ruby Williams isn't your traditional artist. She didn't have classical training at some fancy art school. She doesn't paint detailed landscapes or graceful portraits. In fact, you're more likely to find Williams picking crops out in the field or selling produce out of her food stand off State Road 60 than see her painting in an artist's studio downtown.
Yet, Williams has flourished as a self-taught folk artist. Her paintings depict icons from her life: bold strawberries, cartoonish livestock, handwritten sayings, such as, "It will get better."
This weekend, Plant City will celebrate Williams' work with a reception for "The Best of Ruby's Art" from 2 to 4 p.m. Sept. 16, at Bruton Memorial Library.
Williams was first discovered in 1991, after local folk artist Rodney Hardee saw her paintings posted around her food stand. Since then, her paintings have graced the walls at the House of Blues restaurants; the Smithsonian's Anacostia Museum and Center for African-American History and Culture in Washington, D.C.; the American Visionary Art Museum in Baltimore; and various local venues, such as the Polk Museum of Art.
Despite her success, Williams never thought she would be a revered artist growing up. She is the great-great granddaughter of Mary Reddick, one of the 11 freed slaves that founded of Bealsville, the place Williams calls home.
"My family knew I had some talent about me, but we just didn't have the money," Williams says. "I kept my desire to create art to myself."
Williams says her art hasn't changed her.
"I'm still the same person I was years ago," she says. "Still the dirty, ragged woman walking up the street."
And although Williams remains unchanged, her art is always with her. Behind her food stand is a two-room walk-in gallery full of funky folk frames.
Williams has worn many hats before chasing her dream of being an artist. She was a minister in New Jersey, who focused on helping children. After 25 years in the Garden State, she moved back to Bealsville to farm land that had been in her family for more than a century. Now, she still farms and shares the yield at her food stand.
"You've got to work when you're able to work," Williams says. "I've worked so hard. I've been on my knees picking beans to buy me a car."
Williams' ultimate goal is to keep seeing her art displayed in museums, but she says she needs help to keep her art alive. After the death of two of her children and the current failing health of her daughter, Williams needs the community's encouragement more than ever.
"This is the first time I've asked for this," Williams says. "The ambition, determination and love of something keeps you doing it. But I need the community to come down and encourage me."
Contact Amber Jurgensen at ajurgensen@plantcityobserver.com.
The Best of Ruby's Art Reception
WHEN: 2 to 4 p.m. Sept. 16
WHERE: Bruton Memorial Library, 302 McLendon St.
INFORMATION: (813) 757-9215