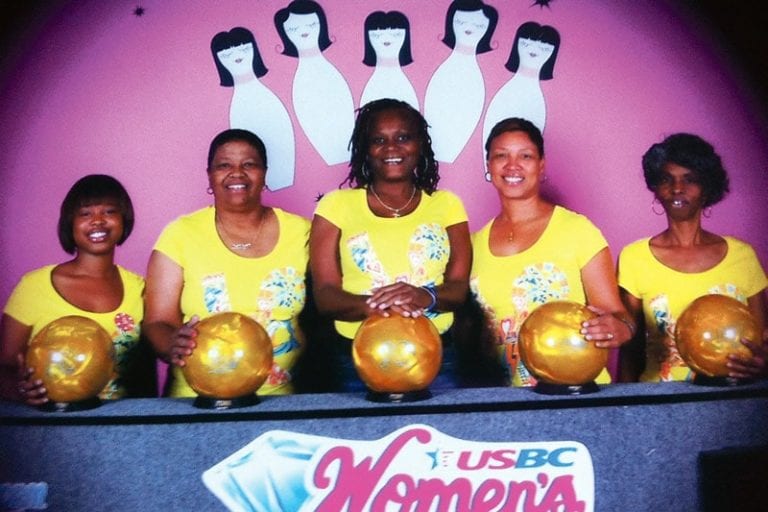 For Marian Smith and Delilah Dexter, bowling has been a longtime passion.
Although the first cousins and Plant City residents have only been competing together on a team at the state and national level for a year, they roll together weekly in the Early Bird senior league at Family Bowl, in Plant City.
In May, Smith and Dexter traveled to Reno, Nev., along with three other teammates — Bridgid White, Joyce Sherman and Resha Sherman — and took first place in the Sapphire Division at the United States Bowling Congress Nationals. Bowling under the name "Classy Girls," the team posted scores of 719, 827 and 763 to win their division, finishing eight points above second place.
"We didn't expect to win but thought we would go and try it out and see what it would be like," Smith said.
The competition lasts several months, although teams coming from all over the country only compete for a few days. Scores are totaled, and the winners are announced after the competition ends in early July.
"We went online at the May and saw we were on top and thought, 'Oh my gosh,'" Smith said. "We couldn't believe it, but we ended up staying in first and winning."
FAMILY TIES
Smith began bowling in the seventh grade. After high school, she joined a league, before moving to Orlando and continuing in a league in for about 10 years.
Her career took her to Atlanta, where she bowled in a league for nearly 12 years — sometimes as frequently as three time per week. She stopped league bowling in 1998 and didn't pick it back up again until 2011, when she returned home to Plant City as a retiree.
"It's just something we all love to do," Smith said about the game. "I have two brothers who bowl, and both have 300 rings."
Smith's mother, Mary Ann Sherman, has been bowling for about 30 years. Smith's and Dexter's aunt, Ruth Price, 87, organized their own bowling team that competed at the state and national level.
Nicknamed the "Fabulous Five," the team comprising older players, with the youngest at age 69.
Four of the team members — Sherman, Price, Edith Demeritte and Knazilee Dexter — are sisters. Their friend, Beatrice Crowell,
also joined them in Reno this year for nationals.
Joyce Sherman and Smith decided to put their team together this year to compete in the nationals.
Smith went in 2012, with the rest of her family but only bowled as an individual, subbing in on teams that needed an extra player.
"It was quite the experience," Smith said. "There were bowlers from everywhere coming together to compete."
PIN BUSTERS
This last trip to Reno was Delilah Dexter's third time competing at nationals.
She last competed five years ago, when the tournament also was held in Reno.
"I've always bowled in state tournaments every year," she said. "My aunts are usually the ones who pair off teams."
Dexter started bowling when she was 12, picking up the game from her family.
She now holds the highest average on the Classy Girls, with a 151.
Dexter said she enjoys sharing a passion for the sport with her family and friends and says the nationals provide a nice getaway.
"It's always a great experience," she said. "The people were great, and the town was nice. It's nice to go there for a week and make a vacation out of it."
According to Smith, the Classy Girls are planning on defending their title next year in Reno but will be doing it as a four-person team after a rule change.
"We enjoyed the experience and are looking forward to going again," she said. "For us, bowling is kind of a family affair."