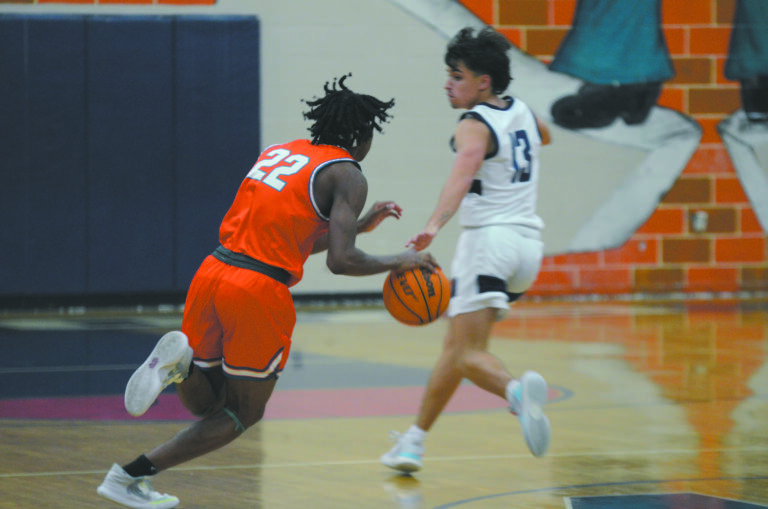 The Raiders pulled away in the second half to beat Gaither on Tuesday, returning to action on Wednesday night against Durant.
Throughout their opening stretch to the regular season, Plant City was able to race out to a 9-2 record with their only losses coming at the hands of a razor thin season-opening contest against 12-1 Newsome and 13-2 Winter Haven. In their wins, each game was decided by double digits with the exception of a 63-57 overtime victory over 11-4 Sumner.
As schools headed into their winter break and regular seasons came to a halt, center Elijah Dawson was named Hillsborough County Player of the Week by Prime Time Preps following his 24-point double-double against Hillsborough heading into tournament play. Plant City took part in the Nature Coast Christmas Tournament, hosted by Nature Coast High School in Brooksville, where they added two more strong wins over Land O' Lakes and Williston before falling in the championship game to Brecksville-Broadview Heights, a public high school from Brecksville, Ohio. As the tournament came to a close, Dawson and guard Damian Jones were both named to the Nature Coast Christmas Tournament all-tournament team.
Returning to regular season play, the Raiders faced off against Wiregrass Ranch last Saturday in the 12th annual Ulrich Family Classic and escaped with an 82-80 overtime win as Dawson (27 points, 17 rebounds) and guard Michael Bell (13 points, 10 rebounds) both posted double-doubles in the contest. Behind Dawson and Bell, Jones added 23 points with a team-high seven assists.
Plant City then made their way to Carrollwood on Tuesday as they faced the Gaither Cowboys, pulling away in the second half to claim a 65-58 win and move to 12-4 on the season.
Gaither opened the scoring to take a 2-0 lead early, getting a defensive stop and making pass after pass on a lengthy possession their next trip down the court. Plant City was eventually able to get a stop of their own as Dawson gathered the loose ball and ran the court for an easy layup in transition and the Raiders' first points of the contest. The Cowboys scored the next five points to take a 7-2 lead but a tough inside bucket from Dawson and a three from sophomore guard Seth Hogan brought the score back even at 7-7. Dawson added another bucket to give the Raiders a 9-7 lead and Plant City held the slight advantage heading into the second after a slow-scoring first quarter.
Despite another slow start to the second quarter, the game began to heat up as both teams battled point-for-point throughout the period. After Gaither tied the game at 9-9 on a layup to open the scoring in the second, Plant City's junior guard Leroy Lucas came up with a steal and converted the bucket himself on the other end to take the lead back. Two straight buckets from Gaither put them back ahead 13-11 but the Raiders quickly responded as Lucas drove the lane on their next possession, kicking the ball out to a wide open freshman Devonte Howard for three, putting Plant City up 14-13. A layup for the Cowboys and a free throw from junior Malachi Morris tied the game at 15-15 momentarily, but Gaither pulled ahead once again as a missed three was gathered in the paint and put back up for the 17-15 lead. At 18-16 following a converted free throw from each squad, Plant City took their biggest lead of the night to that point with threes on back-to-back possessions, giving the Raiders a 24-18 advantage, ultimately taking a 24-20 lead into halftime.
Throughout much of the third quarter Plant City battled to hold on to their slim lead, if only by a thin margin. As the Raiders continued to hit shots to keep themselves ahead, Gaither continued to battle back and repeatedly brought the game back within one possession. After Gaither pulled back within three late in the quarter, cutting the Plant City lead to 36-33, Bell answered with a layup to made it 38-33. Gaither once again responded to make it 38-35 and Dawson finished a tough inside bucket at the rim to kick off a Plant City run. Leading 40-35, Taylor Teeden drove the lane on the Raiders next possession and kicked the ball out to junior Chase Dexter in the corner who attacked the basket and finished an acrobatic reverse layup. Then a steal and score in transition gave the Raiders another quick score, followed by another steal into a midrange jumper from Hogan to give Plant City a double digit lead at 46-35, leading to a 48-38 advantage heading into the game's final quarter.
Despite a tough battle from Gaither, trailing 57-42 at one point in the fourth before fighting all the way back to make it a six-point game at 62-56 with under one minute remaining, the Raiders were eventually able to hold off the Cowboys' rally to escape with a 65-58 win as Dawson and Jones once again led Plant City's scoring with 19 and 16 points, respectively.
Across town, Durant's recent skid throughout regular season and tournament play continued with a 64-55 loss to King High School on Tuesday. Despite a 7-0 start to the year, the Cougars found themselves at 9-5 as they made their way across town to face the Raiders at Plant City High School on Wednesday night.
While the basketball game between Plant City and Durant was played on Wednesday, the game took place after the Plant City Observer had gone to press. Further coverage will be provided.