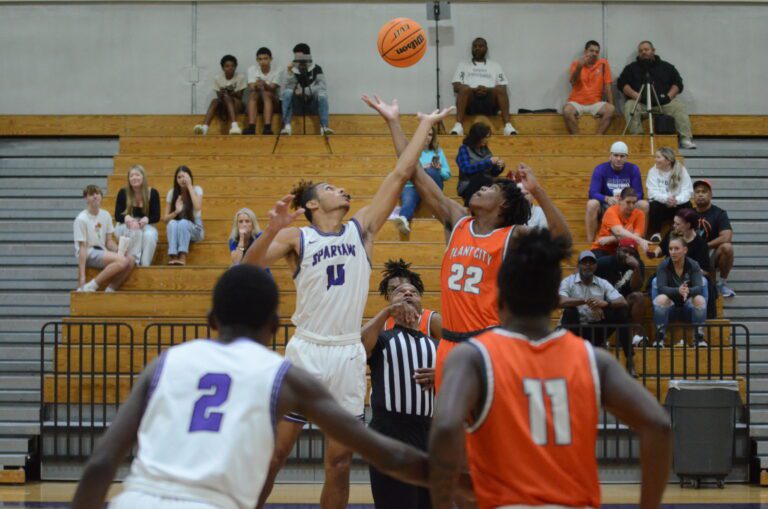 The Raiders moved to 4-2 on the year with their 59-37 win over the Spartans.
The Plant City Raiders traveled to Riverview on Friday where they moved to 4-2 on the season with a dominant 59-37 victory over the Spoto Spartans.
"We started off with some really tough competition," head coach Billy Teeden said following the win over Spoto. "Opening week we had Newsome, then Plant was tough, we played Winter Haven this week as well, so if I thought 4-2 would be our record after the first few weeks I'd be OK with that. We're going to get better and I'm excited about this group."
Spoto opened the contest with a deep three-pointer to take an early lead, but center Elijah Dawson immediately answered by driving the lane and converting on a layup on the Raiders' first possession. On the next trip down the court for Spoto, junior Malachi Morris forced a turnover and sent the ball downcourt to Dawson who finished the run with a big dunk to give Plant City a 4-3 lead. And immediately following the big play, Dawson got a steal of his own and took it to the rim with another huge dunk.
Spoto was able to end the Plant City run with a layup on the other end, but Plant City once again responded with a three from Mike Bell that would kickstart a 15-0 run to end the first quarter, giving the Raiders a 21-5 lead heading into the second quarter.
In the second, Plant City would continue to dominate the game with tough defense, flawless execution in transition and strong play inside the paint from Morris and fellow senior Damian Jones. Outscoring the Spartans 15-11 in the second quarter, the Raiders took a 36-16 lead into the half. Plant City hit their first speed bump early in the third as they struggled for several minutes offensively, but benefitted from Spoto's continued struggles as the Spartans were only able to cut the Raiders' lead to 36-20 well into the period before Plant City was able to once again find their rhythm. A pair of trips to the line put Plant City back up 40-20, but a rough quarter from the field finally saw the Spartans outscore the Raiders with a 9-8 advantage in the third, but the narrow margin would be far from enough to overcome their overwhelming 44-25 deficit heading into the game's final quarter.
In the fourth, Plant City was able to run away with the contest as they raced out to a 59-37 win to put them at 4-2 on the year.
Plant City had three different double-digit scorers in the contest, led by Dawson with 14 points, Jones with 13 and Bell with 10, followed by Morris with seven.
The Raiders then returned to action on Tuesday as they faced 4-1 Sumner, coming away with a 63-57 win and moving to 5-2 on the year.
And the road to 5-2 hasn't been easy as they Raiders have had tough contests throughout this opening stretch, including a narrow 54-52 loss to 7-1 Newsome to open the year, followed by a 73-60 loss to an undefeated Winter Haven squad earlier in December and a handful of talented teams in-between. But in their wins, Plant City has outscored their opponents 343-256.
"For us, we definitely don't look the part," Teeden said. "We walk into a gym and we're undersized, we're small, but these guys are all comfortable together. They've been playing together for the last three years, they play hard and they play tough. I like this group. We may surprise some people because we don't have a lot of height, but we have a lot of heart."
With a strong start, the 2022 Raiders look exceptionally similar to their 2021 team that finished the year with a 20-8 record on the heels of a trip to the district finals and a regional quarterfinals appearance. But while Plant City has indeed seen a lot of talent across the roster return, they entered the year without their most impactful player from last season in D.J. Haynes, a senior that led the Raiders in points, assists, rebounds and steals per game in 2021. But behind Haynes, five of the Raiders' next six highest scorers from last season are all back in 2022.
"The biggest adjustment to losing D.J. I'd say, and we said it this summer, was that guys just have to get better," Teeden said. "Malachi Morris has been one of those guys, he's in the gym on Sunday evenings getting extra shots up and he's been big bonus to us, so guys have just gotten better, that's what they had to do. We're shooting pretty well right now and I think it's because they put such hard work in over the summer."
Plant City will wrap up the week with games against 1-4 Brandon on Friday and 4-3 Robinson on Saturday.