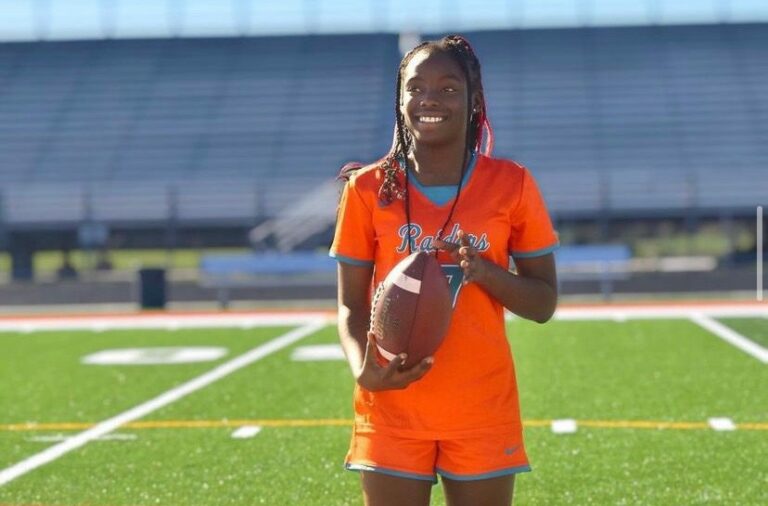 Tolaisha Perry became the second girl in Plant City High School history to sign her national letter of intent to play collegiate flag football.
As noted by Sports Illustrated, just 18 high schools in the state of Florida fielded flag football teams in 1998. But by the 2002-2003 school year, when the sport began with a single classification offered by the Florida High School Athletics Association, it had already grown rapidly with 146 schools offering varsity flag football teams and 92 teams listed in the single classification series – with many of the programs concentrated in Duval, Leon, Orange, Pinellas, Palm Beach and Broward counties.
Within a decade, that number grew to 177 programs competing in the single classification state series with 24 other schools playing an independent schedule. By the 2014-2015 school year, 197 schools fielded flag football programs in the state series as the FHSAA granted the sport a second classification, by 2018-2019 the FHSAA moved flag football from recognized status to sanctioned status. In a recent high school athletics participation survey done by the National Federation of High Schools for the 2021-2022 school year, over 15,700 student athletes participated in girls flag football across seven states, with Florida leading the charge at 311 active programs and 7,809 girls participating.
In the Tampa Bay area, the Tampa Bay Buccaneers began hosting the Buccaneers Girls Flag Football Preseason Classic at their practice facility in 2019, an event that has since grown to include over 50 flag football teams from across the state in a five-day event that features dinner, facility tours, meet and greets with current players and the largest flag football tournament in the country. Additionally, the organization founded the Women's Summit for Careers in Football in 2021 and became the first NFL team to create academic scholarship programs for girls who play organized football and are passionate about pursuing a career in sports – made possible through a $250,000 commitment from the Tampa Bay Buccaneers Foundation.
In 2020, the NFL, NAIA and Reigning Champions Experiences announced a two-year partnership to pave a pathway toward making women's flag football an official sport for the NAIA beginning in 2021 and in 2021, the NJCAA also announced that they would launch girls flag football as an emerging sport in a joint effort with the NFL and RCX, providing $10,000 grants to 15 member colleges as part of the initiative.
In 2021, Warner University in Lake Wales, Fla. became one of four Florida schools alongside St. Thomas, Keiser and Webber International to field a team in the inaugural NAIA season. And now preparing for their third year of collegiate competition, the Warner Royals have found a local addition in the form of Plant City High School alumna Tolaisha Perry.
A track and field athlete in her first two years at Plant City, Perry said that she originally had no interest in joining the Raiders' flag football team, being dragged to tryouts by a friend in her junior year. But it didn't take long for Perry to take to the sport, finishing her high school career with 85 total tackles, 46 sacks and one interception over the course of two seasons as a rusher for the Raiders.
Upon finding out that there was an opportunity to play flag football at the collegiate level, Perry began putting film together and reaching out to schools. She began touring schools and spoke with both Hesston College and Kansas Wesleyan, both in Kansas, before becoming the second player in PCHS history to sign their national letter of intent to play flag football at the collegiate level.
"Warner was so family-oriented, when I came it just made me feel like I was home," Perry said.
Now enrolled as a freshman, Perry says that a strong freshman group has made acclimation at Warner a smooth transition, both in regards to the academic and athletic phases of the process.
"I wouldn't say that it's been easy, but it hasn't been tough," Perry said. "The team has been welcoming and the freshman group that's here has been with each other, making sure that we hold each other accountable for going to practice, going to weights, making sure that we're going to class and doing our homework so that's made the transition from high school to college easier. Everyone is together, helping and making sure that no one is struggling."
In a short time, flag football has rapidly picked up steam since its recognized status at the high school level. And now Perry has the opportunity to compete as one of the nation's first true waves of flag football athletes at the college level.
"It's cool because it's giving women the chance that they can play football too," Perry said. "It's giving them a chance to stand out and say that we can do it too. Flag is just so exciting to play because the opportunities that are coming with it, how it's growing every day, it's just developing more and more. I would say that it's about to take over because it's giving people a chance to do something that they love without just playing it in high school and being done with it. The fact that it's at the college level, that it will eventually move to bigger universities, is good for everyone… And the fact that I can be in the beginning of it and help the sport grow is a lot, it's meaningful."