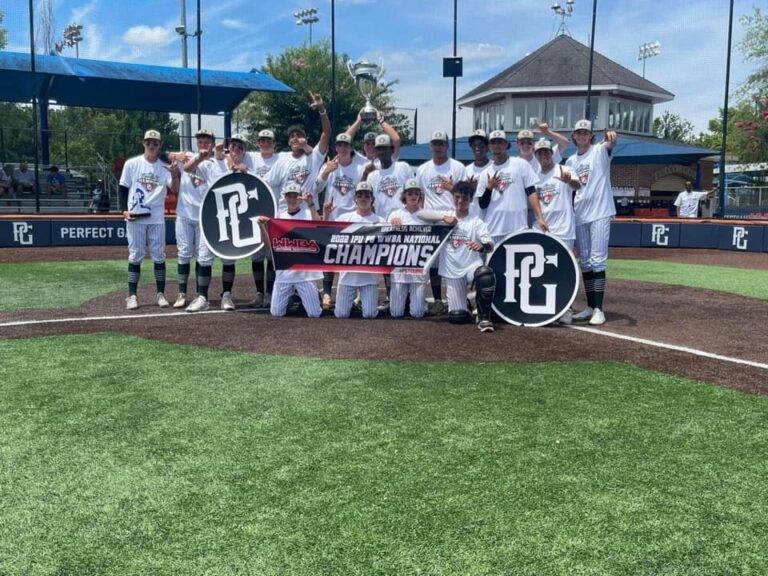 As a part of the Ostingers Baseball Academy, baseball players from Plant City, Durant and Strawberry Crest all played a part in the team's two national championships this summer.
Ostingers Baseball Academy, a travel baseball team based in Lithia, has had quite the eventful summer as they recently brought home their second national championship of the year.
While based in Lithia, the team is largely composed of local prep baseball players from Plant City, Durant and Strawberry Crest. Plant City is represented by pitchers Tanner Rollyson and Adan Longoria, Durant is represented by infielder Aidan Welsh, catcher Dylan LaPointe and pitcher Preston Rogers and Strawberry Crest is represented by infielder Arjun Nimmala and pitcher/outfielder Alex Philpott.
While the spring brings local rivalries and even matchups with major district title implications between the three schools, during the summer this group battles together for a common goal.
"We know each other and it makes high school a lot more fun because if you beat one of the teams that we played during our high school season, or they beat us, there's a little bit of competition there," Rollyson said. "But once you put on the same uniform everything changes, you play for each other, not against each other. That's the biggest part."
Their first national championship victory came in mid-July at the 2022 Perfect Game WWBA (World Wood Bat Association) 17U National Championship in Marietta, Ga. Through Perfect Game, the world's largest and most comprehensive provider of baseball scouting and amateur baseball events, teams composed of some of the top prep prospects in the nation come together for their national tournaments. With a field starting at 128 teams from across the country, Ostingers came away victorious with an 11-3 victory over the Georgia Bombers, a top-10 team in the nation at the 17U level.
"The tournaments were amazing but you always go one game at a time," Welsh said. "There's just so many teams. In the Perfect Game tournament, 128 teams made the bracket play. So we had to win seven games to win the championship and seven games is a lot. Like March Madness, there's a lot of chaos and that's 64 teams, so we're playing one more game than they even play in a March Madness tournament in college. It's just a lot of a one-game-at-a-time mentality. Just play one game at a time and if you win, it's on to the next."
Later in the month, Ostingers traveled to Emerson, Ga. and brought home another national championship at the 2022 Prep Baseball Report 17U National Championship.
"The big one we played, the WWBA through Perfect Game, that's the biggest travel baseball organization out there," Rollyson said. "Then the second one was through PBR, Prep Baseball Report, another prestigious travel ball organization, probably the second-biggest behind Perfect Game. So winning the biggest travel ball tournament and the second-biggest travel ball tournament, it doesn't get much better than that."
While Hillsborough County is full of top-end baseball talent, these travel ball tournaments allow prep players to face college and Division I commits each game, some of the nation's best players in their age group.
"It makes us a lot better but it also shows us how teamwork wins ballgames," Welsh said. "Playing against those teams you're seeing a DI arm every game, a Power 5 commit every game, it makes you that much better for high school. Then you come back to high school and you don't see those arms all the time so it just makes you a better ballplayer and time you get to play against that competition. But again, it shows how much teamwork plays a factor because we only had six DI commits and we're facing teams with 20. We're going up there and beating them because we practice together, we don't just show up to tournaments together, we do all the little things together, we hang out together, all of that."
Rollyson echoed Welsh's comments how how much of a factor teamwork and playing together played in their victories.
"It was insane," Rollyson said. "We played teams with as many as 25 or 26 Division I commits, the team we faced in the Perfect Game tournament final had over 20 Division I commits, and we have a few Division I commits too but we don't come from all over the country. These teams fly in kids and have the big-name kids that they bring in, some of the teams have personalized buses, so for a local team from Tampa and Fishhawk to win these big tournaments, it's kind of fun. It proves that winners win. You don't have to have the big names, the five star recruits, any of those big players. You have to have players who know how to play with each other, that are comfortable with each other, that know each other, that's what it takes to win."