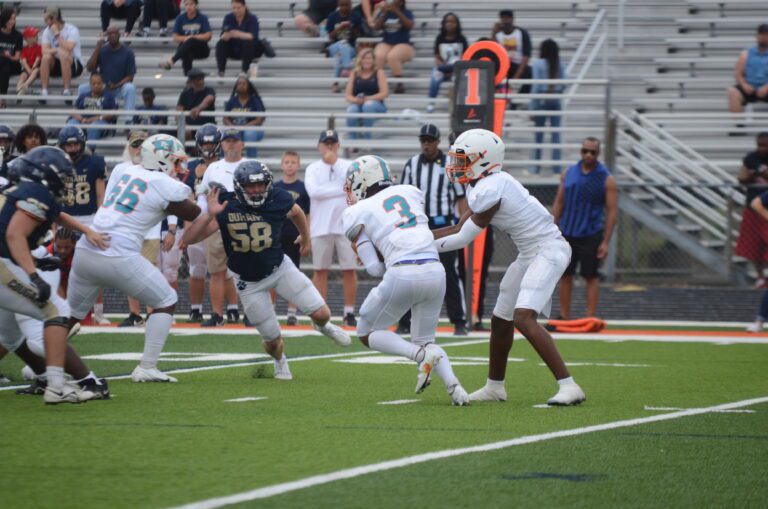 With a late touchdown, the Raiders came away with a 7-0 victory in the shortened scrimmage game.
Durant and Plant City faced off on Tuesday for their spring football game, with the Raiders coming away victorious with a 7-0 win on the heels of a late go-ahead score.
For Durant, there is quite a bit of continuity within the program as several key skill players are set to return this fall as the Cougars head into their third season under head coach Claybo Varnum — a strong run in which the Cougars have put together back-to-back 8-3 campaigns, with highlights that include their first win over rival Newsome since 2017 and their first district championship since 2014. But for the Raiders, the program has seen a storm of change blow through since their five-year run under former head coach James Booth ended with Booth resigning after the end of the 2021 season. The first wave came in the form of a highly-anticipated hiring of Michael Clayton last spring — a BC National Champion at LSU before becoming a first-round draft pick by the Tampa Bay Buccaneers in 2004 and a Super Bowl Champion in 2012. Despite the notoriety of the hiring, Clayton's tenure with Plant City lasted just one season before the two sides parted ways and first-year defensive coordinator Terrance Hicks was promoted to head coach.
"I wouldn't say that's been a whirlwind but I also wouldn't say that it's been easy," Hicks said. "It's just learning things on the fly, making sure that I keep in touch with the same guys that got to this point, talking to my mentors on a daily basis and being confident in myself, what I know and believing in the system."
While many members of Plant City football's staff will look similar to year's past, there have been some notable changes. The first includes the promotion of Will Blankenbaker to offensive coordinator — a long-time staple with the Raiders' program.
"Everybody around the Plant City area knows Blankenbaker," Hicks said. "He's a brilliant offensive mind but he's not only an offensive guy, he also helps me keep the program running. He's just so smart, so helpful, so resourceful. I can't say enough about Blankenbaker."
Additionally, Plant City added Fred Reid as their new offensive line coach and run game specialist. A Tampa native, Reid played four years as a running back at Mississippi State before signing with the Buccaneers as an undrafted free agent in 2005. After his release that summer, Reid went on to play one season with the Mississippi MudCats of the American Indoor Football League and four seasons with the Winnipeg Blue Bombers of the Canadian Football League. As a coach, Reid served as the head coach for Middleton High School in Tampa from 2014 to 2018 before making his way back to Canada and working as the running backs coach for the Toronto Argonauts in 2020 and 2021 and the Ottawa Redblacks in 2022.
In the shortened scrimmage, a contest in which the two teams face off for just two 15-minute quarters, Plant City lined up to receive the opening kickoff and started their first drive at their own 30-yard line. In transfer quarterback Chris Denson's first appearance with the Raiders, the drive lasted just two plays — both runs — before a fumble turned the ball over to Durant at the 36.
A short completion opened the drive for the Cougars but a Plant City sack immediately pushed them back behind the sticks. Durant was able to find another short completion on third but it would leave them short of a first, resulting a in a punt that allowed the Raiders to take back over at their own 21-yard line.
Denson opened the drive with a quarterback keeper up the middle for a 10-yard gain and a first down, followed by a big run up the left side by Jaden McCants… only for the play to be called back on a holding penalty. After an incomplete pass on first down, Denson was able to find a first-down completion across midfield and up to the Durant 40-yard line. A bad snap wasted the ensuing first down for Plant City and Denson was immediately pressured by linebacker Hale Sollmann on second, spinning out of the initial tackle before being sacked by a team of Cougars to set up third and long. The Raiders were unable to convert and their punt on fourth set up Durant at their own 25.
With quarterback Michael Ryan now in under center for Durant, the Cougars made their way down the field and up to the 23-yard line, just outside of the red zone, where they were faced with a third-and-eight. A dropped pass on third set up fourth and Ryan's fourth down pass was right on the money, a deep pass up the right sideline and into the end zone, but what initially appeared to be a touchdown connection in the corner of the end zone was crucially broken up at the last moment by the Raiders' secondary.
Much of the remaining contest was a defensive battle, with neither offense able to put points on the scoreboard until the final minute of the game. While Durant's defense continually kept the Raiders in check, a few narrow downfield misses kept the Cougars off of the board. And after a decent punt return from inside their own 20 looked to set Plant City up with great field position around their own 40-yard line, with time winding down, a penalty on the return ultimately pushed the Raiders back to their own 16. A loss of two on a first down run left Plant City facing second-and-12, but a six-yard completion followed by a quarterback run from Denson moved the Raiders up to the 35 for a first down. A snap over Denson's head on the next play resulted in a big loss on first down but Denson bounced right back with a 75-yard touchdown pass over the middle to Trae'veon Smith — giving the Raiders a 7-0 lead with exactly one minute left, a lead that they would hold to claim Hicks' first win as head coach.
"It feels really good," Hicks said. "We've been grinding, we've been working, it's a journey. The scoreboard shows the score but it doesn't show all of the work that we've been putting in throughout the spring. I'm proud of the boys, I'm proud of the coaches and I'm proud of the community for buying in to the reboot."