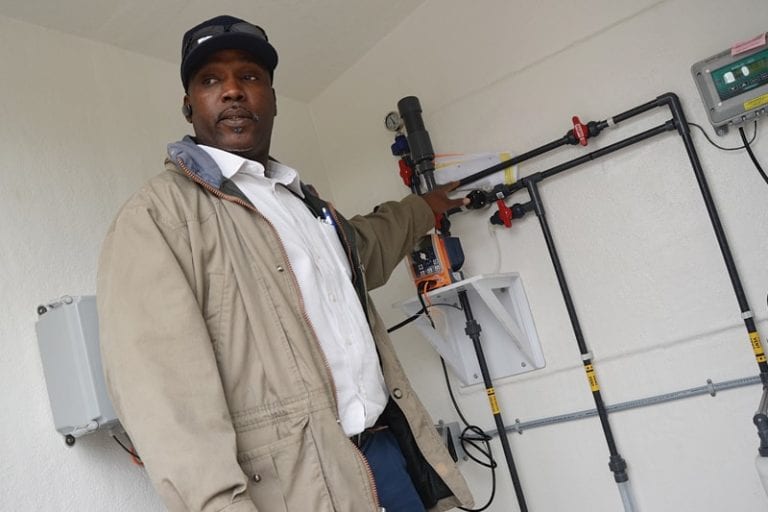 It's been three years since the Hillsborough County Health Department approached the Plant City Commission about adding fluoride to the municipal water supply.
Fluoride finally began flowing into Plant City's water March 1. About 13,000 households now receive fluoridated water.
"Over the last few years, we were beginning to wonder if this day was ever going to happen," Mayor Mike Sparkman said to a crowd that gathered at the strawberry water tower off Cherry Street to celebrate the new fluoride water system.
Sparkman always had been interested in adding fluoride to the water supply. He had read an article years ago that said there was a trend in military recruits from the Springhead area that had healthier teeth. After a study, the military attributed the difference to a higher amount of natural fluoride in the water.
Until now, funding a fluoridation project in Plant City had been the primary barrier.
FUNDING
Around 2009, Karen Pesce, a registered nurse and executive director of More Health, in Tampa, applied for the Closing the Gap grant, which would help bring educational programs to children on dental health. Furthermore, the grant also would allow More Health to identify areas in the region that didn't have fluoride in their water supply. She received the grant and a matching amount from Dr. Douglas Holt, of the Hillsborough County Health Department.
With funds in-hand, Pesce identified Plant City as an area that needed fluoridation. Plant City received a $386,000 grant from the state and the supplemental grant from the Hillsborough County Health Department to jumpstart the project.
"This is an important day," Terry Buckenheimer, the president-elect of the Florida Dental Association, said. "It gets expensive, but it's one of those things that's going to help the citizens of Plant City."
Sparkman agreed.
"Our kids, our youth, our babies will benefit," Sparkman said. "This generation might not get the benefits, but the next will. As times get tougher, those who can't afford dental care will be able to benefit and grow up with healthier teeth."
According to the Florida Department of Health, 76.7% of people served by community water systems receive optimally fluoridated water, reaching 69.5% of Florida's population. Fluoride is used to prevent tooth decay and cavities in children.
"Fluoride is a smart strategy," Kim Herremans, a dental health consultant with the Hillsborough County Health Department, said. "Water with fluoride is really about overall health.
"Everyone has been open-minded and willing to explore this together," Herremans said. "It's really been community support."
THE DEBATE
But not all have supported it. Plant City resident Jeff Wallnofer is worried about adverse health effects it could have on him and his three daughters.
"From what I have read, it causes serious, long-term health problems (such as) bone cancer and negatively affects the pineal gland. I am no expert on the subject, but I have read a fair amount."
Wallnofer pointed to a recently published Harvard University study funded by the National Institutes of Health that concluded children who live in areas with highly fluoridated water have "significantly lower" IQ scores than those who live in low fluoride areas.
"A lot of people just accept fluoride, but, when chemicals are in our water, we should know what they do and how they affect us long-term," Wallnofer said.
HOW IT WORKS
A precision chemical feed system has been installed at each of the city's four water plants at Alexander Street, National Guard Drive, Cherry Street and Commerce Street.
The drinking water supply comes from four wells, which are each 700 to 1,000 feet deep. The material added to provide fluoridation is manufactured from fluorspar mineral deposits mined in Spain, specifically for use as a drinking water additive.
The material is added directly to the well water and mixed before water reaches the tanks.
The Environmental Protection Agency's recommended level of fluoride is .7 parts per million. The amount of ground fluoride found naturally in the city's supply is .32 parts per million and now, the city adds .38 parts per million.
A touchscreen control panel is located at every site to monitor the measurements. There are also safety measures at each water plant to watch for over-pressurization and water flow, so no more than the specified amount of fluoride goes into the water.
"There's no way of actually putting more fluoride into the supply than actually needed," shift manager Isaac Bostic said.
Bostic and other shift managers will check on the control panels and chemical feed systems twice during their 12-hour shifts.
In addition to Plant City, Pinellas County also started adding fluoride into its supply March 1.
Contact Amber Jurgensen at ajurgensen@plantcityobserver.com.Related Stories