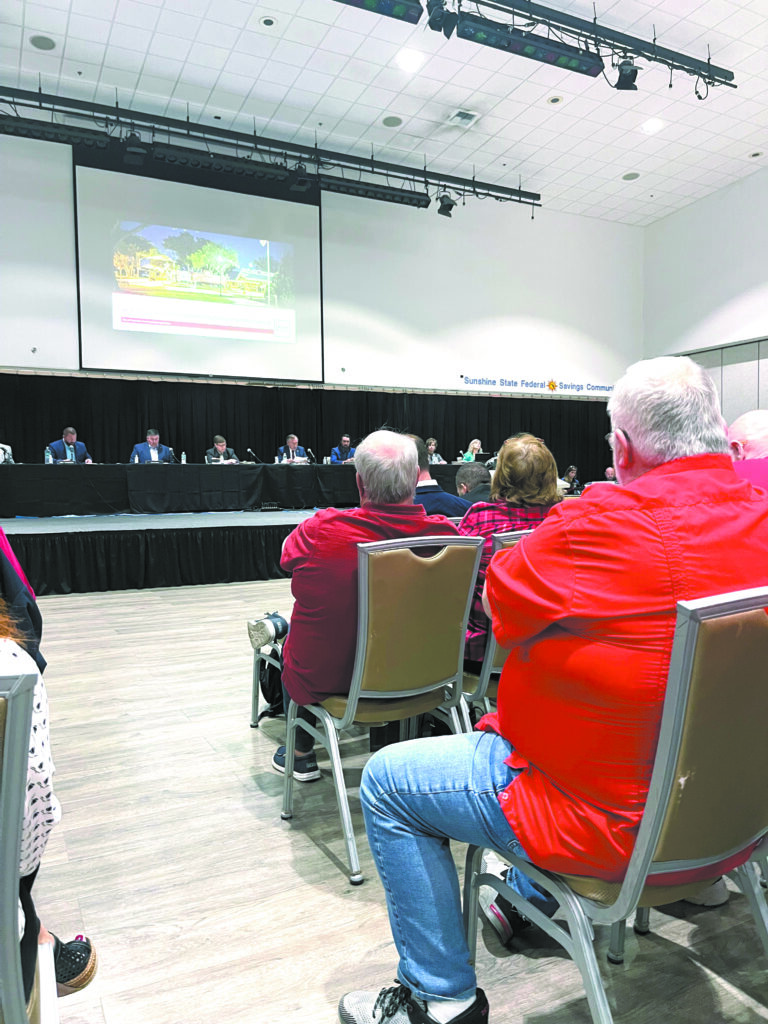 The hearing, which spanned four a half hours, will reconvene Feb. 8 at 5:30 p.m.
The sea of red at the Trinkle Center at Hillsborough Community College on Tuesday night wasn't a Florida Strawberry Festival Board of Directors meeting but a throng of Walden Lake residents opposing a request by Walden Lake, LLC to rezone approximately 319 acres of vacant land (a former golf course) inside its community to make way for new development pods for 154 single family detached dwellings, 98 villas and 200 townhomes.
Planning Board Chairman Art Wood, who lives in Walden Lake, said he had the blessing/bad luck of being the chairman for the request. "The Planning Board's decision will be based on the evidence of this hearing," he said. "We all share the same ambition to have the best possible Walden Lake."
After speakers were sworn in for the quasi-judicial public hearing, Planning and Zoning Manager Julie Ham gave a 30-minute presentation about the request and shared her professional opinion about whether the request complies with city land development codes and the comprehensive plan. "We find it consistent with the Imagine 2040 plan and have no objections," she said.
During her presentation, audience members in disagreement of her statements were vocal, with a couple residents muttering "bull****" under their breath.
Cross examination of witnesses by board members and party interveners was allowed after each person testified, and board members peppered Ham with questions about transportation studies, right-of-ways, special exceptions and the impact on schools.
The next presenter was Jake Cremer, a land-use attorney with Stearns Weaver Miller, who spoke about the hard truths of the project. "Folks, golf is not coming back and no public recreation is coming to this property without some development to offset that," he said. "The only way we can bring recreation back on this property is with high-quality housing to pay for it."
He stated that since appearing before the Planning Board in February, 2022, the developer addressed the 42 specific concerns board members had about the project.
"The landowner has a legal right to develop this property," he stated. "People want to invest here and people want to live here so with that I'd ask for your approval."
Cremer was then cross examined by board members and party interveners, who wanted clarification about wetlands, trail systems within the new development, buffering, traffic issues during the construction process and parking for townhome residents.
Scott Collins, Vice President of Walden Lake Community Association, was the next presenter and a party intervener. He spoke briefly but ceded his remaining time to Frances Marino, owner of Femme By Design, a planning advisory company and retained by Walden Lake Community Association to prepare a written report relative to her findings and present them to the board. Her opinion? "It's not complete compatibility and it's inconsistent with the comprehensive plan and will destroy the character of the area," said Marino amidst scattered applause by members of the audience.
Walden Lake resident Nick Brown, another intervener, was next up to the podium. "I represent more than 600 Walden Lake resident households that petitioned the city to deny this zoning application," he said. "There is unanimous opposition to the project by those neighboring the project and emphatically recommend zoning denials."
At the conclusion of Brown's remarks shortly before 10 p.m., Wood ended the hearing. Several scheduled speakers still have to share their comments. "We'll continue where we left off on Feb. 8," said Wood.
Despite the large number of residents that have objections to the project, Walden Lake, LLC developer Carmine Zayoun remains determined to see the project to completion. "It's been a long road getting to this point, we've been at this almost four years now and have been through several iterations of the plan, heard residents' comments and made changes to the plan in the hopes of accommodating those requests," he said. "We know we can't make everyone happy but we're trying to make as many people happy as we can."
The hearing will continue on Wed., Feb. 8 at 5:30 p.m. at the HCC Trinkle Center, at which time the Planning Board will make its recommendation. The request will then go before the city commission who'll make the final decision on the matter.