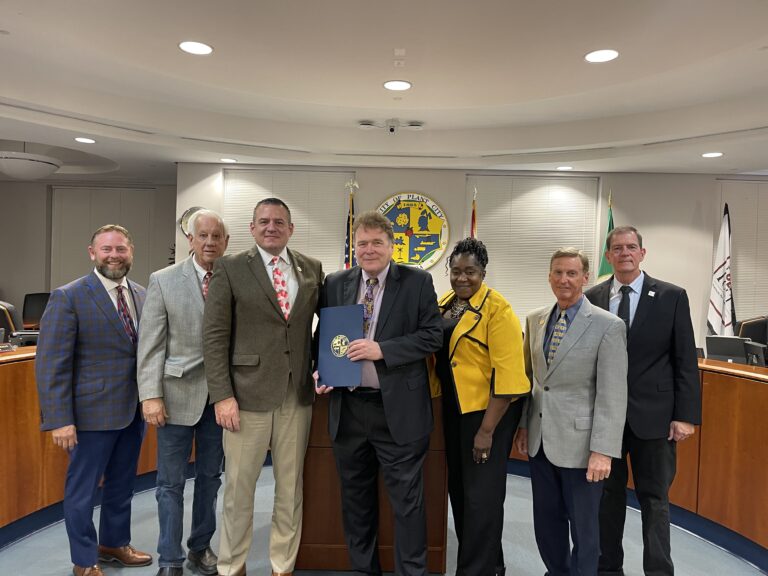 Hudson's work leaves a legacy on the City of Plant City.
Plant City City Commission presented Executive Planner Mark Hudson with a proclamation for his dedicated service to the city. Hudson retired in February after more than 35 years of service to Plant City and Hillsborough County.
"We value everything you've done for this community," said Mayor Nate Kilton.
Not sure what an executive planner does? Planners collaborate with others to develop land use plans and programs that help create communities, accommodate population growth and support transportation designs. Hired by the Hillsborough County City County Planning Commission (HCCCPC) in 1987, there aren't many projects that he hasn't reviewed. Some of the projects established under Hudson's leadership include: the Interstate-4 Tech Corridor Overlay, the North Alexander Street Land Use and Marketing Study, the "Southern" Gateway District along James L. Redman Parkway and the Northeast Plant City Area Master Plan.
Since much of his work supported Plant City, by 1997 he'd fallen in love with the community to such an extent he and his wife decided to move here.
In 2002, he became the Planning Commission's liaison to the City of Plant City and in 2011, through an inter-local agreement, he also became the Director of the Plant City Planning and Zoning Division, a position he held for seven years, managing the short-range planning activities of the municipality, including overseeing Plant City's Board of Adjustments, Historic Resources Board and Planning Board. "It was a challenge holding both roles, I had to do some multi-tasking, but one I really enjoyed," he said.
At one point, he was also Director of Temple Terrace Planning and Zoning Division. In 2017, working in all three roles became too much for one man so Hudson stepped down as Director of Plant City Planning and Zoning Division. He was replaced by Julie Ham, who currently serves in the role.
For Hudson, who's been working since he was 16 years old, retirement is bittersweet. "I'll miss working with the great people in my hometown of Plant City," said Hudson. "It's been a great honor to plan here."
The only plans he's making in the near future are to decompress and take a trip to Great Britain to visit family. "After that, I'll consider my future plans, whether that's other planning positions, retirement or doing volunteer work," he said.
Hudson's successor at HCCCPC is Yeneka Mills, who will carry on Hudson's tradition of service to Plant City. For more information about HCCCPC visit www.planhillsborough.org. For more information about Plant City's Planning and Zoning Department visit www.plantcitygov.com.