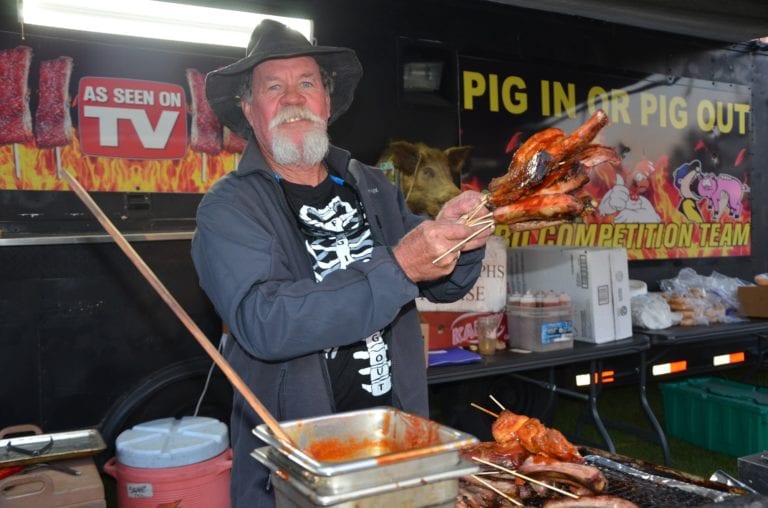 This weekend, Plant City will be filled with meat lovers as attendees from around the world flock to the Randy L. Larson Softball Four-Plex for Pig Jam.
The pig is back.
If you've been downtown over the past few weeks, you may have spotted an inflated plastic pink pig lounging around local businesses, observing the baristas at the coffee house and perusing goods at some of the shops. This weekend, the pig will run free at the Randy L. Larson Softball Four-Plex as the community comes to a halt for the 17th annual Plant City Pig Jam.
It's a two-day affair that draws attendees from all over the world. Barbecue enthusiasts sign up well in advance to try perfecting a smoked masterpiece for the judges in the Kansas City Barbeque Society State BBQ Championship. Ribs, chicken breasts, pulled pork and even colorful paella are frequently found among the many food vendors and folks will spend all day slowly eating their way around the complex.
The grounds are filled rain or shine, so come early for easy parking. Before you wander too far into the complex, don't forget to stop and convert some cash into "pig bucks," which are used to purchase all of the food and drinks around the event. Parking is $10 and admission is free to the competition. Children will have the "piglet play pen" available, filled with fun games and experiences — like a rock climbing wall and moon walk —to keep your family entertained while you digest the smoked goodness.
There is also plenty of live music to keep the festivities lively all day and night.
While the event is both Friday and Saturday, there are special actives held each day. On Friday, the event runs from 5 to 10 p.m. and folks will fight for a comfortable spot to watch an elaborate fireworks show, sponsored by Poppell Insurance, Inc. and Auto-Owners Insurance, around 9 p.m. On Saturday, the festivities will run from 10 a.m. to 5 p.m. and all of the barbecue fanatics will gather toward the stage at the end of the day to discover who won the competition.
Teams will compete in both professional and amateur divisions and there are prizes for the top 10 teams in each of the following categories: BBQ Ribs, BBQ Pork, Beef Brisket and Chicken.