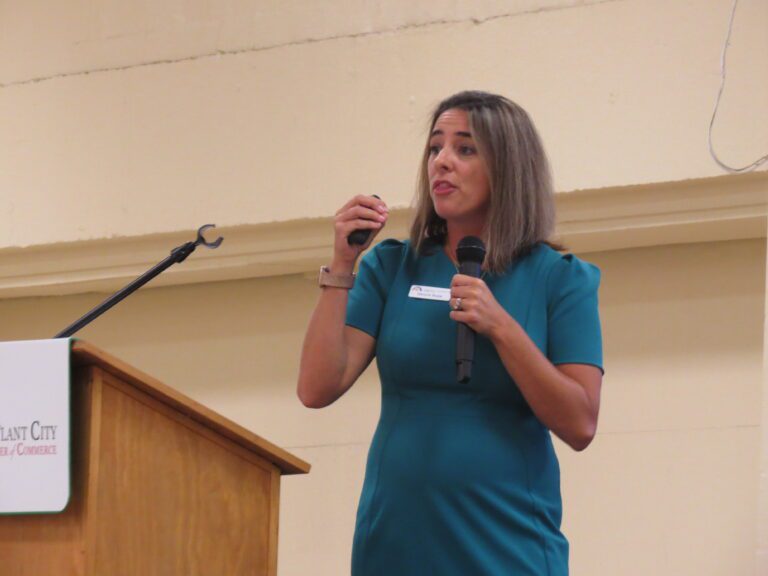 Community Foundation Tampa Bay allocates grants to non-profits
Plant City locals were given insight on how charitable non-profit organizations can better assist their neighborhoods with Community Foundation Tampa Bay, at the latest Greater Plant City Chamber of Commerce luncheon, on Sept. 8.
At the Arthur Boring Building, Denyve Boyle, philanthropy director at the Community Foundation Tampa Bay, explained how her institution operates.
"At Community Foundation, we help to inspire charitable giving and we work alongside individuals, we work alongside companies, and we work alongside groups of people who want to do good as a whole for the benefit of the community," she said.
Established in 1990, the foundation serves Hillsborough, Pinellas, Pasco, Hernando, and Citrus counties by awarding grant money to local agencies so they can continue to do charitable work in the community.
In fact, during the 2022 competitive grants cycle provided more than $1 million to 46 non-profit organizations in Tampa Bay.
This includes over $209,000 toward eight agencies that promote the empowerment of women and girls.
"Women face unique economic and societal pressures, along with gender-based health and safety concerns, that often require additional support to reach their full potential," said Marlene Spalten, president and CEO of Community Foundation Tampa Bay. "We're proud to support area non-profits that are working to provide opportunities and build support for our community's women and girls."
Over the years, Community Foundation Tampa Bay has encouraged philanthropic support toward scholarships for students, access to civil and legal representation, as well as safe places for youth to stay after school hours.
In addition to distributing grants, the foundation also helps donors meet their charitable goals.
"We do this by working alongside people who want to be philanthropic in many different ways," Boyle said. "They want to leave a legacy in our community, and they want to do good and well. Charitable giving is on the rise. There is a huge wealth transfer that is happening."
Since its beginning, the foundation has collected $350 million from donors and has funded various non-profits and has accrued more than $210 million in assets to ensure giving in the future.
It also has what is called the annual competitive grant process, where it selects which organization to distribute funds to after they have submitted an application.
Through the donor advised funds, people donate money to the foundation, where it is put into an account and they can choose who receives it, when and how much as well as get a tax reduction.
In addition, it has partnered with hospitals and agencies to form the Mental Health First Aid Initiative.
The program provides practical skills to address mental health, its prevalence in the community, and decrease its stigma.
"If someone in your community is having a mental health crisis, your nonprofits, your businesses will be able to be better equipped to have conversations with the people in your community who might be having a mental health crisis," Boyle said. "This was a big issue after COVID."
Having recognized Tampa Bay's growing demand in the workforce, the foundation partnered with corporate, educational, and governmental agencies to form the LEAP Tampa Bay College Access Network.
The goal of the program is to have about 60% of working adults qualified with a college degree or a high-quality certificate by 2025.
To accomplish this, it tries to provide opportunities for education and training by giving easier access to grants, scholarships, and tuition reimbursement. It also establishes stronger business and educational partnerships to develop more skilled workers as well as supporting shorter and less expensive schooling.
In November 2020, LEAP began Complete Tampa Bay (CTB) coaching sessions to help get students involved in education and training programs.
The completion coach has helped over 1,500 students with information on getting started with post-secondary plans and has assisted over 800 students in furthering the application and enrollment process.
Also, LEAP and partners began a scholarship within the Fuse Guaranteed Admission to USF Program, which has awarded almost $2.7 million to over 480 students at Hillsborough Community College and St. Petersburg College, Pasco-Hernando State College, and University of South Florida since 2018.
LEAP and partners have led the effort in expanding a high school-based, volunteer-led College and Career Center, which has impacted nine schools with grant-funded site managers.
There tends to be higher gains in financial aid applications for students at schools with College and Career Centers.
For more information about Community Foundation Tampa Bay, visit www.CFTampaBay.org.