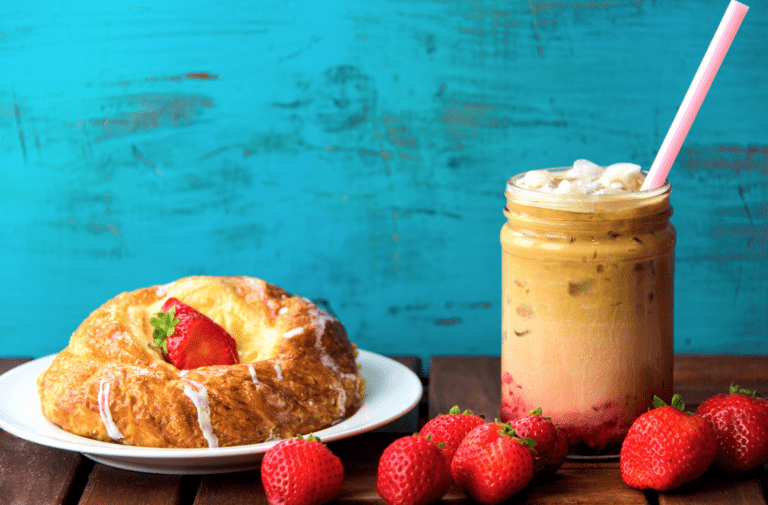 We asked residents of Plant City to submit some of their favorite strawberry-themed recipes.
Author: Nikki — Soulfully Made
Chocolate Strawberry Cream Whoopie Pies
PREP TIME: 15 MINUTES COOK TIME: 11 MINUTES TOTAL TIME: 26 MINUTES SERVINGS: 32
Strawberry Jam infused Marshmallow Cream is sandwiched between two decadent triple chocolate cookies to create these delicious Chocolate Strawberry Cream Whoopie Pies
Ingredients:
Strawberry Cream Filling
2 sticks butter, softened
3 cups powdered sugar
1 (7 ounce) jar marshmallow creme
1 tsp vanilla
1/2 to 3/4 cup strawberry jam
Cookies
2 boxes dark chocolate cake mix
2 sticks butter, softened
2 tsps vanilla
8 ounces cream cheese softened
2 cup Oreo cookies, crushed
2 cup semi sweet chocolate morsels
Directions:
Cookies
Mix cake mix, butter, egg and vanilla extract. Add in cream cheese and beat until combined.
Stir in Oreo chunks and chocolate morsels.
Refrigerate dough 30 minutes to 1 hour. Remove and roll into 1 1/2 to 2 inch ball shaped cookies.
Bake at 350 degrees for 9 to 11 minutes. Remove from oven. Let rest on baking sheet for 2 to 3 minutes. Remove to completely cool on baking rack
Strawberry Cream Filling
With a stand or hand mixer beat butter until fluffy.
Slowly add in powdered sugar.
Add in marshmallow creme.
Then add in vanilla and jam and mix.
Scoop or pipe mixture between two cooled cookies.
Serve or store in airtight container in the refrigerator
RECIPE NOTES
If filling is a litter softer than you like let sit in the refrigerator a few minutes. The mixture will set up naturally, but this will speed it up.
Slow Cooker Strawberry Jalapeno BBQ Meatballs
PREP TIME: 2 MINUTES COOK TIME: 3 HOURS TOTAL TIME: 3 HOURS 2 MINUTES SERVINGS: 50 MEATBALLS
Ingredients:
32 ounce bag Meatballs, frozen (about 50 meatballs)
12 ounces Strawberry Jam
6 ounces Jalapeno Pepper Jelly
18 ounces BBQ Sauce
Directions:
Combine meatballs, strawberry jam, jalapeno pepper jelly, and BBQ Sauce into slow cooker. Stir.
Cover and cook on high for 2 to 3 hours or on low for 4 to 6 hours.
Author: Mara Latorre — The Funky Spork
Strawberry Salsa
Ingredients
16 ounces of fresh strawberries
1 large clove of garlic
1 juice of one lime
1/3 cup of fresh cilantro, chopped
Four green onions, coarsely chopped
A pinch of salt (1/4 tsp)
Directions:
Coarsely chop the strawberries until they are roughly diced to about ½ inch-sized cubes. Set aside
In a food processor, combine all ingredients and pulse about ten times with five seconds for each pulse.
This will take about a minute or so. You will have a slightly chunky salsa consistency,
Serve up with some tortilla chips, and enjoy!
4 servings
Nutrition information (per serving for salsa, only) 45g calories/ 1g protein/0.44g fat/11g carbs/ 2.7g fiber
Author: Sue Harrell- Strawberry Sue Recipes
Strawberry Shortcake Iced Latte
Ingredients
4 fresh Florida strawberries
2 tbsp sugar
Ice
3/4 cup of milk
2 shots of espresso
Directions:
Begin by rinsing and hulling your fresh Florida strawberries then dice into small pieces. Toss the strawberries in sugar and let them macerate for 5-10 minutes or longer. You'll know they are ready when you have a syrupy sauce and all the sugar is dissolved.
Add the strawberries, syrup and all, into a medium sized cup. Fill with ice and then top with milk leaving room for the espresso shots. If you want a richer treat feel free to substitute some of the milk for half & half or cream!
Finally, top the drink off with two shots of fresh espresso, give it a stir and enjoy!
Now revel not only in the delicious iced treat you just made but also in all the money you've saved!
Strawberry and Goat Cheese Bruschetta
Ingredients
1 whole baguette
1 tablespoon extra-virgin olive oil
Freshly-cracked pepper
1 cup of sliced Florida strawberries
1/4 cup fresh basil leaves
2 tablespoons of balsamic vinegar
4 ounces fresh goat cheese
Directions:
Preheat oven to 350°F. Slice baguette into four pieces and then slice each in half, lengthwise. Place the baguette open-faced on a baking sheet and drizzle with olive oil. Dust with cracked ground pepper. and toast the in the oven until golden brown.
While baguette is toasting toss strawberries, basil and balsamic vinegar in a small bowl. When bread is toasted golden brown, remove from oven and spread goat cheese across each slice. Top goat cheese with prepared strawberries and serve.
Makes eight servings.
Author: Alex — GFWC Plant City Junior Woman's Club
Itty bitty strawberry fro-riesling
Ingredients
1 bottle of Keel & Curley Strawberry Riesling, frozen in an ice cube tray or plastic zip bag overnight (it will remain a little slushy)
2 cups of frozen Plant City strawberries
8 oz Publix Strawberry Sparkling Water
1 teaspoon fresh lime juice
2-3 tablespoons simple syrup
Directions:
Blend the strawberries, frozen wine, sparkling water and lime juice until smooth. Mix in the simple syrup to taste. Enjoy in your favorite mason jar!
Author: Carol PeQueen
Strawberry Spread
Ingredients
1/2 cup extra virgin coconut oil
1 1/2 cups strawberries
1/4 cup honey
Directions:
Melt the coconut oil and add to a food processor or blender, along with the rest of the ingredients. Blend until smooth. Transfer to a small jar and store in the fridge.
This mixture is wonderful on toast, biscuits and scones, and also makes a delightful filling for cookies and cakes.