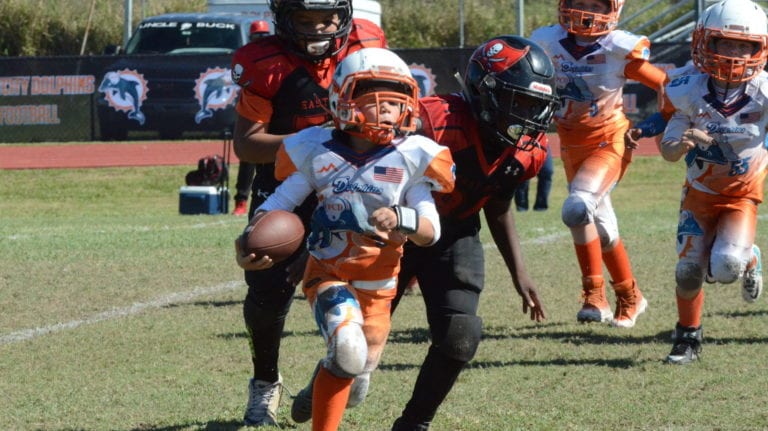 The Plant City Dolphins are getting ready to host a 60-game summer jamboree this Saturday.
UPDATE 11:00 a.m.: The Plant City Recreation and Parks Department announced Thursday morning all weekend sports activities at city parks, including the PCD jamboree and the GSA baseball Summer Sizzler Tournament, have been canceled due to predicted rainy weather and current rain-related field conditions.
After a spell of bad weather kept the Plant City Dolphins from hosting their summer jamboree in 2018, the organization is determined to get back on track with this Saturday's event.
The first PCD summer jamboree since 2017, which has been in the works since last fall, is shaping up to be bigger and better than the previous one. Teams from Hillsborough, Pasco and Polk counties will join the Dolphins at the Otis M. Andrews Sports Complex from 9 a.m. to 5:30 p.m. for fast-paced football. Each team will get at least two 30-minute games in, which feature a running clock and one timeout per squad per game. All five fields at the complex will be in use the entire day. In 2017, the jamboree used four of the fields for 48 games.
Though there aren't any trophies for the victors — Dolphins director Chad Eldridge described the games as "modified scrimmages" — teams at the Mighty Mite through Varsity age levels can get a feel for how their teams are looking for the upcoming youth football season and local football fans can have a day full of football action for just $5 a head.
"There's gonna be a lot of good football played," Eldridge said.