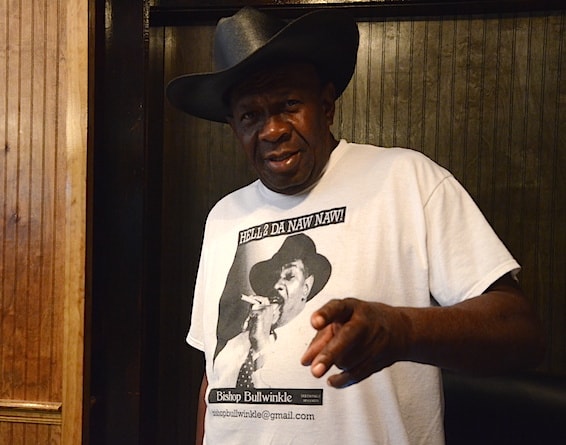 In his own words, recording artist Bishop Bullwinkle is all about keeping it real. His mantra is the inspiration for much of the music he creates.
Born Bernard Thomas, the leader of the "First Church of Nothin' But da Truth" has been making music for decades, but a song he recorded several years ago recently went viral on YouTube.
"Hell 2 Da Naw Naw," which was recorded in 2013, was uploaded to YouTube July 22. Since then, it's been viewed more than 3.5 million times.
The newfound fame hasn't changed Bishop Bullwinkle.
"Ain't nothing changed," Bishop Bullwinkle said. "I work on the weekends now. Everybody's just hollering and screaming, but ain't nothing changed."
MAKING THE VIDEO
The song itself has Bishop Bullwinkle discussing things that he's seen while at church, such as things church-goers do and say that are hypocritical. He decided to combine his love of preaching and love of music to do a music video about the hypocrisy.
An unlikely donation gave him the platform to do so.
"A guy on Laura Street threw the pulpit out," Thomas says. "There was a homeless guy, he said, 'Bullwinkle, you want this pulpit?' I said no. And he said, 'Man, go get your pulpit. You're always telling it like it is.'"
He and his manager, Darrell Underwood, decided to use it for a music video.
Bishop Bullwinkle brought a few decorations — a monkey lawn ornament and an empty fire extinguisher — to put on top of it for flavor.
The video was shot in his front yard, in one day, and then uploaded to YouTube. It exploded online.
"In one month, it had over a million views," Thomas said.
GOING VIRAL
The video was picked up by several websites after YouTube, including WorldStarHipHop, which called the video "straight fire" and helped it get nearly 500,000 views.
Bishop Bullwinkle said the success has gotten him booked for shows through Christmas, and he's also received interest for performing as late as February 2016.
He continues to work on new music and currently is planning to release a new remix of "Hell 2 Da Naw Naw."
His star has taken a meteoric rise, but he's trying to stay as humble as he can throughout it all.
"Still the same person," Thomas said.
Contact Justin Kline at jkline@plantcityobserver.com.
CHECK IT OUT
Bishop Bullwinkle's stage name comes from two separate events.
"Bullwinkle" was a nickname from Bernard Thomas's childhood, which he gained in school when a classmate wrote, "Bernard Thomas is funny like Bullwinkle the moose," on the bulletin board.
"Bishop" came when Thomas was looking for a stage name, and he wanted to add something to "Bullwinkle" to make it stand out. Thomas settled on "Bishop" because, at churches, the bishop is an important figure.
"When I did, boom," Thomas said. "If I put 'Hell 2 Da Naw Naw' out there as Bullwinkle or just Bernard, it would have been just another song. But, with Bishop, it's like, 'What's the preacher talking about?'"
The video for "Hell 2 Da Naw Naw" can be viewed by following this link: youtube.com/watch?v=9AOmaX-VuoY.
For more music visit his website, BishopBullwinkle.com, has music available for download.