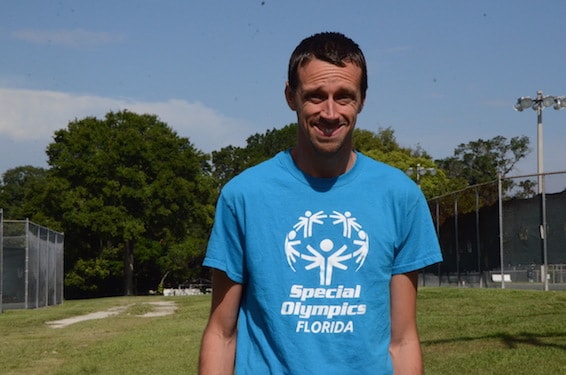 William Corsi has spent much of his adult life learning to be independent. Corsi, 32, has developed a reputation for always being prepared for anything, as well as being a fine athlete, but his first big test lies ahead: flying across the country, for the first time, by himself.
Of course, his parents wouldn't be parents if they weren't a little worried. But the Corsis believe that he's ready, and the proof is in the pudding.
The reason he's flying solo to Los Angeles is because he was one of 10 athletes in the world chosen to run with the torch before the upcoming Special Olympics World Games. In doing so, he's also making history as the first athlete from Florida to ever run with the torch.
"He's done the torch run in our county for at least the last 10 years," Plant City Special Olympics coach Sandy Denham says. "He's done speeches for the torch run kickoff at the state level. To me, he was just the perfect athlete for that position."
STARTING LATE
Corsi, who lives with his family in Thonotosassa, was first introduced to Special Olympics activities while at Armwood High School. He started out playing soccer, and once he realized how much fun it was he eventually branched out to competing in swimming, bowling, basketball, volleyball and softball events. Although he plays most sports for the Hillsborough County Parks & Recreation and Brandon Sports & Aquatic Complex's teams, Corsi did end up playing several sports for Plant City. It was his time spent with Plant City teams and coaches that helped him get this opportunity.
He was named Florida Athlete of the Year in 2006 and Hillsborough County 2015 Inspirational Athlete of the Year.
Even after high school, Corsi never wanted to stop.
"I love playing the sports and meeting new people," Corsi says.
One of Corsi's siblings, younger brother Stephen, is also a special needs athlete, but Stephen ended up switching high schools, moving to Plant City, and began playing for Denham's teams. That's how William first linked up with her, and their interests just happened to align: Denham coaches swimming, which is his favorite sport to play.
Swimming is the one sport that Corsi has not switched teams for, choosing to swim for Plant City over every other team he could have joined.
EXPANDING THE ROLE
Denham says that another area where Corsi really shines is in his leadership skills, which undoubtedly helped him get selected to run with the torch. Both are heavily involved in the state and local Athlete Input Councils, and Corsi is both chairperson of the Hillsborough County AIC and a member of the Florida AIC.
"I do athlete leadership, so I know athletes all over the state, but William was the first person who came to mind," Denham says. "He's perfect for this. He's outgoing, friendly, knowledgeable about Special Olympics and an excellent athlete. They wanted somebody who could give speeches, and he's already a global messenger for our county. He's an excellent speaker."
Corsi's mother, Candice, is spending her retirement years teaching at BSAC. In her class, special needs students spend four hours each session doing physical activities to stay in shape, and two in a classroom learning how to be independent. She got plenty of experience before starting this job, first imparting her lessons on Corsi and Stephen when they were young.
"We have eight kids, and two of them are special needs," Candice says. "So they were raised right along with the rest of them. They had responsibilities and obligations to fulfill. They've always had chores to do and been held accountable for the decisions they've made. We raised them knowing that we were not going to be around for their whole lives to take care of them, so they'd have to learn how to take care of themselves."
All of those lessons at home and in the classroom appeared to have paid off for Corsi, as his self-confidence and résumé as an ambassador have led to this opportunity.
A NICE SURPRISE
When Denham was asked to nominate someone to run the torch, there was no hesitation on her part. She got the blessing of Corsi's parents before sending it in, of course, but none of them initially realized exactly how big the candidate pool really was.
"I thought, when I nominated him, that they were looking for 10 throughout our state," Denham says. "Later, I found out they were looking for 10 throughout the world. I still thought he was the best, though those were pretty tough odds."
So when he was selected, no one was able to say they saw it coming.
"We just weren't expecting William to be the one who was selected, so it came as a shock," Candice says. "Surprise, excitement, it was all of those things."
It was a surprise for everyone, Corsi included, but no one had any doubt that he deserved to get the role. He will be in Los Angeles for 17 days, and will have a lot of work to do at the torch run, but he's ready to go.
"He's got a tight schedule," Denham says. "But I have total confidence in him because of all the things I've gone to with him. He's always on time, always prepared and always has everything he needs. He has got this down and I'm so excited for him."
Contact Justin Kline at jkline@plantcityobserver.com.
PUTTING IN WORK
While William Corsi will get to have some fun in Los Angeles, meeting fellow athletes and celebrities, he's also got quite a load to carry from July 13 to 25.
In the Law Enforcement Torch Run, the biggest grassroots fundraiser that Special Olympics has, athletes and law enforcement officers carry the torch on a statewide run before the Special Olympics World Games. Corsi is one of 10 athletes who will be running, and he'll be carrying the torch anywhere from eight to 10 miles per day.
The run will take Corsi and his fellow torch-bearers all over California, from San Jose, Santa Barbara, San Francisco, Anaheim, Beverly Hills, West Hollywood and more before finishing July 25 in Los Angeles, at the Memorial Coliseum.