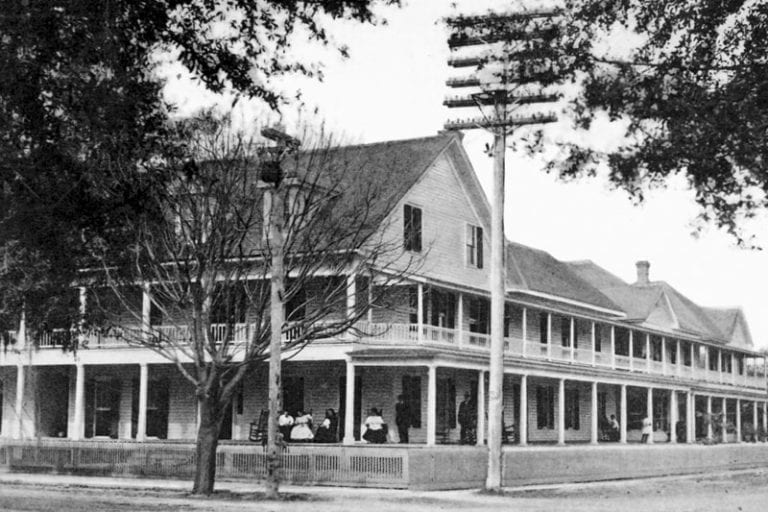 By Gil Gott | Plant City Photo Archives & History Center
To some, the name Wilbur Fisk Burts conjures up the story of The Tropical Hotel. But there is much more than that. Here is a man of many talents, who played interesting roles in the progress of the early town of Plant City.
He enlisted with Company B, Florida Seventh Infantry Regiment in May 1862 and saw action at Chickamauga and Chattanooga in 1863. Burts was mustered out of the Confederate States Army in April 1864. He felt relieved he did not see his brother, a Union army soldier, on the battlefield.
Born in 1840, in Illinois, to Robert Russell Burts, a "minister of gospel" from Massachusetts, and Eliza Hemphill, of Georgia, the young Wilbur moved with his father, traveling through Alabama, then stopping in Santa Rosa, Fla., in 1850, and finally settling in the early 1850s in the area of south Hillsborough that became Manatee County in 1855.
Burts married Sarah Vanderipe in 1860. Her family was probably from Kentucky and now settled in the area of Manatee later known as Bradenton.
When Burts returned from the war, he went into farming in Hillsborough County and became prosperous. He and Sarah also were prolific and had seven children between 1861 and 1872. They also had two young male farm laborers, one black (13) and one white (18), who lived at the Burts homestead.
As a clarification note to the reader, Burts had three wives and 15 children. They are: No. 1 Sarah Vanderipe (1860-1873), with children Clara, Charles, Edward, Ella, Addie, Albert and William; No. 2 Mary Jane Carney (1876-1886), with children Wilbur, Walker, Robert, Sarah, Sarah Vanderipe, May and Mary; and No. 3 Mary Eliza Stephens (1887-1890), with one child, Estelle.
Burts Sr. died Sept. 9, 1890.
There is a fascinating letter dated June 17, 1931, written by G.B. Wells, who we assume is George Benjamin Wells, well-known attorney, former mayor and former state legislator. His father was George Washington Wells, and the family knew Burts and was fond of him. Why this letter appears in 1931 we do not know.
"In this letter I wish to mention a home and place well known for years in local history, and to give some description and historical review of same.
"This place … was in former years owned and occupied by the late Wilbur Fisk Burts, and his gracious family and was known during such occupancy far and wide for the open-handed hospitality, geniality and welcome always extended to visitors by Mr. Burts and the members of his family. This place and home was the center of social life and activity in the community during the presence there of the daughters, Clara, Ella and Addie."
In the early 1870s Burts bought the property from Capt. John Mooney, who had served with the Fourth Florida Infantry Regiment during the war. Mooney was one of Plant City's early citizens and was elected marshal in 1885, 1886, 1887 and 1890. The land, southeast of the new town, was fertile and productive.
In his letter, Wells writes of the productivity of the Burts' farm, saying Burts was energetic, built a large orange grove, introduced "blooded cattle" (pedigreed), grew many varieties of fruit, including oranges, peaches, plums, figs and Scuppernong grapes, plus corn, potatoes and sugar cane.
Burts also is credited with much other business activity. With James T. Evers, he operated the Evers and Burts sawmill from 1883-1884). He was one of the 23 farmers listed in a regional publication that owned more than 100 acres, and in an 1885 publication, he is listed among the "prominent agriculturists, horticulturists and proprietors of fine orange groves in the vicinity." In an 1886-1887 business directory Burts was listed as the second largest grove owner in the region.
Wells wrote, "The South Florida Rail Road was built through this section in the year 1883 and 1884, and the town of Plant City was laid out at this time. Mr. Burts took an active part in the early progress of the town, purchasing many town lots and other real estate."
With Evers, Burts built one of the town's first stores on a street later named for Evers. That corner was later referred to as "Burts' Corner." (Today the corner is in the vicinity of Evers Street and J. Arden Mays Boulevard.) In 1884, the store ran an ad that read, "W.F. Burts & Co., wholesale and retail dealer in groceries, hardware, grain, hay and produce."
Part Two will appear in the Nov. 22 edition of the Plant City Observer.
Sources include Quintilla Geer Bruton and David E. Bailey, "Plant City; Its Origin and History;" U.S. Census Bureau; Ancestry.com; The Courier, (June 17, 1931); and William Magann, oral interview.
Gil Gott is executive director of the Plant City Photo Archives & History Center.">http://business-industrial.org.ua/oformit-otp-kreditnuyu-kartu-onlayn.php