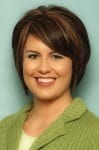 New Year's resolutions tend to go in one year and out the other.
Or at least for me they do.
My never-ending resolution since having my two children is to return to my pre-baby size. I have done it once or twice in the last six years, but I always find my way back to the dessert table.
With a rumbling tummy on day eight of my weight-loss journey, I was given a special message by an angel of God.
Helen Maxine Brooks, 94, was a member of my church and like the granny I lost years ago.
Maxine, as she liked to be called, always made a point to give me a hug every Sunday.
Her example came into my life only one year ago, but even in her death, she had one more lesson to teach me.
Inside the funeral program, was a poem:
"You Can Keep Your Fork"
In all my years of attending church socials
And functions where food was involved …
My favorite part was when you were told:
You can keep your fork …
I knew that something better was coming!
My eternal home in heaven!
So, the next time you reach down for your
Fork, let it remind you, oh, so gently,
That there is something better coming!
My prayer is that each one reading this
Will know you can have that same hope!
Are you ready? John 3:16
If you've ever been a fancy restaurant, the waiter will arrive at the end of your meal to remove all of the dirty dishes, except your fork.
You see, that means the best part of the meal is on its way — dessert.
Maxine loved dessert, but she lived her life waiting for the ultimate dessert — heaven.
As I paid my last respects, she was holding a silver fork, and I can only imagine her using it to enjoy a heavenly dessert, sitting with Jesus, her husband, Charles, and the friends and family she had missed here on Earth.
It's not a secret that I love dessert or I wouldn't be on this diet. However, there's something I love even more: God.
I still am going to keep with my diet and strive for a healthier life, but my fork will now be a symbol of hope for the future.
I may never see my 26-inch waist again, but my most important resolution is to live in such a way to one day enjoy a dessert with my friend.
Emilie Plants, a Plant City native, is a stay-at-home mother of two, freelance journalist and a former Florida Strawberry Festival Queens Court member.