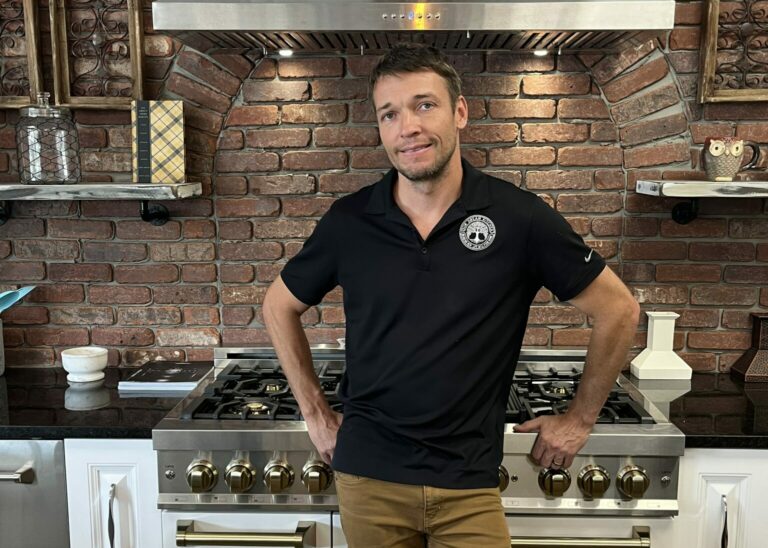 The interior design gallery is recognized for its service to Plant City
For Chris Perry, interior design is not just renovating a home, but pushing the boundaries as to what and how accessories can be constructed.
His company, Our Dream Kitchen, is all about doing just that, and its growing prominence in town is why it was chosen as the Small Business of the Month for July by the Greater Plant City Chamber of Commerce.
Our Dream Kitchen remodels different areas throughout a home by installing new countertops, cabinets, drawers, kitchen sinks, faucets, and new flooring, among other things.
Although he has been involved with the chamber for several years, Perry said he never expected his business to be recognized for the month.
"It's really cool to get noticed," he said. "It makes you realize you've done something right."
He established his company with humble beginnings in 2010, and he gradually expanded its services to better accommodate his clients.
"I worked out of my house for a long time, and it got to the point where I had to show the product," Perry said. "Things have pretty much exploded from there."
He transferred the company to Tampa and opened a showroom so that customers could see the accessories up close and get an idea of how they would like to remodel their kitchen or bathroom. The gallery operated out of the building of the company's manufacturer, Innovation Cabinetry. However, the trip to Tampa was a long commute for Perry and some of his clients, so he set up a new gallery in the building where he has worked from for three years now.
Located on the busy corridor of Park Road, the site has been an advantage as it attracts more clientele and stands out from other establishments, Perry said.
"Pretty much when someone comes here, we try to be the one stop," he said. "We have everything here. We have the flooring, we have the appliances, we have the cabinets (and) we have the granite slabs outside. We've had people drive out here from Naples, from Ocala, from Daytona Beach. The more we grow, the tighter our circle gets."
Homes in Hillsborough County and Polk County are the ones that the business will travel to. The company will use its own truck to pick up products from the Tampa distributor, and in some cases the distributor will send out their truck to Plant City.
Our Dream Kitchen constructs many specific amenities such as spice racks, wine racks, pantry and oven cabinets, pot and pan drawers, glass door fronts, built-in trash cans, sink flip-outs, and roll-out trays. Microwaves built within a cabinet and large ceramic bowls built in as a bathroom sink, also add to a modernized look.
The most popular accessory requested is the white shaker cabinet.
In addition to a kitchen and bathroom, the gallery also exhibits a home office.
And there is no shortage of business.
The company is projected to work on over 100 projects this year, with the next three months being booked, Perry said.
He has independent subcontractors who help to provide the adequate service needed.
Some projects could take longer than others depending on the condition of where the installation is going to occur.
"If we're getting in there to a normal house, we can go in there (for) four days, have cabinets removed, all new cabinets installed, then there'll be a couple-day delay for the countertops to come in," Perry said. "So we can have a kitchen done in 10 days."
As the business has grown, it has begun selling products from other companies such as ZLine Kitchen and Bath. It has also been featured in the Florida Design magazine and has won the National Kitchen and Bath Association (NKBA) Award.
There are instances when clients will come to the showroom with a remodeling project in mind and leave with several more after seeing the various displays. Even when a project has been completed in one area of a home, the client will think of other projects to do spontaneously.
"I want everything to look like your home when you walk in," Perry said.
Sometimes customers will bring in measurements and pictures of the space they would like to be renovated. However, the best assessment is actually going into the home and seeing the site, he said.
Perry will not only survey the location of the project, but will also build a layout on computer of what clients would like – all free of charge.
Occasionally, he will propose ideas that clients have not considered or ones that they may think are impractical.
"I made what they said was impossible, come to life," he said. "If I can't prove people wrong, I should not be in the business."
The company also hosts charitable events in Plant City, such as the back-to-school giveaway which provides students with necessary school supplies before they start a new semester.
Also, during the holidays, bikes are distributed to children who are in need of one.
In the long term, Perry would like to open a second showroom gallery also based in Plant City.