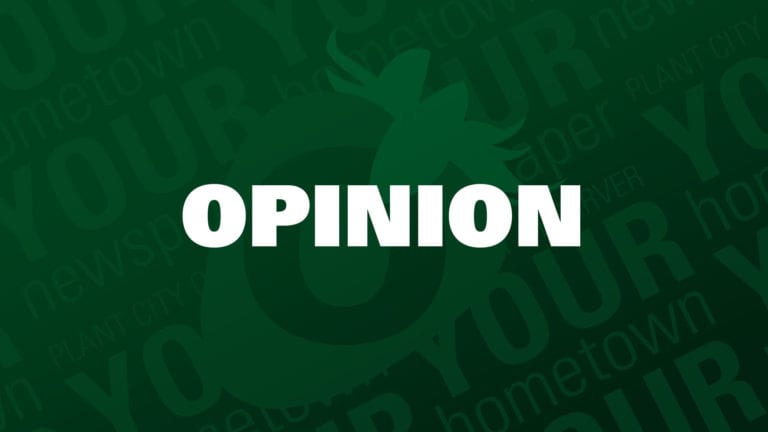 What if instead of reducing your electric bill, TECO charged you for installing insulation in your attic, new windows, or anything that lowered how much electricity you use? And they told you the reason is that if you use less electricity, it is going to unfairly make poor people have to pay more.
That's the logic of the anti-solar, anti-small business, and anti-free market House Bill 741 proposed by Plant City's FL House Representative Lawerence McClure. This bill creates a path to sabotage the policy of net metering, which allows people and businesses that own solar to sell their excess energy back into the grid, or put another way, to create competition for electric companies.
Rep. McClure says that customers with solar are being subsidized by customers who continue to buy electricity and pay to maintain the power grid. I respect Representative McClure and all he does for Plant City, which is why I was disappointed that he is sponsoring regulations that hurt small business and jobs, weakens our electric grid, and limits individual freedom – all to solve a problem that doesn't exist yet.
McClure said the bill "is not baked" and that, "We need to have the debate." Any debate should look at the broader impacts, rather than a narrow perspective. The bill was drafted by the FPL electric company and is clearly designed to protect their profits and strengthen their government sanctioned monopoly. Despite some improvements from the original version, the bill is still positioned to decimate rooftop solar in Florida. I think Rep. McClure is genuinely interested in energy policy and cares about what is best, so in the spirit of debate I ask these questions:
Why support a bill that hurts
small businesses?
The bill opens the door for net metering changes that would cripple Florida solar businesses, according to Conservatives for Clean Energy.
There are 400+ solar businesses in Florida.
40,000+ Florida jobs are supported by the rooftop solar industry.
Many solar jobs include high-wage, local jobs that cannot be outsourced.
15% of new clean energy hires in Florida are veterans.
Alternative: Support policies that help small businesses and decrease the cost of solar by improving un-American excessive regulations dressed as permitting, code and tariffs.
Why support a bill that weakens
the electric grid?
The bill continues the approach of an overreliance on out-of-state fuel sources.
Florida relies on piping in gas for 70% of electricity (double the national average, with $1 in $4 of your electricity dollars going out of Florida).
This overreliance on importing a single fuel source makes us vulnerable to both price increases (2022 bills will increase because of gas) and energy security.
An underappreciated benefit of solar is the potential to decentralize power production. Do you think you're more likely to lose power if it's coming from a plant 100 miles away powered by gas piped in from thousands of miles away, or from the rooftop of your house or neighbor's house?
Alternative: Support programs that decentralize power, like TECO's self-contained microgrid that is not impacted by grid outages.
Why support a bill that's
anti-individual freedom?
The bill adds more regulations and penalties if you generate your own power.
Our electricity system is a government sanctioned monopoly, which might be OK if companies didn't add regulations to further limit our choices.
It's already illegal for most to disconnect from the grid and Florida is one of a few states that prohibit the sale of solar electricity directly to people, unless the provider is an electric company.
Alternative: Embrace individuals' choices with incentives that benefit everyone, like reimbursing people that send electricity into the grid at peak times, thus reducing the need for building more power plants (which saves everyone money).
Why does solar keep getting
attacked in Florida?
This is the most recent effort from electric companies in Florida to strengthen their monopoly.
Nancy Argenziano, former Florida Republican legislator and former chair of the commission that regulates Florida's power companies explained, "The legislature is owned by the utilities. To me, it's extremely corrupt. The legislature takes millions from utilities, who make billions from [the decisions of] the [Florida Public Service Commission]. They get what they pay for."
In 2016 there was a ballot measure to impose more fees on solar users and keep solar companies out of Florida. A deceptive $20M campaign (of our money) by electric companies was called a "wolf in sheep's clothing" by a Florida Supreme Court Justice. Luckily, Florida voters caught on and voted against it.
Last year, Rep. McClure sent a letter to the state agency that regulates electric companies asking them to update net metering. After they received more public input than any issue in history, they ruled that no changes are currently needed.
After Florida voters turned it down and the regulatory agency said it wasn't necessary, the utilities are trying a third route by making it a law.
Alternative: Ask our representatives for policies that help the Sunshine state lead in job creation, grid resilience, and individual freedom, rather than laws written by electric companies.
The bill is on it's way to pass in the Florida House and Senate. If like 84% of Floridians you support pro-solar policies, ask your representatives to vote against decimating solar in the Sunshine State.
Arley holds a Master of Public Administration with a focus on energy policy. More importantly, he is a concerned Florida citizen.