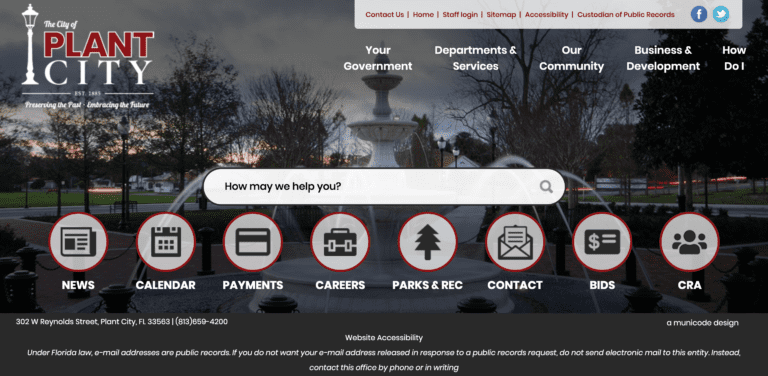 The City of Plant City's online permitting project was supposed to go live at the end of 2019. Due to a handful of vendor-related complications the project is now eyeing March as its official launch date.
The City of Plant City is seeking to revolutionize many of its public interfaces in an effort to help make interacting with the local government a seamless affair.
One of its major projects over the course of the past year has been to create an online permitting portal for local residents to seek permits and check on their status from the comfort of their own homes. In Oct. 2018 city commissioners unanimously agreed to bring that reality to life. The project began its implementation in January, but in October and November of 2019 an unforeseen problem arose.
"It's real simple: we had a financial management payment software, MUNIS and Paymentus, MUNIS did an update and I think Paymentus did an update and those updates didn't — you know how in the programs they have to connect? — well, when they updated, they no longer connected," City Manager Bill McDaniel said. "Now they have to rewrite everything to connect it again."
Once complete, the new system will allow online permit tracking and application, electronic plans submissions and reviews, status updates and obtaining permits and paying from any device. It's a three-fold measure and two of the three branches are still in need of tweaking. Code Enforcement's site went live internally on Nov. 18, 2019 and is currently live for the public as well.
The Code Enforcement site was created so residents can submit complaints and check the status of a case. This will create a virtual map where all of the reports and violations will be housed in one place.
In a techno-win for the city, code enforcement inspectors will be able to take photos, write comments and have them safely homed in the website.
The Business Tax site and the Community Development site, however, are the two that still are facing issues. Because they deal with large sums of money, the software is larger and more complex. Its connection is vital and once the interface is complete Finance will have to come in and review the process to ensure all payments are being posted to the correct accounts and that fees are being applied correctly.
McDaniel said the project's expected general release to the public will be March 2. Mayor Rick Lott said he was still pleased with the quick turn around and that anyone who has ever had to rely on software knows it frequently comes with major delays. The commissioners echoed his comment Monday evening during the city commission meeting and said they were all looking forward to finally seeing the new system in action.
To fix the compatibility issues the staff will need an additional 115 hours of project management assistance hours, which will cost the city up to $14,950. The funds are amiable in the current project budgeted amount and commissioners agreed it was a simple request to get the project live.