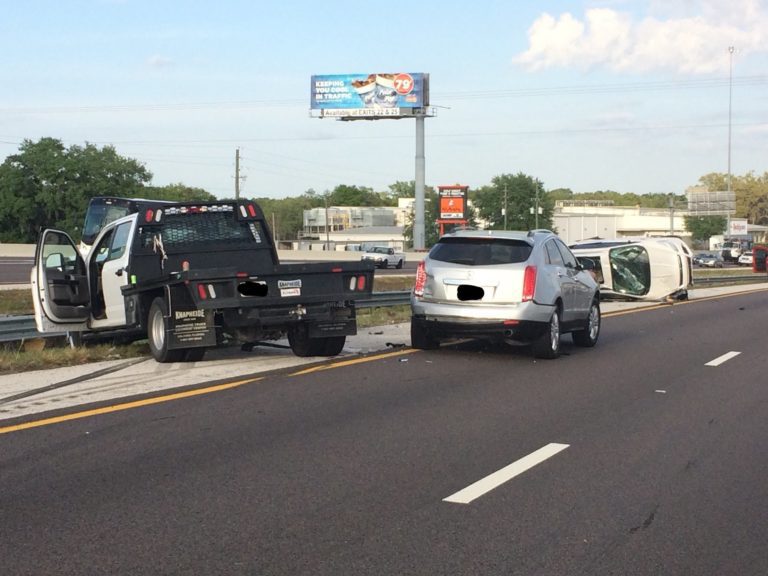 Most of eastbound I-4 in Plant City was shut down for several hours.
Florida Highway Patrol said an 80-year-old woman died following a crash on Interstate 4 Tuesday.
According to FHP, Thomas Stedem, 57, of Lakeland, was driving Gertrude Minneman and Marvin Minneman, both 80 and both of Maryland, east on I-4 in a 2015 Ford Escape. William Grimer Jr., of Plant City, was behind them in a 2017 Ford F-350.
The two vehicles passed the Alexander Street exit just after 3 p.m., FHP said. Stedem saw traffic stopped ahead and drove onto the left shoulder to avoid collision. Grimer did the same.
It was then, FHP said, that Grimer's vehicle crashed into the rear of Stedem's, launching the Ford Escape into the driver's side of a Cadillac SRX stopped for traffic. The Escape overturned and Gertrude Minneman was ejected from the back seat of the vehicle. Grimer's truck rotated and hit the rear driver's side of the SRX.
Gertrude Minneman was transported to South Florida Baptist Hospital, where she died from her injuries. FHP said she was not wearing a seatbelt at the time of the crash. Stedem and Marvin Minneman were transported to Lakeland Regional Health with minor injuries. Grimer and the driver of the Cadillac did not report any injuries.
FHP said alcohol or speed are not believed to be factors in the crash, but charges are pending.
Tuesday's crash shut down the two left lanes of I-4 surrounding the accident for about four hours, causing even more congestion than usual during the busy Florida Strawberry Festival season.