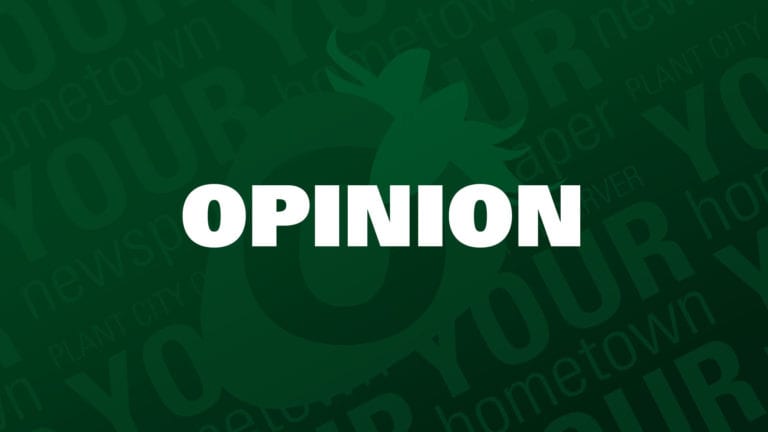 I am celebrating my 35th year as a Rotarian this month. All three Rotary clubs I have been a member of, including our great Plant City Noon Rotary club, have used 50-50 drawings to raise money and enhance attendance and fun. Although I now prefer to throw my money in the pot in an option called Happy Bucks, in my 35 years I have won a 50-50 drawing once in a blue moon.
Maybe I won the biggest prize in December 1966, when I was working to earn money for my college tuition at a famous area department store, Maas Brothers. There I met a fellow employee, Susan Stone, who would go on to graduate second in her high school class, be voted Most Likely to Succeed, and earn Phi Beta Kappa honors in college. Suitably impressed, I saw that blue moon in the sky and fell in love with Susan. We set the date of our marriage as Friday the 13th of June 1969, with a chuckle about going against the odds. We beat those odds, and as the first few months of 2019 spun past we were discussing how we should celebrate our 50th wedding anniversary.
On April 23, I attended Plant City Main Street's monthly Topics on Tap at The Sparkman House. Located in Plant City's beautiful historic district at 707 N. Collins, the charming 1905 Queen Anne style Bed and Breakfast Inn is owned by a fascinating couple, Ken and Theresa Clinton. Although Ken runs an international petroleum business in the Far East, he gets home every few months. Theresa is a retired schoolteacher who decided she wanted to work in her other field, interior decoration, and start a B&B.
Completely redecorated and boasting 12-foot ceilings, a wrap-around porch, large gazebo, six bedrooms, a separate carriage house suite, and grand formal spaces, the home features elegant antique decor and grand furnishings. Guests are treated to a gourmet three-course breakfast daily, and the shady, breezy porch is the ideal place to enjoy a morning coffee or an evening glass of wine. In addition to overnight rentals, the Clintons offer the use of the home for special events like private and family dinners, baby and bridal showers, weddings, luncheons and brunches, tea parties, family reunions, and graduations.
The Main Street event featured a drawing for a night at this beautiful B&B. Maybe that rare blue moon was over the Sparkman House that night, but luck was with me again and I won the drawing. As experienced B&B patrons, Susan and I quickly decided to redeem our prize on our anniversary.
As we drove home after our excellent stay at the Sparkman House, it occurred to me that we could represent an entirely new market for the venue. As we know, most B&B patrons come from out of town. However, there are many area residents who could do exactly what we did, spend a restful night or a weekend nearby in an entirely new environment. Many of us go to a Gulf beach or even out of state for the same purpose, but why not get the same benefit in Plant City?
Follow our path to 707 N. Collins. Maybe you'll find your blue moon at the Sparkman House.