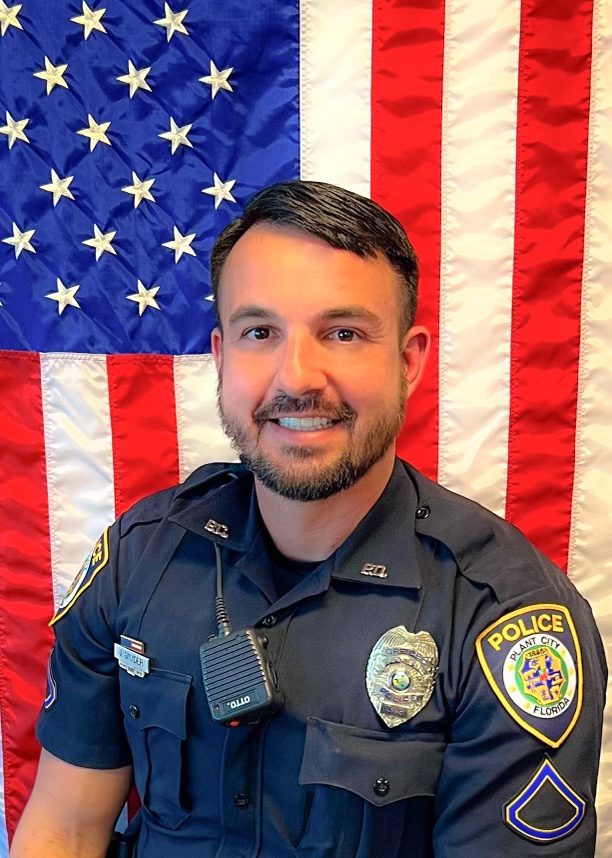 PCPD Officer Joshua Snyder was named 2023 Officer of the Year.
The Florida Strawberry Festival Exhibition Hall was the safest place in Plant City on the evening of May 9 as hundreds of law enforcement officers from the Plant City Police Department (PCPD), Florida Highway Patrol, Hillsborough County Sheriff's Office and Fish & Wildlife Conservation Commission gathered for the 61st Annual East Hillsborough Law Enforcement Appreciation Dinner.
Hosted by the East Hillsborough Law Enforcement Appreciation Association (EHLEAA), the event was an evening dedicated to recognizing the Officer of the Year in each department. It was emceed by EHLEAA Chairman Bill McDaniel. Winners received a commemorative plaque, a financial award of $500, a customized Sig Sauer P226 pistol courtesy of Seattle Engraving and a bouquet of flowers for their significant others.
PCPD Senior Officer Joshua Snyder was named PCPD Officer of the Year. Snyder, a Florida native, followed in his father's footsteps in Law Enforcement when he was hired by the Plant City Police Department in 2007. During his 15-year career with the Department, he's served in the Uniform Patrol Division and Investigative Service Division's Street Crimes Unit as a detective, where he worked cases involving narcotics, firearms violations, prostitution and human trafficking. He was also selected to be a member of a special DEA task force. After a successful stint as a detective, he returned to the Patrol Division where he currently serves as a Field Training Officer.
"He was selected as Officer of the Year for several reasons, among them his determination to not only keep the streets of Plant City safe against drugs and armed criminals but because of his ability to transfer his knowledge and training to those new to the department as well," said Chief James Bradford. "He's an invaluable asset in the war on crime."
The program noted a case where Snyder was instrumental in taking a criminal off the streets. In February, he happened upon a vehicle parked at a convenience store. Upon contacting the female occupant, he noted drug paraphernalia on the front seat. After an investigation, he recovered three loaded handguns, marijuana, ecstasy pills, Oxycodone and cocaine. The suspect was charged with Possession of a Firearm by a Convicted Felon, Carrying a Concealed Firearm and Armed Trafficking in Oxycodone and other related offenses.
Snyder, whose parents were in attendance at the ceremony, was honored to receive the award. "My dad was named Officer of the Year during his career with the Lakeland Police Department and he's proud that I'm being recognized for my hard work just like he did," he said.
He finds satisfaction in his job. "It's not just a paycheck, this is a calling that you take on," said Snyder. "You're not just helping others but you'll be becoming a better person too."
In addition to recognizing Snyder and retiring officer Thomas Velez, Bradford spoke about the importance of community support. "We in law enforcement in East Hillsborough County are blessed to serve in a community that genuinely loves, supports and appreciates the work we do," he said.
Additional departments awarding Officer of the Year awards included:
Florida Highway Patrol: Major Richard Benton recognized Trooper Wesley Kelly as its Officer of the Year. Kelly is assigned to its Criminal Interdiction Unit, a specialized unit that patrols roadways throughout the state.
Hillsborough County Sheriff's Office: Sheriff Chad Chronister recognized Detective Michael Fernandes as its Officer of the Year. As the Gang Detective in District II (the Dover area), he has dedicated himself to combating violent crime in Eastern Hillsborough County.
Fish & Wildlife Conservation: Captain Evan Lakowski recognized Officer Specialist Hunter Caldwell as its Officer of the Year. A Florida native and outdoor lover, he has made numerous cases in recent years, including the apprehension of suspects shooting federally protected birds and illegally harvesting gamefish. He also played a leading role I the arrest of individuals commercially gill netting thousands of fish and a juvenile dolphin in Tampa Bay.