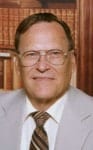 William L. Wilson, 85, died May 12, 2013.
Mr. Wilson was a lifelong resident of Plant City, born on Collins St. on February 4, 1928. He was the son of the late Thomas R. and Mildred (Goheen) Wilson.
A graduate of Plant City High School in 1946, William entered the United States Air Force and served for 21-plus years, including during the Korean conflict.
He retired as a Senior Master Sergeant. Before and after his Air Force and business career, he worked at Knotts Trading Post for three generations of the Knotts family. Mr. Wilson was a life-long Methodist and a member of the First United Methodist Church of Plant City, where he was a volunteer with the Young at Heart Group and sang in the choir for several years.
He is survived by his wife of more then 62 years, Betty (Hennecy) Wilson; children, William Mickey Wilson (Lorraine) and Emily A. Smith; his grandchildren, George Wilson (Christine), Abigail Wilson, Ashlee Smith, Alexis and John Adams; brothers, James and Robert Wilson; sister, Barbara Cannon; several nieces and nephews; sister-in-law, Barbara Bartlett; brothers-in-law John Hennecy (Vicki) and Michael Hennecy (Dianne).
He was preceded in death by his sister, Nellie Wilson.
A memorial service will be held at 10 a.m. Monday, May 20, at Wells Memorial and Event Center, with visitation at 9:30 a.m. Burial will follow with full Military Honors at Florida National Cemetery at 2 p.m.
Condolences may be made at wellsmemorial.com.Seo