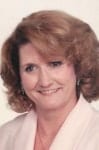 Norma Jean Schmidt, 73, of Plant City, died May 4, 2013, at Melech House in Temple Terrace.
Born Jan. 15, 1940, in Memphis, Tenn., she was the daughter of the late Woodrow Yow.
Norma was a member of Hope Lutheran Church, a painter and loved to make jewelry.
Survivors include her husband, Keith Schmidt; mother, Maxine Shappley Yow; sons, Chip (Alice) Byrd Jr. and Lee (Tori) Byrd; daughters, Erna Schmidt, Tammi (Clester) Reliford and Kathy (Shawn) Webb; sister, Sheryle Davis; 10 grandchildren; and two great-grandchildren.
A funeral service will be at 10 a.m., Friday, May 10, at Hope Lutheran Church, 2001 North Park Road, Plant City, FL 33563. Interment will be in Florida National Cemetery in Bushnell, Fla.
The family will receive friends from 6 to 8 p.m., Thursday, May 9, 2013, at Haught Funeral Home Chapel, 708 W. Dr. Martin Luther King Jr. Blvd., Plant City.
In lieu of flowers, the family has asks that donations be made in Norma's memory to the Hope Lutheran Church Building Fund.
Online condolences may be made to the family at www.haughtfuneralhome.com.