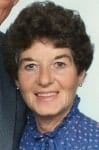 Helen Lockhart Cook, 85, died May 6, 2013, in Tampa.
She was born in Scotland on May 4, 1928. Mrs. Cook attended the First Presbyterian Church of Plant City and was active in the First Presbyterian Church Circle and weekly women's Bible study.
Survivors include her husband of 57 years, William; two sons, Kevin Cook and Eric Cook (Angela); and two grandchildren, Eric Cook and Leslie Tester.
A Celebration of Life Memorial Service was held  May 15, at Wells Memorial & Event Center.
Online condolences may be made at wellsmemorial.com.