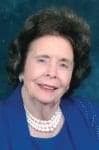 Christine Barlow Weeks Elliott, 84, of Plant City/Dover, died May 9, 2013, at Consulate Health Care Center of Brandon.
Born October 29, 1928, in Opp, Ala., she was the daughter of the late Marshal Barlow and the late Minnie Smith Barlow. She was the wife of the late Johnnie Weeks and the late Charles Elliott.
She was a member of Oakwood Baptist Church, a kindergarten teacher in Brandon Day School, loved bingo, volunteered with seniors and loved to travel — especially cruises.
Survivors include her son, Dale Weeks; and sisters, Betty Thomas and Tiny Mae Johnson.
Online condolences may be made at haughtfuneralhome.com.." >http://art-bus.ru/vzyat-deneg-do-zarplati-1.php