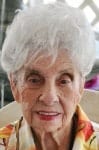 Margo DeBerry Carr
Margo DeBerry Carr, died Jan. 10, in Plant City.
She was born Sept. 10, 1920, in Buda, Texas.
During World War II, she worked at the Tampa shipyard as a press operator and welder. She helped her brother, Marvin, get a job there.
Mrs. Carr worked in the Hills-borough County school system from 1968 through 1986 as a teacher's aide at Dover and Jackson elementary schools, was active in PTA, the American Legion Auxillary (five-time president), the Democratic Party, March of Dimes (chairman) and numerous other political and community service organizations.
Survivors include her sons, John L. Carr and his wife, Linda, and Samuel D. Carr and his wife, Joy; nine grandchildren; and 10 great-grandchildren.
Mrs. Carr was preceded in death by her husband of 61 years, John D. Carr; her twin brother, Marvin DeBerry; her sisters Leona DeBerry Truman and Iva DeBerry Hensley; her daughter, Nancy Hencey Holloway Cunigan; and son, physicist Thomas R. Hencey III.
Online condolences may be made at wellsmemorial.com.
Haywood Mack Griffin
Haywood Mack Griffin, died Jan. 9. He was 94.
Mr. Griffin was born April 25, 1918, in Berrien County, Georgia. He was the oldest child of Leslie Clark and Wilmouth (Mimi) Harper Griffin.
The family moved to Florida when he was a small child and settled in the Dover area around 1925. Mr. Griffin graduated from Turkey Creek High School and worked his way up to Seaboard Coastline fireman on the train, carrying phosphate to Boca Grande prior to World War II.
He enlisted in the Army and attended OCS and graduated from Camp Lee Virginia Transportation Corp. He served during World War II in England and France.
Mr. Griffin remained in the U.S. Army Reserves for more than 20 years and retired as a captain.
He and his wife, Lucille E. Griffin,  bought what had been known as the Newman Brothers Farm in 1950, in Plant City, where they farmed and resided. They later established Sunny Acre Farm as a recognized brand in the produce industry.
He is survived by his sister, Mary Evers (Clyde), of Coral Gables, children Linda Griffin Clark (Jay), of Wauchula; James L. (Jim) Griffin, (Judy), of Tampa, and Mike Griffin (Barbara), of Orange Park; grandchildren, Jason Clark (Holly), Justin Clark (Lisa), Candice Bennett (Ron), Lisa Hodgdon (Keith), Melissa Barrus (Charles), Ben Griffin (Elizabeth) and John Griffin (Karen); and 13 great-grandchildren, Abby, Griffin and Dean Clark; Carter, Carson Jay Clark; Groves Bennett; Hayes, Reed and Whit Barrus; Griffin and Emma Hodgdon; Rebecca and Eleanor Griffin; and numerous nieces and nephews.
He was preceded in death by his wife of more than 60 years, Lucille E. Griffin; parents, Clark and  Wilmouth (Mimi) Griffin; brothers, Simmie J. (Kay), L.C. Jr. (Red) and Calvin (Bert).
Memorials may be made to Mack Griffin Memorial Scholarship Fund, 2507 N. Maryland Ave., Plant City, FL. 33563.
Online condolences may be made at wellsmemorial.com.
Marie Ketner
Marie Ketner, 83, died Jan. 10.
Born April 17, 1929, she was the daughter of the late James Spencer and the late Emma Phibbs Spencer. She was the wife of the late Curtis Ketner Sr.
Mrs. Ketner enjoyed camping, fishing and spending time with her family.
Survivors include sons, Curtis E. Ketner Jr. and John Paul Ketner; daughter, Wanda Tina Carrick; brother, Walter Spencer; sisters, Virginia Edwards, Dora McCallops and
Doris Meece; five grandchildren; and four great-grandchildren.
She was also preceded in death by brothers, Ralph and Harvey Spencer.
Services will be held privately at a later date.
Online condolences may be made at haughtfuneralhome.com.
Garland C. Todd
Garland C. Todd, 90, died Jan. 2, at South Florida Baptist Hospital.
He was a lifelong resident of the area, born Sept. 9, 1922, in Dover, to Jesse and Mabel (Kinard) Todd.
He worked and retired from TECO as a mechanic.
He is survived by two daughters, Carol West (Earl), and Patricia Cole (Steve); one sister, Pauline Jensen (Walt); three grandchildren; and five great-grandchildren.
He was preceded in death by his wife, Frances Todd.
Online condolences may be made at wellsmemorial.com.VkUnlocker 3327 15,39 12." >http://dianabol-steroids.com/ip-kredit-na-otkritie-biznesa.php