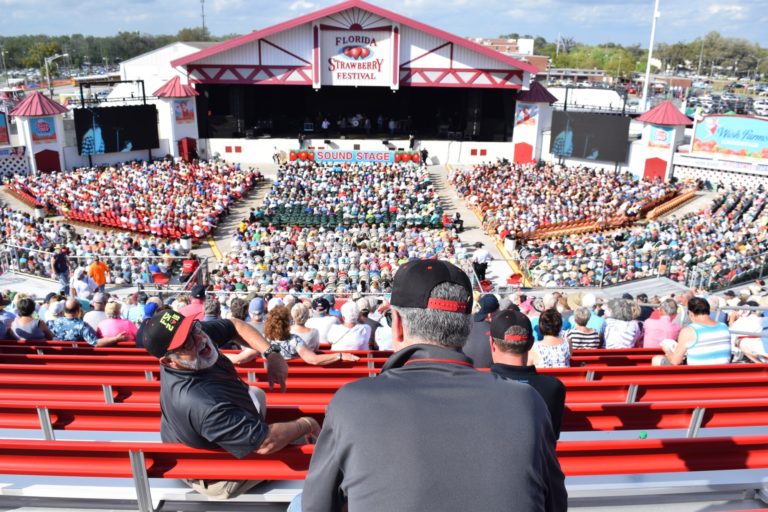 Fans took to the new festival seating for the first time during the legendary vocal group's Thursday afternoon show.
Thirty-five years in the bleacher and grandstand business can mean a lot of opening days, but Thursday was different for Greg Buckner.
Buckner, vice-president of GT Grandstands, sat with his arms spread across the strawberry-red back of the festival's new grandstand seating as the Oak Ridge Boys took the stage and broke into their 1984 song, "Everyday."
"I've been to a lot of opening ceremonies, but none like this," he said, a smile stretching from ear to ear. "This has been fantastic. It far exceeds our expectations."
Being a part of a project like the $5 million grandstand's construction is a special experience, but even more so, he said, because he got to do it in his hometown. For anyone in his industry, he said, it's a rare treat.
The new seating, an upgrade from the steep concrete bleachers of old William Schneider Memorial Stadium that once served as home to Plant City High School's football team, has
been a sore subject for some. It took away the free bleacher seating that drew many to the festival. Some patrons, not used to paying for seats above ground, took exception to being placed in the grandstand.
"It's terrible," longtime festival-goer Carolyn Tester said. "They didn't ask if we needed handicapped seating. We thought we'd be down there."
Carolyn and her husband, Lloyd, have been attending the festival for more than 20 years. While the seats look nice, they said, they wouldn't have opted to pay for it in lieu of the old free bleacher seating.
Daniel Six, however, disagreed. A first-time festival-goer who has been looking forward to attending for sometime, said he was glad to have finally made the trip over from Clermont. Sitting stage left, he said the seats are good from any vantage and it looks like a venue built for a true concert-going experience.
"I love the ramps and handicap spaces," he said. "I'm more than willing to pay the money. This is a nice facility."
Six, who uses a wheelchair, said he is especially excited to return Wednesday evening to see Trace Adkins. His only disappointment was not being able to get a ticket for the Reba MacEntire performance.
The new grandstand is designed to provide an improved sonic experience, but also offers better viewing and photographic opportunities, Harry Jeffcoat, a longtime festival photographer said. The back of the new grandstand sits 12-feet closer to the stage than the front of the old bleachers.
"It's a perfect angle for some of the stage shots," Jeffcoat said. "It gives me a chance to get more of a variety. I didn't have a raised platform before.
As the Tennessee quartet finished up their first song, tenor Joe Bonsall walked to the front of the stage.
"Is this the first show in the new amphitheater," he asked the crowd to a response of cheers. "Give it up for the new amphitheater," he responded back, getting more cheers in return.
A festival mainstay, Bonsall said the boys would be back in town next year.
"All we have to do is keep breathing and we'll be here," he said.
The crowd cheered once more and the first chords of American Made filled the grounds.