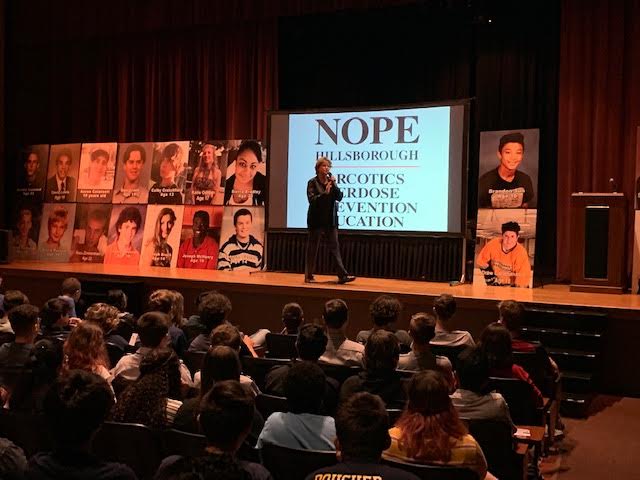 The community is invited to PCHS to learn how to tackle the growing drug epidemic among youth.
NOPE of Hillsborough County will address both students and the community next week in a special presentation at Plant City High School.
The national organization, which stands for Narcotics Overdose Prevention Education, has many branches and the Hillsborough branch will host two student presentations during the school day on Feb. 6 and a parent presentation at 6 p.m. that evening, which is open to anyone in the community who wants to learn more about how drug usage affects Plant City.
"The evening event is for the entire community," Beth Butler, NOPE of Hillsborough, Inc. chapter administrator, said. "We are a partner with the Hillsborough County School District, TPD and HCSO and between the three entities, we go to every middle and high school in the county… before we got started eight years ago, we were told this presentation is fabulous but that they only wanted us to share with high school students because it was too strong of content for the middle schoolers. However, research is saying that average age of first time use for someone struggling with the disease of addiction is actually 12 and a half years old. So because of that, the school district said 'Oh my gosh, you need to start going into the middle schools with this.' So that's what the reasoning is behind that. These kids are being faced with so much right now, particularly vaping. Whether these parents have an elementary school child or an older child they can not think that they don't need to come because their kid 'isn't involved in this.' Unfortunately they are going to face drugs at some point in their life, whether it's at the mall or a bus stop or a friend's house. That's why we are hoping the community sees what an epidemic this has become."
The evening presentation will last for an hour in the PCHS cafeteria and attendees will "leave armed with tips on how to recognize the onset of substance use, trending drugs in our immediate area and ways to handle the conversation in your home about substance use and abuse." There are a variety of speakers scheduled for the event including the school resource deputy, administration from the school, NOPE personnel volunteers, Mayor Rick Lott and PCPD Chief Ed Duncan.
It's different than any information you can simply Google. The panel of experts sees what is happening right here in Plant City. Butler said every community is different and the problems that arise in one city are different than those in another. In addition to the local experts, a family speaker will also be on site to discuss what they've been through. The harsh reality is most parents don't realize their child is struggling.
By the time the attendees leave the presentation that evening, they should be able to walk away with knowledge of what signs to look for and what behavior and pattern changes they can identify as indicators of a problem.
"We don't leave them hanging," Butler said. "We give them tips and tools they can immediately turn around and use. We connect them to a variety of resources, many of which are free and accessible right here in Hillsborough County. We share with them tools that are provided by certified addiction counselor social workers. Identification is the first step, but there's so much more after that."
Butler has been with NOPE since its inception in Hillsborough County and said when they first went to the county commissioners in 2012 to ask for an initial round of funding they were blown away by the response. They asked for approximately $5,000 and every commissioner on the dais shared stories with them about how they all had someone in their lives that had been touched by addiction. Some of the stories ended with hope. Some did not. But NOPE left the meeting with $50,000 to bring the program to life.
The organization partners with law enforcement and experts and presents their program to students at local schools. Sometimes they will hold a separate seminar for the rest of the community, like they're doing in Plant City on Feb. 6. From there, though, it's up to those who have listened to make a change in the community.
There's a strong level of anonymity between all students and their guidance counselors so Butler said NOPE doesn't have specific data-driven examples of how schools are responding. However, they have built deep connections with every community they come into and she said they will frequently have someone reach out from the schools to let them know that in the days following their presentation to the students, several have come forward and sought help or held interventions for their friends and loved ones.
They also have countless feedback examples from parents, business owners and other adults that attend and learn from their presentation.
"We are actually hoping that it's any parent, any workplace owner, any business leader, anyone who wants to get informed on how we as a community can fight this epidemic that attends the night presentation," Butler said. "It's a mature conversation, and there is a Q&A after so people can really have all of their questions answered and leave capable of beginning to tackle this growing issue."
For more information on NOPE
visit nopehillsborough.org or visit the group's Facebook, Instagram and Twitter page.
If you go
NOPE of Hillsborough County at Plant City High School
When: 6 p.m. Feb. 6
Where: Plant City High School Auditorium, 1 Raider Place
Cost: Free to attend