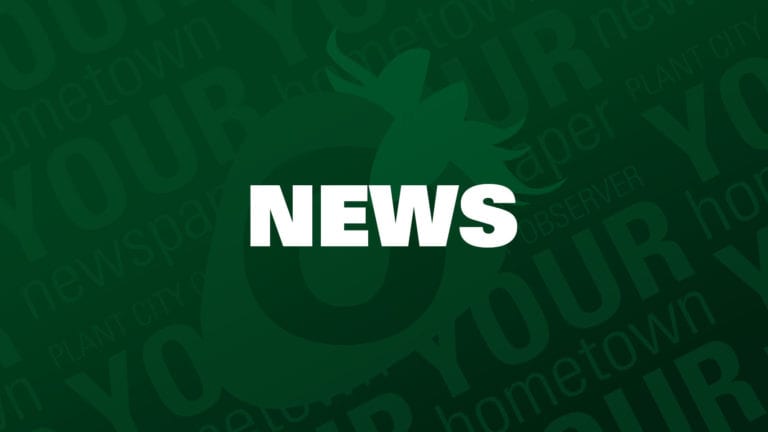 2019 Christmas Parade applications open
Son of a nutcracker, Christmas will be here before you know it.
That means it's time to start thinking about Plant City's annual Christmas Parade, especially if you're trying to be in it. Plant City Christmas Parade Inc. just opened up the registration period for 2019 and those interested in having a float or walkers need to apply by Nov. 25. The first 80 entries to be approved by the Christmas Parade board will make the cut and be featured in the Dec. 6 parade, which starts at 7 p.m.
The parade application comes with a mandatory $25 entry fee and all who are approved to join the parade must attend a safety meeting at 7 p.m. Dec. 2 in the Plant City High School auditorium. Rules and regulations for every participant are listed on the parade application form, which can be printed from pcchristmasparade.homestead.com.
For more information, contact Dodie White at 813-927-0595, Bob Fulks at 813-365-0275, Sharon Moody at 813-453-7134 or Marsha Passmore at 813-245-2244, visit the Plant City Christmas Parade Facebook page or visit pcchristmasparade.homestead.com.
PC native earns educational grant
With a shortage of primary care physicians affecting the nation, the Diverse Scholars Intiative aims to help medical students like Plant City native Aerial Petty get the education they need to change that.
Petty, who is in her third year at the Alabama College of Osteopathic Medicine, hopes to make a positive impact within the community she serves after graduation by helping patients maintain healthy lifestyles and prioritize wellness. The DSI program announced Tuesday that Petty is one of its 2019 grant recipients.
Petty, who will graduate in 2021, holds a BA in Spanish with a minor in anthropology from the University of Florida and an MS in Medical Sciences from the University of South Florida. She is involved with numerous student organizations at ACOM.
The DSI has awarded more than 2,600 aspiring primary care physicians upwards of $20 million in scholarship grant money since 2007. Petty was one of nearly 100 recipients who attended the three-day Diverse Scholars Initiative Forum in Washington, D.C. this summer.
Clogging Connection cleans up at USA nationals
Plant City's own Clogging Connection team participated in the 2019 USA National Clogging Championships last weekend and took home a ton of awards for its string of strong performances. Per the group's Facebook page, it won the following awards:
1st Young Adult Masters Show: Shoeless Joe
1st Tiny Tot Amateur Traditional Line: 5,6,7,8
1st Tiny Tot Amateur Show Team: Cruella/Dogs
Tiny Tot Amateur Team of the Day: Cruella/Dogs
1st Young Adult Amateur Small Team: I Lived
2nd place Division II Amateur Small Team National Champion: I Lived
2nd Young Adult Amateur Line Team: Dem Beats
1st Junior Amateur Exhibition Team: Call Me Mother
Division I Amateur Exhibition Team National Champion: Call Me Mother
Highest Scoring Junior Team of the Day: Call Me Mother
Division I Amateur Contemporary National Champions: Call Me Mother
1st Senior Amateur 4 or More Couple Hoedown
2nd Young Adult Amateur 4 or More Couple Hoedown
1st Elementary Amateur Traditional Line: Sunday Drive
2nd Junior Amateur Traditional Line: Stop on a Dime
4th Young Adult Amateur Traditional Line: Dixie Flyer
2nd Adult Amateur Traditional Line: Sin Wagon
2nd Junior Amateur Traditional Formations Line: Freight Train
3rd Junior Amateur 4 or More Couple Precision: Cotton-Eyed Joe
2nd Elementary Amateur Show Team: Juicy Wiggle
2nd Senior Amateur Show Team: Thugs
2nd Young Adult Amateur Show Team: Tower of Terror
2nd Young Adult Masters 4 or More Couple Hoedown
1st Amateur Female Contemporary Solos 5-6
2nd Amateur Female Contemporary Solos 15-18
2nd Amateur Female Contemporary Solos 19-29
1st Amateur Male Contemporary Solos 5-6
1st Amateur Male Contemporary Solos 7-9
1st Amateur Male Contemporary Solos 12-14
1st Amateur Traditional Solos 5-6
3rd Amateur Traditional Solos 5-6
3rd Amateur Traditional Solos 19-29
1st Amateur Traditional Solos 30+
3rd Amateur Traditional Solos 30+
1st Amateur Acapella Solos 10-11
3rd Amateur Acapella Solos 12-14
1st Masters Female Contemporary Solos 19-29
1st Masters Traditional Solos 41+
2nd Amateur Pee Wee Short Duo
3rd Amateur Elementary Short Duo
2nd Amateur Senior Short Duo
3rd Amateur Junior Acapella Duets
3rd Amateur Elementary Contemporary Duo/Duet
1st Amateur Junior Contemporary Duo/Duet
1st Amateur Senior Contemporary Duo/Duet
1st Amateur Pee Wee Traditional Duo/Duet
2nd Amateur Elementary Traditional Duo/Duet
1st Amateur Tiny Tot Show Duo/Duet
1st Amateur Pee Wee Show Duo/Duet
1st Masters Adult Show Duo/Duet
1st Amateur Tiny Tot Choreographed Solo
3rd Amateur Elementary Choreographed Solo
1st Amateur Elementary Choreographed Solo
3rd Amateur Junior Choreographed Solo
3rd Amateur Junior Choreographed Solo
2nd Amateur Senior Choreographed Solo
1st Amateur Young Adult Choreographed Solo
1st Masters Young Adult Choreographed Solo