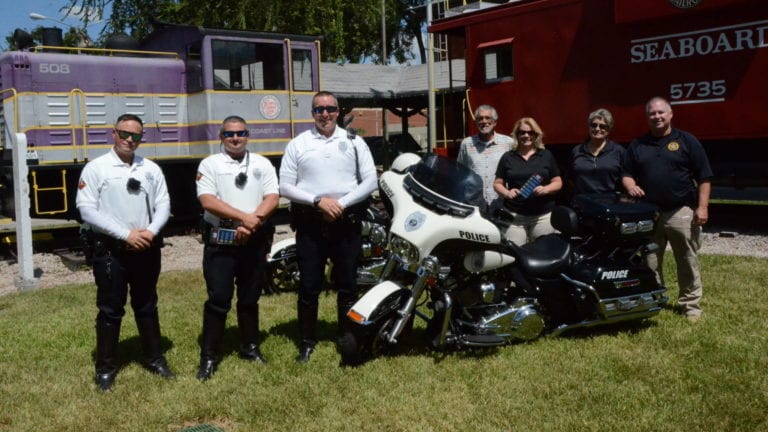 Operation Rail Safety Week
Plant City Police Department and CSX teamed up Tuesday afternoon to promote Rail Safety Week.
CSX personnel and members of the PCPD traffic unit set up shop at the downtown train depot from 1:30 to 3 p.m. to teach motorists how to be safe around railroad crossings. They handed out flyers to passersby with safety information for both motorists and pedestrians in the area.
"We try to remind folks to be safer on the railroad tracks, obviously,"Peggy Smith, an Operation Lifesaver Florida board member, said. "Each day is a different theme. Today, Sept. 24, is 'Operation Clear Track.'"
The flyers were made available in the train depot after the event and will continue to be there for anyone to pick up and learn from. The two groups hope kids, especially, will take the information and help spread the word to keep their friends and family safe.
Rail Safety Week runs from Sept. 22-28 in the United States and from Sept. 23-29 in Canada. The annual movement is an initiative of Operation Lifesaver, a rail safety education group. OLI's website lists a specific schedule for 2019 under the unifying theme of "Stop Track Tragedies."
For more information, visit oli.org.
Public invited to give feedback on PCPD
The Commission for Florida Law Enforcement Accreditation is coming to Plant City in December to review Plant City Police Department for accreditation.
Assessors from the CFA will determine whether PCPD is compliant with 260 standards required for accredited status. Just as important as reviewing PCPD's policies, procedures, management, operations and support services, though, is hearing from the public.
The CFA assessors want to hear what Plant City residents think of the local police department and have opened up several channels of communication to do so. Visit flacreditation.org/standards.htm to see all of the standards that PCPD will be expected to meet. To give a comment, either email info@flaccreditation.org or write to CFA, P.O. Box 1489, Tallahassee, FL 32302.
After the assessment is complete, the commission will decide whether PCPD will retain its accredited status for three more years
I-4 Fear Park reopening soon
Sir Henry's Haunted Trail and Ominous Descent are teaming up once again to bring the I-4 Fear Park back to Plant City this October.
Starting Oct. 4, the park at 2837 S. Frontage Road will host five different experiences for horror fans and scaredy cats looking for Halloween thrills. Three are haunted trails — "The Harvester" and Reaper's Haunting, hosted by Sir Henry's, and Ominous Descent's "The Breed." The other two events are an Ominous Descent escape room called "Hyde and Seek" where attendees must solve a puzzle to escape a killer, and Sir Henry's "Sabotage" laser tag experience with a clown-centric twist.
The fear park will be open for 11 nights between Oct. 4 and Oct. 27. Visit sirhenryshauntedtrail.com or ominousdescent.com to buy tickets and get more information.
Customer appreciation day at G FIVE Feed
G FIVE Feed and Outdoor is getting ready to host its Customer Appreciation and Second Anniversary Celebration this Saturday.
The party runs from 10 a.m. to 4 p.m. at the store, 4960 U.S. Highway 92 W., and will feature free activities for the whole family. It will feature food trucks and samples, live music and a host of outdoor experts on hand to answer questions and give out free samples. Door prizes will be awarded every 30 minutes and there will be a raffle for a 12-foot Lowe Boats Jon Boat.