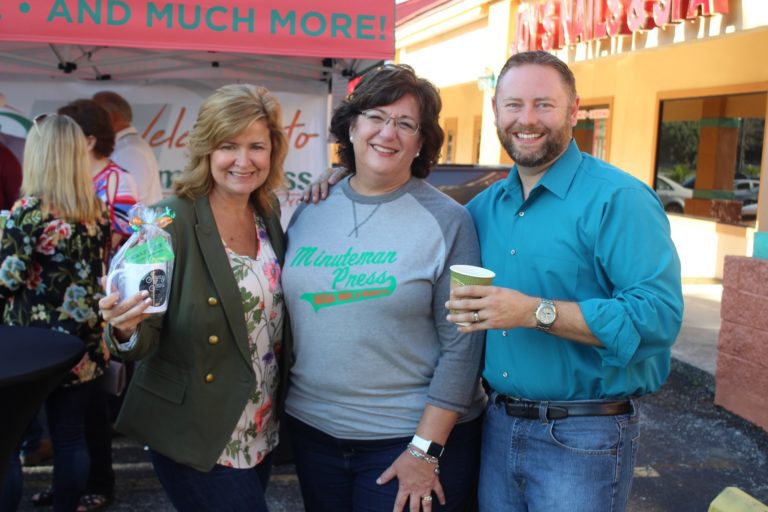 The Chamber's new networking event has strong kickoff, the Photo Archives seeks summer interns and the Job Fair draws hundreds of applicants.
Java & Jeans
The Greater Plant City Chamber of Commerce has officially kicked off its new networking event, Java & Jeans. The event is held from 8 to 9:30 a.m. on the last Friday of every month at a rotating list of local businesses. Coffee and donuts are provided.
Minuteman Press, 1701 S. Alexander St., was the inaugural host for the new networking series. Chamber members were given a tour of the facilities, took part in a giveaway and got to know their fellow business community members.
Norm Nelson, membership director, said the event fills a hole the Chamber recognized it had with its members. Those who worked long hours often couldn't take part in the monthly afternoon and evening networking events. Java & Jeans completes the circle, allowing any member with the Chamber who is interested in utilizing such a beneficial service to be able to have a time available that works for them.
The next Java & Jeans will be held at South Florida Baptist Hospital on May 25.
Photo Archives seeks summer interns
The Plant City Photo Archives and History Center is officially opening applications for its summer 2018 internship program. The program is designed to provide students with the opportunity to learn museum, archives and history center skills in a real life setting.
The program was created in 2010 and has seen high school, undergraduate and graduate students learn about institution operations, accession and documentation procedures, historical research and writing and archiving techniques.
The schedule is set up to be flexible for each internal and those selected will be monitored by both their mentor and the organization's Executive Director Gil Gott. Programs of work are set out in advance and interns are provided with formats for daily journal entries and checklists. After the completion of the schedule the intern is presented with an evaluation and a final report. Applications may be submitted from April 24 to June 4. Interested students can obtain additional information and an application form by visiting the Photo Archives office or by emailing the executive director at gil@plantcityphotoarchives.org.
Hundreds flock to Job Fair
The Plant City Job Fair drew hundreds to the Trinkle Center on April 26. The first half of the day the event was open solely to high school students who were seeking future employment. At noon the doors were open to the public.
The event consistently drew a large crowd throughout the day. At 12 p.m. there were approximately 100 people waiting in the lobby with their resumes for the event to begin.
Hillsborough County Sheriff's Department Deputies Christine Muniz and Rudy Bueno said this was one of the highest turnouts they've ever seen at a job fair.
"I have never had four sheets filled," Muniz said. "I always get to sheet number two. We're running out sheets and I can't really take anymore names. This was an absolutely great event all together. It was definitely very well organized."