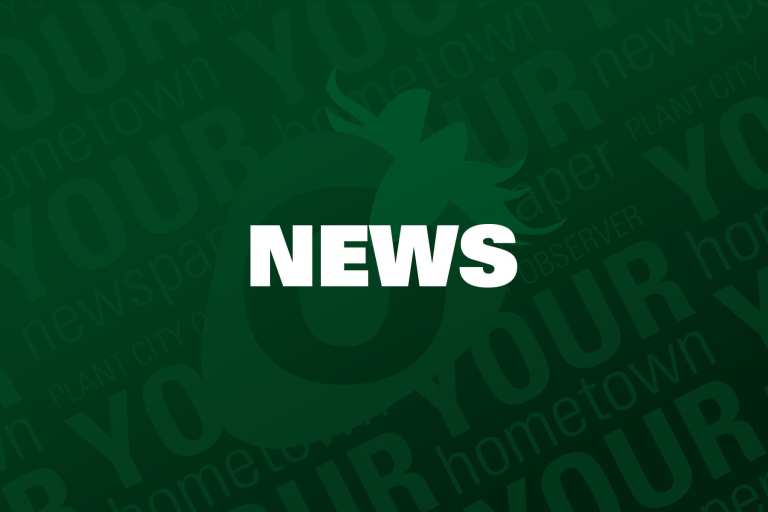 Plant City news briefs for the week of May 14.
Hillpointe Construction Breaks Ground on Pointe Grand
Located at 3020 James. L. Redman Parkway, land is being cleared for the Pointe Grand, an apartment home community. The site is currently approved for 254 multi-family units but is in revision to increase the number of units to 300. According to Alicia Worrell, Director of Marketing for Hillpointe, the project's real estate development and investment management firm, the apartments' interior finishes will include quartz countertops, stainless steel appliances, an eat-in kitchen, an open living floorplan, digital keyless front door locks and covered patios and balconies. Community amenities may include a resort-style pool, a 24-hour fitness center, a picnic area and more. Estimated opening completion date is mid-2024.
Memorial Unveiled For Fallen Officer
It was a somber day on Monday, May 15, proclaimed by President Kennedy in 1962 as National Peace Officers Memorial Day and the week that date falls as Police Week, as a marker commemorating the sacrifice of nightwatchman Robert Yates was unveiled at Oaklawn Cemetery.
Plant City Police Department Chief James Bradford served as Master of Ceremony. Guests in attendance included Mayor Nate Kilton, Vice-Mayor Mike Sparkman, city commissioners Jason Jones and Mary Mathis, City Manager Bill McDaniel and State Attorney Susan Lopez.
Descendants of Yates, great-grandsons Chet and Chuck Robertson, were also in attendance.
"We've gathered here today out of love and respect for Officer Yates, who gave his last full measure of devotion," said Police Chief James Bradford.
City Manager Bill McDaniel shared the history of Yates, a 22-year-old night watchman who in 1911 was shot by a suspect while doing his duty in the service of Plant City.
"This story was lost to the shadows of time, this community forgot Yates' sacrifice and it's thanks to Chief Boyett, who did research years ago and brought this story back to the light of day and set off a series of events that have resulted in a lot of effort that has led to this day," he said. "As a community we will never again forget the sacrifice of Robert Yates."
Boyett discovered Yates' story while doing genealogy work. He is related to Annie Boyett, Yates' wife.
Cemetery superintendent Jeff Black helped coordinate the memorial. The marker, made of flagstone and the plaque is made of bronze, was designed by a collaboration of Black and Dawn Klein of Master Craft Memorials. Adjacent to the marker, a QR code on a pole gives visitors directions to Yates' nearby grave.
"It's always a great day in Plant City and today is an extra-special day because we have an opportunity to not only honor Robert Yates and his legacy but the entire law enforcement community," said Mayor Nate Kilton. "In Plant City we never want to miss an opportunity to show how much we appreciate them."
Capital Coffee Welcomes Local Politicians
More than 100 Plant City business leaders and residents gathered at the Trinkle Center Wednesday for Capital Coffee, a chance to meet Hillsborough County legislative officials and have post-session conversations about current legislation. Hosted by The Greater Plant City Chamber of Commerce, the event also included a question-and-answer dialogue. Legislators that attended included State Senator Danny Burgess (District 20), Representative Lawrence McClure (District 68) and Representative Danny Alvarez (District 69).
Chamber Membership Director Jerilyn Rumbarger said the event gets more popular every year. "Most people that attend this event have been following session, they've been following the bills and getting legislative updates throughout session," she said. "It's their opportunity to ask specific questions about things happening this current session.
Plant City Residents Killed In Crash In Manatee County
Longtime Florida Strawberry Festival announcer Randy Scott, his wife Jill and Jill's sister, Judy Cook, passed away on Monday following a motor vehicle accident in Manatee County.
The Scotts and Cook were in an SUV traveling east on County Road 675 when a dump truck, driving in the opposite direction, struck the SUV in a head-on collision. They were pronounced dead at the scene of the accident but the dump truck driver was taken to a hospital with non-life threatening injuries.
The crash is under investigation.
According to a Facebook post by The Florida Strawberry Festival, Randy was the voice of the Festival, from singing the National Anthem each morning to serenading guests with Happy Trails each night and his song will forever be missed. He was described as a man with a sweet demeanor, steadfast spirit, quiet confidence and a genuine concern for others. His wife Jill would steadfastly work behind the scenes.
Free Concealed Carry Classes For Hillsborough Residents
Hillsborough County Sheriff's Office and Shooters World Tampa have teamed up to offer free concealed carry classes to residents in Hillsborough County. "Firearms safety and education are paramount in reducing accidental discharges, injuries and fatalities, and we must continue to promote responsible gun ownership in our communities," said Sheriff Chad Chronister. To sign up for a class, visit www.shootersworld.com and use the code 'HCSO' for a free safety course.