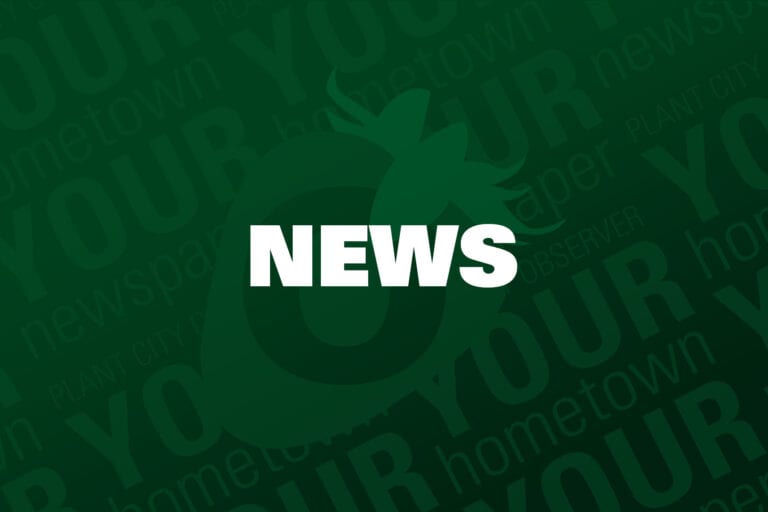 Four arrested following Plant City shooting; Hope Lutheran Recognizes Music Director, hosts Ladies Christmas Tea; Prepare now for the Plant City Garden Club Horticulture Show
Four arrested following Plant City shooting
On Friday, Dec. 16, 2022, at approximately 12:37 p.m. the Plant City Police Department responded to a 911 call of a reported shooting in the 1000 block of W. Washington Street. Upon arrival, officers located a Black female adult victim who sustained a gunshot wound to her lower body. A second victim, an adult Black male who sustained a gunshot wound to the upper body, was located at an area hospital. Both victims have since been treated and released from area hospitals.
Back up officers responding to the scene detained three juveniles who were passengers in a black four-door vehicle that crashed into a tree near the shooting scene. All three juveniles had injuries consistent with a traffic crash. The three juveniles were later transported to area hospitals where they were each treated and released. A fourth subject who fled from the vehicle was not located at that time.
Further investigation revealed the juveniles fired multiple rounds from firearms from the vehicle as they passed the victims on the street.
All four suspects were arrested on Tuesday, Dec. 20, 2022 and transported to the Juvenile Assessment Center.
The four suspects are:
• Miguel Torres-Flores, 16, of Plant City
• Juan Jose Altamirano-Ibarra, 17, of Plant City
• Juan Isidro Jr., age 17, of Plant City
• Juan Velasco-Santiago, 17, of Plant City
All four suspects have been charged with:
• Attempted Murder in the First Degree, Premeditated with a Firearm, one count
• Attempted Murder in the Second Degree, with a Firearm, two counts
• Aggravated Assault with Intent to Commit a Felony with a Weapon, one count
• Aggravated Battery with a Weapon, Great Bodily Harm, two counts
Hope Lutheran Recognizes Music Director, hosts Ladies Christmas Tea
On Sunday, Dec. 11, the members of Hope Lutheran Church, 2001 North Park Road, Plant City surprised their organist and Music Director Christine Mansell, with a celebration in her honor. Christine marked her 50th year of ministry at Hope.
To mark the occasion, her close friends Gloria Klockzeim and Barbara Carnicelli — both retired organists — shared the music duties that morning at Hope to Christine's surprise. The congregation also hosted a special brunch following their morning worship in her honor. Among the tributes received that day were a video greeting from Lutheran Church Missouri Synod Florida Georgia District President, Rev. James Rockey. A proclamation honoring Mansell was also received from the City of Plant City. The members of Hope also presented Mansell with a basket full of cards and gift cards to her favorite crafting stores. Mansell, who has faithfully served Hope for 50 years, also owns and manages Jacks Insurance and the Tiki Boutique in Lakeland. According to Hope's pastor, Rev. Dean Pfeffer, "Christine shares her love and joy of music and ministry every time she sits at the organ or keyboard.' Christine leads the music at both Hope's English and Spanish congregations.
And on Saturday, Dec. 3, the Christian Growth Ministry Team of Hope Lutheran Church joined for their Annual Ladies Christmas Tea. The time together is open to ladies of all ages and many brought their young daughters and granddaughters to the event. The morning began with a devotional time together in Hope's sanctuary and then moved to their Fellowship Hall for Tea Time.
This year, Hope's Elders Ministry Team was asked to serve as "waiters" for the day. The Elders were ably directed by Hope's Fellowship Ministry Team.
Prepare now for the Plant City Garden Club Horticulture Show
Start planning now if you wish to have your plants on display at the Florida Strawberry Festival as a part of the Plant City Garden Club's Horticulture Show.
Plants will be accepted on Tuesday, Feb. 28 from 9 a.m. to 5 p.m. and can be dropped off at the Neighborhood Village Building, on the south side of the Administration Building right next to Gate 4, off of Berryfest Place. Eligible plant specimens to be entered into the competition must be grown by Hillsborough County residents. To enter your plants for prizes, they must be in your possession for three months prior to opening day of the Strawberry Festival. There is an exception for multiple plants (Dish Gardens, Fairy Gardens, Terrariums) which must have been in exhibitors' possession for at least six weeks.
For the full list of rules, regulations, and awards for the contest, please visit: https://flstrawberryfestival.com/wp-content/uploads/2022/09/2023-Strawberry-Fest-UPDATED-Horticulture.pdf