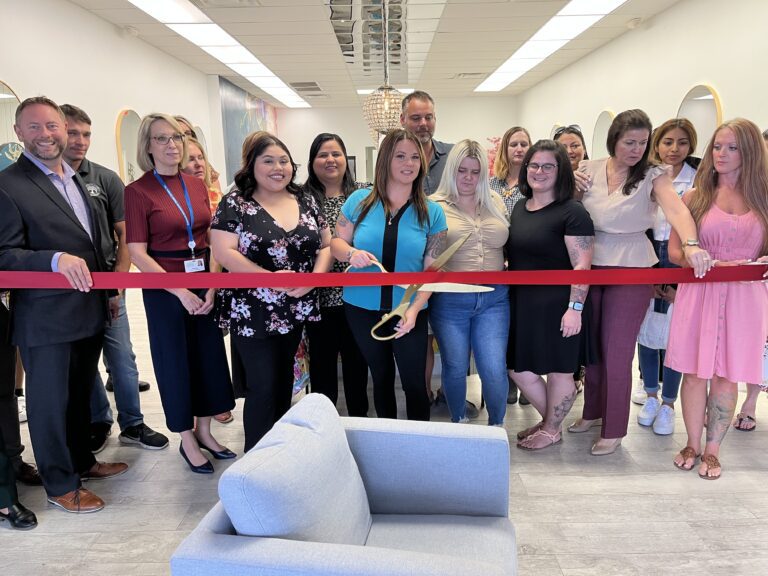 Style Bar: Blow Dry Salon recognized as recently-opened business
A brand-new hair style and professional makeup is what ladies can expect when they enter the door of recently opened Style Bar: Blow Dry Salon in Plant City.
While it has been operational since August, it had its traditional ribbon-cutting ceremony, on Sept. 1.
Hosted by the Greater Plant City Chamber of Commerce, the event had those from the community gather to get a view of what the salon has to offer.
Angelina Giambo and her boyfriend, Billy Rinehart are the owners of the establishment.
Her vision for the salon came after visiting a salon which does the blowout process for hair, which she was unfamiliar with at the time.
"For a blowout, you get that luxury of shampoo," she said. "Your shampoo is done twice so that your hair is really clean. You get the conditioning and then you get the scalp massage. It's all about the products that you're putting in and the way the blow dry is done. The blowout takes about 40 to 45 minutes depending on the length of the hair. It's the way that they blow out the hair, is what makes it last."
Being impressed by the style, she sought out other salons that offered the technique when she came back to Plant City. The closest one she could find was in Tampa and had to book an appointment three weeks in advance.
For her sake and for that of other ladies in town, she made the decision to become a first-time business owner and open her own salon that has blowout services.
For Giambo, it was a new chapter in transitioning into another career.
"I knew I wanted to do something on my own (but) couldn't figure it out," she said.
Although she has a background in business, she has never run one herself.
Prior to opening the salon, she had been a human resources manager for a real estate agency – a position she held for nine years.
She and Rinehart initially wanted to have the shop in downtown, but she eventually settled on where a Great Clips salon had previously been.
The property is off Thonotosassa Road in the Publix Plaza and is a convenient spot, not only for being on a busy corridor, but for being close to the interstate.
"I figured overall this is a great location," Giambo said. "There's the girls' night out crowd. There's the mom crowd that wants some 'me time.' There's the older generation that doesn't want to wash their hair anymore and would rather have someone do it for them."
She also noted that the plaza staying busy throughout the week is a plus.
Shortly after signing the lease on June 1, they began the renovation process which included patching and repainting the walls as well as adding brand new flooring and ceiling tiles. However, the process lingered on longer than anticipated due to inadequate supplies.
"There was a lot of hiccups with the pandemic," Giambo said. "There were some materials that we still couldn't get."
During the reconstruction, the vision gradually came to fruition as she came up with more thoughts on what to install or incorporate.
"I did not have a full idea of what I wanted to do," Giambo said. "I knew the foundation and I built as I thought about it."
The newly white-coated walls are now lined with mirrors, making it difficult for patrons not to catch a glimpse of themselves when walking further into the salon. It's also decorated with a colorful mural just behind a hair-washing station.
In the center of the shop, a long, marble counter stretches out with chairs to accommodate clientele on both sides of the table. From the ceiling circular mirrors hang down, just several feet from touching the countertop as well as small chandeliers to add to the décor. The table is not only where clients can get their hair styled, but also is the spot where cosmetics can be applied, yet another service that the salon offers. In the back, there is a wine bar to add a more social atmosphere and a separate room for a waxing.
After over two months of labor, the establishment officially opened on Aug. 20.
"It's had its ups and downs, but overall, it's been very rewarding," Giambo said. "Every customer that has walked in here and knew what a blowout was, has been waiting for this to come to Plant City," she said. "Those who do not quite understand what a blowout was, they're definitely happy it's here."
Those services are provided by six stylists, including three that are makeup artists.
While Giambo is content with how the salon has turned out, she said that she may add facials to the list of offerings later.
"It's very rewarding – a little overwhelming at times," she said. "I was nervous as anyone would be with putting a lot of time, money, and effort into something they're not sure is going to succeed. To get the support that I have from the residents of Plant City, I'm very grateful."