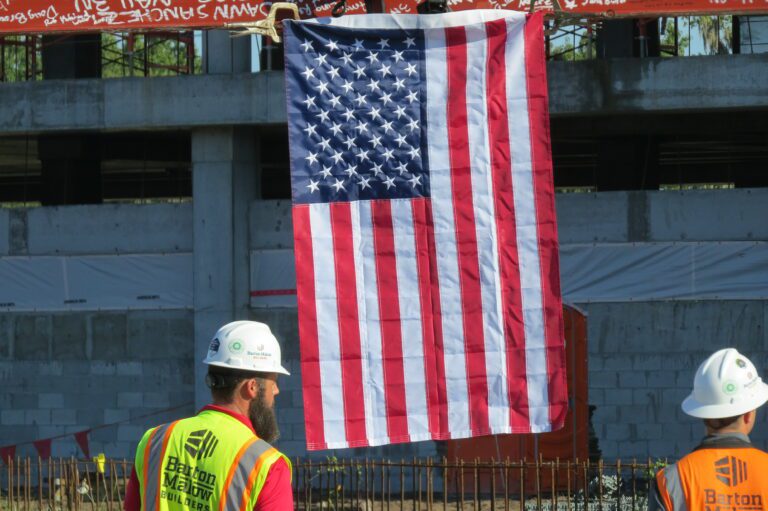 South Florida Baptist Hospital held topping out ceremony
The topping-out ceremony for the new South Florida Baptist Hospital in Plant City occurred on Wednesday.
The ceremony is part of a tradition as the highest beam was placed at the top of the building, located east of the intersection of East Sam Allen Road and North Park Road.
Spectators gazed upward as a crane lifted the beam which had an American flag attached to it, waving in the air.
The event also displayed the progression of the building from the ground up since its groundbreaking ceremony in October of last year.
While the structure of parts of the hospital were already standing, the interior was open, showing construction work taking place.
Those in attendance included Florida House Rep. Lawrence McClure, Plant City Mayor Nate Kilton and Vice Mayor Michael Sparkman, along with city commissioners. Also present were board members of BayCare and South Florida Baptist Hospital.
President Karen Kerr of South Florida Baptist Hospital was one of those who took to the stage.
"I'm so excited to be here today to mark the next milestone in the building and the opening of our new facility here in Plant City," she said. "We have been on a journey over the last year."
The current hospital opened its doors in 1953 and has gone through a series of renovations and expansions over the years. It was updated with more cardiac services and the expansion of the emergency room and the intensive care unit (ICU). Although these necessities were incorporated, over time they weren't enough to facilitate the growing hospital.
Kerr initially considered making an addition to the existing site to provide adequate needs. However, it would have been a seven-year construction plan and would have left limited space for the new buildings. She started to search for property that would be spacious and have a geographical advantage to Plant City residents.
"As we were searching sites to build a new hospital, number one: what we needed was enough size…but looking at this part of Plant City and the growth we see to the north of here from a residential perspective, and then a business perspective all around us, this just was an ideal location to be in," Kerr said.
Its location is three miles away from the existing hospital, and within proximity to the interstate.
Construction began after the city commission gave approval for the rezoning of land and annexation.
"When I think about what makes up a community, there's certain institutions that we always think of that help bring people together and galvanize a city or a town," Kilton said. "Of course, the hospital is one of those key institutions for a city. In the history that we've had (with) South Florida Baptist Hospital in Plant City, what it's done for the patients for our community…it can't be overstated."
With a project cost of $326, million, the new hospital will span 420,000 square-feet in comparison to the existing one at 250,000 square-feet.
There is almost 8 million pounds of reinforced steel inside the concrete, with 151 million pounds of concrete itself, according to Matt Wood, project executive of Barton Malow, which is overseeing construction.
It will have six floors with two, six-story towers and 146 private rooms with the potential to add 30 more rooms for needed expansion.
It will also house 26 ICU beds and there will be a helicopter landing pad.
There will be a 85,000 square-foot medical office equipped with a physician's office, an outpatient laboratory, imaging, rehabilitation, wound care, infusion services, and administrative offices.
About 800 team members and more than 250 physicians will operate from the new facility.
A smooth transition of staff from the existing hospital to the next is what is being worked out, Kerr said.
"We are in the planning process right now for that," she added. "It's quite an undertaking. All of our team members will be going into a totally different environment. Some of the equipment will be new, so we'll need to make sure that they get the training they need prior to the day that we open and the day we move patients."
Kerr still doesn't know what will become of the current hospital site once the transition is complete.
Construction is ahead of schedule and opening the doors may be sooner than the first quarter of 2024 as projected.
"Our next, at least ceremonial-type of excitement will be in the fourth quarter of 2023 when we actually open the new hospital," she said.
This is barring any lack of the supply chain or severe weather.