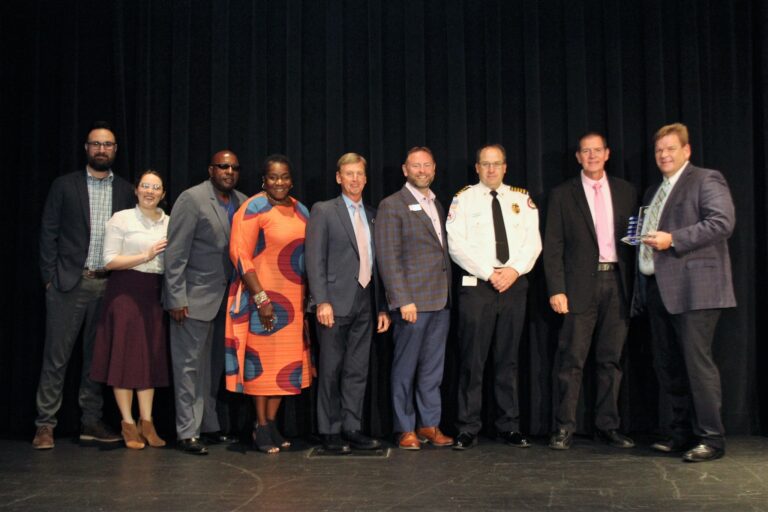 The award was accepted at The Planning Commission's 40th Annual Planning & Design Awards.
Winning isn't everything but when you do it's nice to celebrate the win. Fire Station No. 3 won an Award of Merit in the Investment, Planning and Historic category at this year's 40th annual Planning and Design Awards presented by TECO and hosted by Hillsborough County Planning Commission.
"More than just public safety infrastructure, the Fire Station meets the needs in a growing area while preserving history and engaging a previously underserved community," said Melissa Zornitta, FAICP, Planning Commission executive director.
City of Plant City mayor Nate Kilton, members of the Plant City City Commission, city manager Bill McDaniel and fire chief David Burnett were on hand at the banquet on Oct. 27 to accept the award.
"Fire Station No. 3 is unique in that the station was designed to not only preserve our past but also create a state-of-the-art facility," said Burnett. "A lot of thought was put into its design."
The 8,400 square-foot fire station, located at 1704 North Park Road, was completed in 2020. The three-bay station is equipped with seven private dorms with individual bathrooms for privacy, making it easier to accommodate mixed-gender crews. Building features include polished concrete floors, a contemporary industrial kitchen, red block walls, solid-surface countertops, limited paint and conduits on the roof to add solar panels which will increase the building's energy efficiency.
An existing tourist information building that was constructed in the 1950's was incorporated into the building's design. The structure was in great shape and remodeled a bit on the inside and now it serves as the three battalion chiefs' quarters. "The three battalion chiefs used to share one very small office but now they have their own offices," said Burnett.
An old outdoor pavilion, previously on park property, is now a patio and barbecue area for firefighters who call the building home during 24-hour shifts. The fire station never sits empty and is staffed 365 days a year.
The sleek station is also home to a 1927 American LaFrance Fire Engine which sits beind a set of massive glass walls and can be seen from the road. The truck, purchased by the city in 1927, was used to control fires until it was decommissioned. It was driven in local parades up until 2017, when it was officially retired, its fluids drained and it became a museum piece. "It's a showpiece for the public, especially children," said Burnett.
In addition to serving as a monument to its past, the design also encourages community engagement as an event site and educational facility.
The fire station benefits the public in many ways, from improving response times across the City to reducing insurance premiums for residents and businesses. It's designed to serve the residents of Plant City not only today but for many years to come.
"We've got a lot of growth upon us and the city continues to work together as a team to serve its citizens," said Burnett.
For more information about Fire Station No. 3 visit www.plantcitygov.com.