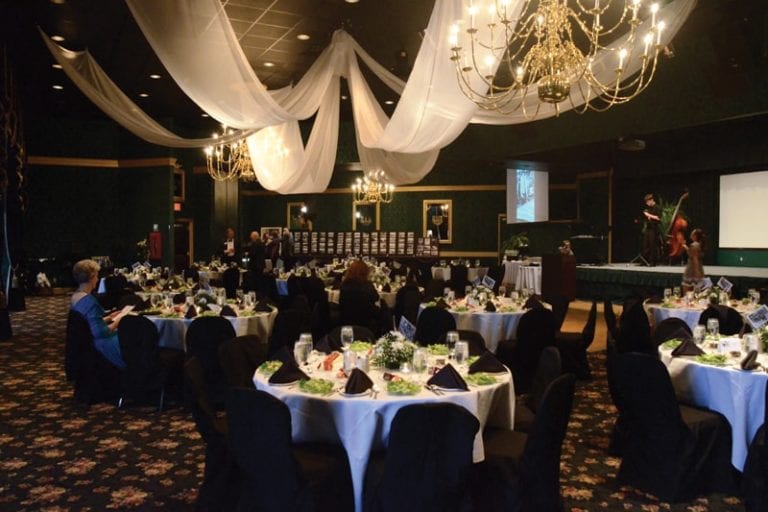 By Amber Jurgensen | Staff Writer
For the last decade, the Red Rose Inn and Suites fulfilled the role of Plant City's unofficial town hall, banquet facility and crown jewel. Richly decorated and presented to the public by always elegantly dressed co-owner Evelyn Madonia, the Red Rose oozed with Southern charm.
And, perhaps most importantly, it was the favorite meeting spot for virtually every Plant City organization  requiring such a facility.Following the Red Rose's sudden closing in May, those organizations were forced to move their events and meetings, giving other local businesses new opportunities to grow.
The Plant City Bar Association ultimately moved its meetings to the Plant City Carrabba's Italian Grill, which was able to accommodate the group with its open meeting room and buffet-style service. It was a major move for the association, for which the Red Rose had been its longtime home.
"As long as I can remember, we've had meetings at the Red Rose Inn," Jack Wolff, secretary for the association, said.
The Rotary Club of Plant City also moved its weekly meeting to Carrabba's.
"We had an amazing, really nice facility to meet," Rotary President Keith Smith said of the Red Rose. "You're moving from an open setting to more of a restaurant feel," Smith said.
Both the Kiwanis Club of Plant City and the Plant City Lions Club moved to The Catering Company & Café on East Reynolds Street in downtown. Outgoing Lions Club President Gail Lyons said the move hasn't affected her club too much and said members are enjoying patronizing a downtown businesses.
"We haven't missed a beat," Lyons said.
Like the bar association and Rotary, the Lions Club needed a quiet, open meeting space.
"It's a business meeting as well as a social gathering," Lyons said. "We still need to conduct the business of the club."
In addition to the restaurants accommodating Plant City's civic organizations, other local facilities are enjoying some increase in business as they host larger events, such as weddings and banquets.
John Keaton, general manager of the Walden Lakes Golf and Country Club, said the club will host a wedding this month. The Plant City Chamber of Commerce is now meeting at the club, as well.
The club offers a private dining room, a main dining room and one smaller meeting room which could be used for club meetings. Catering is on site for larger events but not for smaller meetings.
"Hey, we are here," Keaton said.
Similarly, Hillsborough Community College's Trinkle Center is available to host larger events.
"Now that the Red Rose is gone, we'd like to turn our attention to becoming a venue," Jared Thompson, facility manager for the Trinkle Center, said. "If we work something out with the civic clubs, we could have potentially 200 to 300 new customers."
The Trinkle Center includes 25,000 square feet of event space that can be customized with removable walls.  The center can host anything from a large wedding to a baby shower. But caterers must be brought in, and the college has first use of the space.
In downtown, the new Ends of the Earth Cafe, which opened in June on J. Arden Boulevard, boasts an 1,100-square-foot banquet-style hall upstairs that can accommodate groups of about 80 to 100.
"We've had a lot of inquiries," owner Randy Holeyfield said.
The café's menu has sandwiches from $3 to $5.50, and Holeyfield said he can create a menu specific to the club or event needs.
CITY CENTERPIECE
As a business, the Red Rose offered 261 hotel rooms, an elegant restaurant and, of course, its lavish ballroom that could accommodate as many as 500 guests.
Moreover, several local businesses rented hotel rooms and used them as home offices.
Susan Staton taught private lessons in her studio at the Red Rose. She also taught dance lessons every Monday in the ballroom. Staton said she was sad the Red Rose closed but knew it was coming. She is still teaching dance lessons in Plant City, along with working as a deejay, but hasn't found a studio yet.
"I haven't completely flown the coup yet," Staton said.
In the Field magazine had an office in the Red Rose since 2006. Karen Barry, the publisher, described the office space as "professional."
They have since moved their office to South Alexander Street.
"It was a great place, great opportunity, great people," Barry said.
The Red Rose also acted as an entertainment venue and throughout the years attracted notable national acts such as The Temptations, The Drifters and The Platters to Plant City. Local favorites Destiny performed at the Plant City business every weekend.
"We all wanted it to last," said Destiny vocalist Erika Flaskamp. "It is such a great place. There's stars on the ceiling, there's dancing, you can dress up."
Contact Amber Jurgensen at ajurgensen@plantcityobserver.com.
REACTION
What was your reaction to the Red Rose's closing?
"It was a good community place. It's so sad that it's closing."
— Nicole Elek
"I didn't even know it was closed. I was going to take my mother there after she got out of the hospital. That's a shame."
— Kay Vance
"I've been there for a wedding. It's an important venue for that."
— Regina Williamson
"It's definitely sad to see it close. They did a lot of entertainment."
— Wendy Barr
"That's terrible. I thought it was a nice place. It belongs to an era that most people wouldn't think was romantic unless you were from that time."
— Gloria Fisher