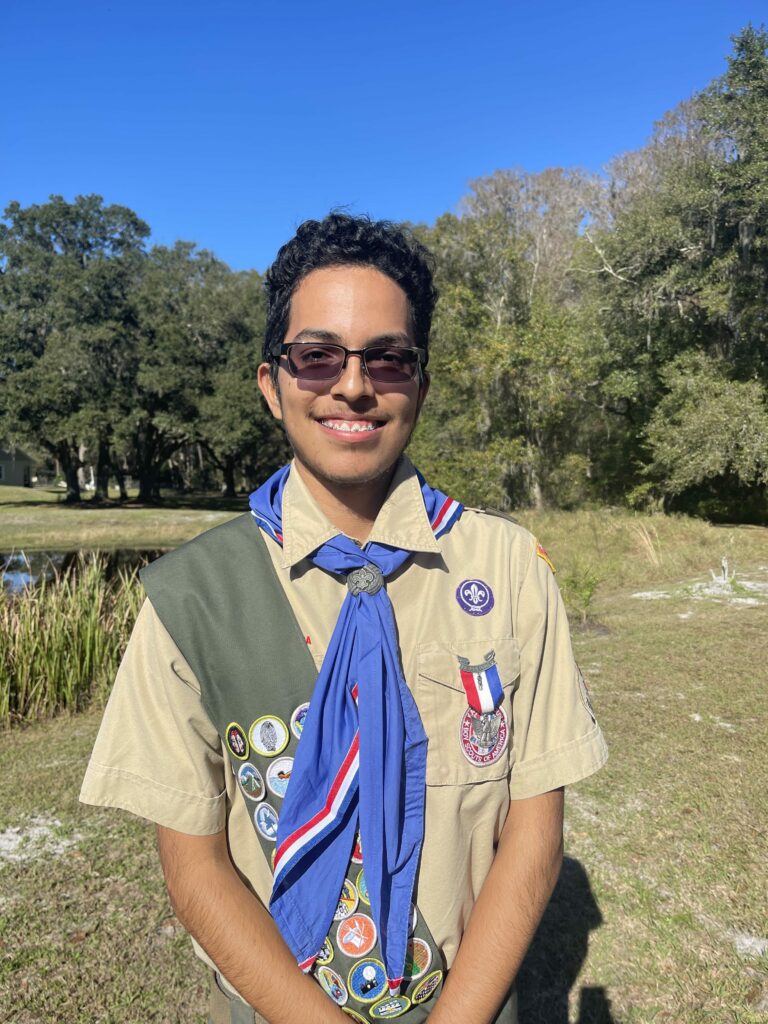 Plant City resident Alex Chazares received his Eagle badge and neckerchief at Court of Honor.
When Plant City resident Alex Chazares watched as his older brother, Eryk, was recognized at his Eagle Scout Court of Honor ceremony in 2020, the 12-year-old boy scout made the decision to follow in his footsteps. "I knew that I wanted to be like him and slowly started to gain momentum towards becoming an Eagle Scout," he said.
That goal was achieved last week, when the Eagle Scout badge was pinned to his scout shirt at his own Eagle Scout Court of Honor ceremony. His brother conducted the ceremony.
Chazares, now 15 and a sophomore at Brooks DeBartolo Collegiate High School in Tampa, vividly recalls attending his first scout meeting with Troop 89 that meets in Valrico. "I didn't have a scout uniform so I just attended the meeting in an Avengers shirt," he joked. The super-hero shirt may have been foreshadowing the breakneck speed at which he completed his goal, earning the Eagle rank in roughly three years.
The Eagle Scout rank isn't a participation trophy. The performance-based achievement has high standards that not every scout will earn. Only about six percent of all scouts earn Eagle.
What does it take to become an Eagle Scout? The short answer is time and hard work. However, the process for becoming an Eagle Scout first starts with becoming a Boy Scout, available to 11-year-olds or graduates of the fifth grade. Then, the scout must progress through all the ranks: Scout, Tenderfoot, Second Class, First Class, Star, Life, and then finally Eagle Scout.
The first few ranks up to First Class teach outdoor skills, leadership, first aid, and physical fitness, as well as encouraging participation in troop activities other than meetings. For Star and Life ranks, a scout must earn several merit badges, most of which are required to be an Eagle Scout, and actively serve in leadership positions in the troop and have six or more hours of service for both Star and Life rank. Lastly, the rank of Eagle requires 21 total merit badges, a Troop leadership position and completion of the Eagle Scout service project. The last requirement is the Eagle Board of Review, which is when the scout, the adults of the troop and a council representative come together to ask questions about the scout's experiences and what their future plans are with scouting.
For his project, Chazares, with the help of is cross country team, installed markers alongside the trails of Sydney Dover Trails Park in April 2022. "We'd practice for meets in the park and we'd always get lost," he said.

Chazares shared some of the challenges of working toward his Eagle, especially during the COVID-19 pandemic. "Instead of meeting in-person we had a lot of Zoom meetings and packets we had to complete and it started to feel like school," he said.
Coming out of the pandemic, he looked forward to summer camp at Camp Woodruff in Georgia, where he could devote time and energy to working on the required merit badges. Even that had it's challenges. "There was a High Adventure trip for the older boys with white water rafting and so much fun but I had to stay behind and work on merit badges," he said.
Scoutmaster Randy Bagby is proud of Chazares' achievement. "It's exciting to see him finish and earn the Eagle rank," he said. "We have three other scouts in the pipeline working toward the goal and it's nice for them to see the reward for all the hard work."
During the ceremony, Chazares thanked his troop leaders and everyone that helped him reach his goal and recognized the positive impact scouting will have in his future endeavors. "Earning my Eagle has prepared me for any challenge I'll face in my life and also taught me how to be a leader," he said.
Chazares is now devoting some of his free time to other pursuits. He has written two books sold on Amazon: "Ticket to Disaster", released in 2020 and "Gateway to Disaster", released in 2022. Even though he's now focused on other things, he plans to continue in the program and help other scouts succeed in their scouting journeys.
For more information about scouting visit www.scouting.org.